Just a few short weeks ago at the D23 Expo, the character of Ms. Marvel—a.k.a. Kamala Khan—was announced as getting her own series on the Disney+ streaming service. Now, the fan favorite teenage superhero is making yet another debut in a different medium. Announced at New York Comic Con, Ms. Marvel is set to debut in Square Enix and Crystal Dynamics Marvel's Avengers game in 2020. A new trailer debuted as well, showcasing how the Inhuman hero is introduced into the world of the video game.
Ms. Marvel was created by G. Willow Wilson, Adrian Alphona, Sana Amanat, and Stephen Wacker back in 2014, and took over the name abandoned by Carol Danvers after she took on the mantle of Captain Marvel. Kamala is an enthusiastic Muslim-American high schooler, who protects her hometown Jersey City as the new Ms. Marvel.
Marvel / Square Enix
The character is a fairly recent addition to the Marvel Universe, having only first appeared in Captain Marvel #14 back in August 2013. However, Kamala quickly became a fan favorite character, eventually getting her own monthly comic series in February 2014. And she's been fighting the good fight in the pages of Marvel Comics ever since.
Players will first encounter a young Kamala Khan during what is being called A-Day, where Captain America, Iron Man, Hulk, Black Widow, and Thor are unveiling a hi-tech Avengers Headquarters in San Francisco. This also includes the reveal of their own Helicarrier, which is going to be powered by an experimental energy source. The celebration goes haywire, with an accident resulting in massive devastation. This is when Kamala is exposed to the mysterious Terrigen Mist, which is responsible for giving powers to those of the Inhuman race.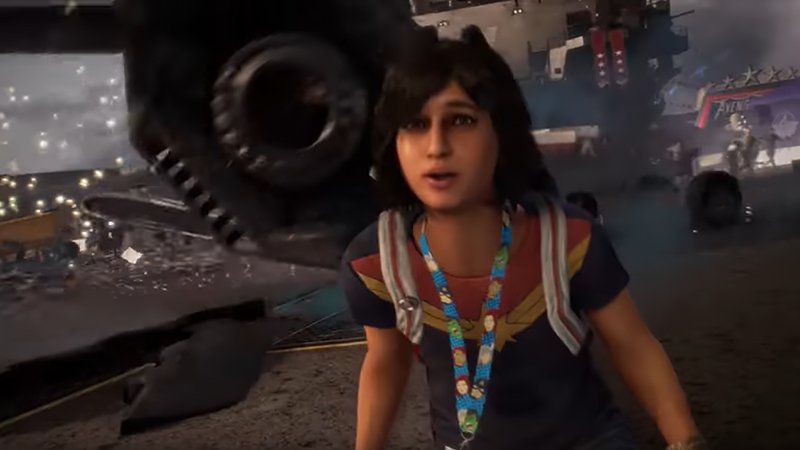 Marvel / Square Enix
Soon, she finds herself with extraordinary new polymorphic powers, but her fear of her own new power set causes her to hide them from everyone she knows for years. Blamed for the tragedy, the Avengers soon disband. Some five years later, with all Super Heroes outlawed and the world in peril, Kamala uncovers a shocking conspiracy and embarks on a quest to reassemble the heroes she once idolized, and which she believes in. And during all of this, she will become the hero she was destined to be.
In a statement from Shaun Escayg, Creative Director and Writer at Crystal Dynamics, he described Ms. Marvel as "an optimistic fan girl of the Avengers. Kamala Khan is the perfect character for the story we're telling in Marvel's Avengers. Telling our story of Kamala's coming-of-age brings a fresh, hopeful perspective to the gameplay experience and her unique abilities as Ms. Marvel make her a character every person can relate to and will want to play. Kamala Khan is one of the unique characters that makes our game stand apart from any Avengers story experienced before."
Marvel's Avengers will release simultaneously for the PlayStation 4, the Xbox One family of devices including Xbox One X, Stadia, and PC on May 15, 2020. The game is currently rated RP, rating pending by the ESRB.
Header Image: Marvel / Square Enix