Gene Roddenberry's original Star Trek series broke new ground imagining what the future could be and who would play a part in changing it. Picard has continued that trend with a radically inclusive outlook on who can be a hero. The new series boasted a group of characters who were far from your average two-dimensional archetypes. This drew Michelle Hurd to the role of recovering addict, mother, and Jean-Luc's ex-first mate Raffi. "I think it was the perfectly imperfectness of her," Hurd says. "When I started to read the breakdown of the character, I just loved all of her flaws."
Spoilers ahead for Picard season one
The first season of Picard follows the one-time Enterprise Captain as he comes to terms with his losses and mistakes. His unexpected new crew reflects that; each member comes with baggage and regrets of their own. As Hurd explains, despite the deep space setting, it's a universally relatable place to introduce a new ragtag team of heroes. "We all have flaws," Hurd said. "I wanted to have that opportunity to really bring somebody to life that is not perfect. That perhaps society would cast judgment on without really taking the time to get to know them."
CBS All Access
Raffi is unusually complex for a character with an addiction. She's far from defined by her history of substance abuse, even though the show takes its time to fully explore this struggle. Hurd felt this story particularly timely. "I thought it was really important, especially now, in our day and age, where there's a lot of people who have addictions, there's a lot of people who are struggling," Hurd said. "Whether it's alcohol or drugs or exercising or sex, there's a myriad of addictions. But there's a real truth that we, as a society, we're hurting."
Hurd continued, "I wanted to show that they're still valuable and they're here. And that we need to try to find a way to have more space, more empathy, more patience, more tolerance, more love, and more ways to help our brothers and sisters who are going through these things."
In that way Picard does feel radical. As the team traverses the cosmos and uncovers a huge conspiracy, they also find space for forgiveness, and personal growth. The series invests in arcs that include terrible mistakes but also accountability. Raffi's story encompasses recovery and reconnection with her son and her friends. "It's a journey," Hurd explained. "It takes a long time and it takes stumbling and picking yourself up or getting help from someone else to pick you up."
Picard plays close attention to the role of motherhood in Raffi's character. In one of the season's most powerful moments, Raffi attempts to reconnect with her estranged son. "I loved that episode," Hurd recalled. "She's spent a lifetime of making some really big mistakes. She's sure she's doing her very best trying to mend those very real mistakes. They made an impact, especially on her son." Picard isn't interested in saccharine reunions, but in digging into the reality of children who live with addicts and their own agency.
"I loved the fact that in that moment, Raffi comes in and says, 'Hey, I'm here, and I'm great. Everything's so good. I'm so ready to be in your life now,'" Hurd said. "And to give her child the opportunity to say, 'No, you don't get to do that. You don't get to go to be absent and then show up and say, "Everything's fine, because I am ready." No, you don't get to do that. You have to check in with me, you have to ask permission.'"
Raffi isn't Picard's only character trying to become the best version of themselves. In fact, they have to do this alongside their new friends. "What's so beautiful is to explore the world of a bunch of people who've either done things wrong [or] had things done to them, who are still struggling and are trying to make the right choices," Hurd said. "But sometimes they fail at that. And yet, they're still able to find people that can support them. [People] that will be there for them, that will catch them, that will not shy away from the ugliness that often happens within us."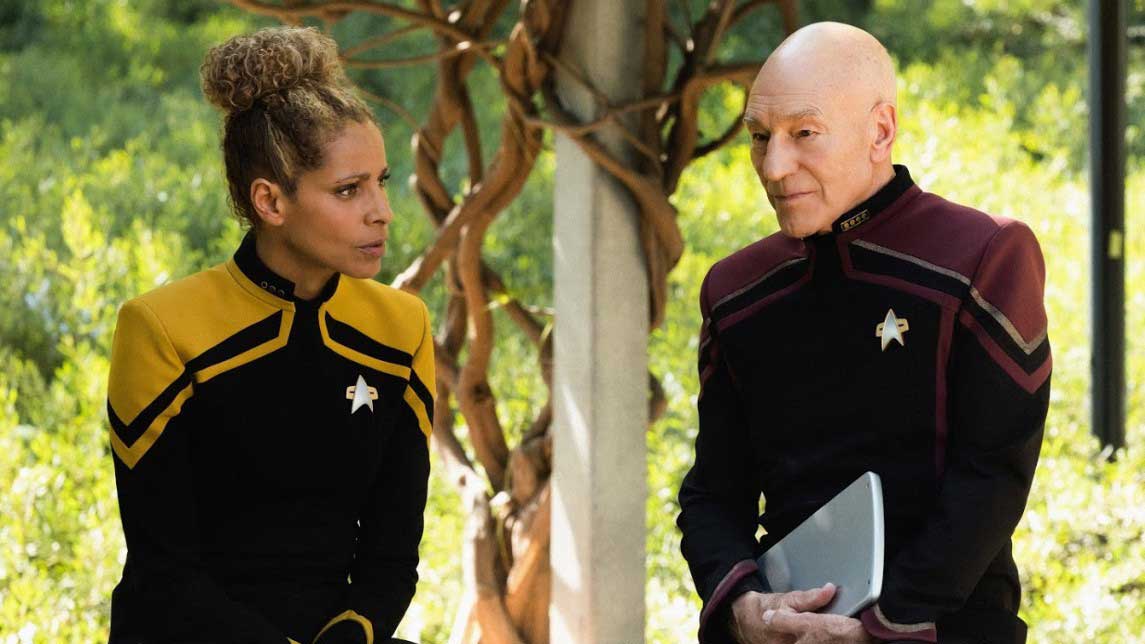 CBS All Access
Picard also continues Star Trek's trailblazing in terms of inclusion. "I'm unbelievably humbled and grateful," Hurd said on the significance of the series' diversity of characters. "I'm biracial—my father's Jamaican, my mother's German. I love the fact that…there's all these different shades, different looks and different body types. Star Trek has always been really aware of that and they actually make a conscious effort to make sure that there is a diversity on screen. I remember saying to my producers—I have my big ol' curly hair—and I was like, 'I want her to have like a big ol' curly hair.' I want her silhouette to be huge, because when I was growing up I didn't see myself represented. I didn't see this kind of curly, crazy-haired person. I'm honored to be a part of something that amplifies and celebrates diversity and the things that make us different."
With season two already confirmed, Hurd has big hopes for Raffi. Aside from continuing her recovery arc, she's got her eyes on a romantic connection with a fan favorite character. "She really admires Seven [of Nine]," Hurd said. "Here's a woman who's strong and unapologetic. She's gone through a whole bunch of stuff and has her own sort of thing that somebody can discriminate against. And [she] has decided to own her world and take charge and be present. That's something Raffi wants too. How could she not just be swept away?"
CBS All Access
Hurd continued, "What I really love about this possible dynamic—though I haven't seen the scripts—is that we have the chance of really, really amplifying the beauty, power, and fluidity of love. They share a common ground. They can support each other, be present for each other, and say, 'I see you. I got you. And we can do this.'"
If there's something that Hurd wants viewers to take away from Picard and Raffi's journey in season one, it's this: "We're all strong and we're all fragile. If we could just take a moment to be radically empathetic, goodness gracious, the world would be such a kinder place."
You can own Picard season one now on Blu-ray, DVD and limited edition Steelbook or stream it on CBS All Access.
Featured Image: CBS All Access