The release of Captain Marvel, the first female-driven feature film in the Marvel Cinematic Universe, is so close we can taste it, and anticipation is through the roof.
The Brie Larson-starring movie will put one of Marvel's most iconic female characters at the forefront, but she's hardly the only lady hero in the Marvel Universe. Powers of a Girl, the new book from Disney Publishing Worldwide, explores and celebrates the powerful women whose stories make this world so special. We have a first look at Lorraine Clink's book, with beautiful colorful illustrations by Alice X. Zhang.
Powers of a Girl puts the spotlight on the individual heroes of Marvel, like Gamora, played by Zoe Saldana in the Guardians of the Galaxy and Avengers films. Like her fellow male heroes, Gamora has a fascinating and complex backstory in the comics. She began as a villain by Mad Titan Thanos before finding her own path. In addition to a bio of the character, Powers of a Girl also has a handy key that explains the basics about these characters: Their special skills, powers, who they're affiliated with, and other distinctive qualities that make these women unique. (For Gamora, it's her sword, Godslayer.)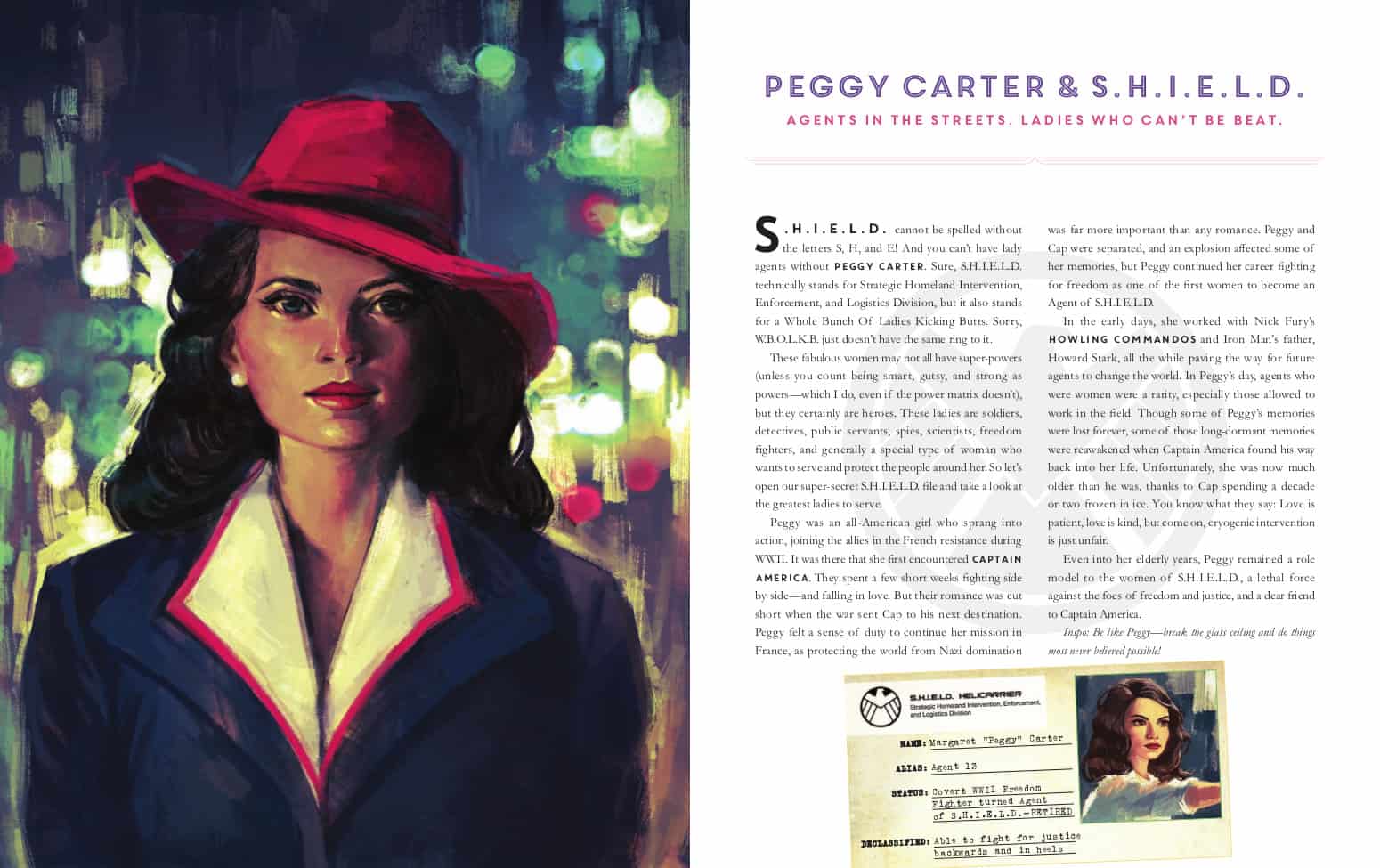 The book also has a section about Peggy Carter, who also broke new ground in the MCU by having her own television show. Peggy is more than just the love of Steve Rogers' life. She was a member of the allied French resistance during WWII and later became one of the first women to join S.H.I.E.L.D., bucking gender norms along the way. As played by Hayley Atwell on the screen, Peggy is a tough, no-nonsense hero–even if she lacks physical superpowers.
Who could forget Shuri? Powers of a Girl shines light on the Black Panther heroine, who might just be the smartest character in the MCU. She may be the sister of King T'Challa, but she's a hero in her own right. She's a Wakandan scientist, queen, and aja-adanna, or "a guide to Wakanda's spiritual past and keeper of Wakandan lore. Letitia Wright brings her to powerful life in the Marvel films.
And then there's Squirrel Girl! One of the most beloved Marvel characters who has yet to make the leap to the big screen, although Milana Vayntrub did play her in a New Warriors pilot that has yet to find a home. We're sure she'll find her way to a larger audience at some point, but until then, it's lovely to see her celebrated in Powers of a Girl. A computer science major with unique squirrel-like properties, her fluffy exterior masks a hell of a lot of power.
Cink doesn't just spend time on the female characters of Marvel, but also on their animal companions! On this page, we get a look at Gertrude Yorke's dinosaur Old Lace, Moon Girl's Devil Dinosaur, Captain Marvel's alien cat Chewie (re-named Goose for the movie), Squirrel Girl's BFF Tippy-Toe, the Inhuman's bulldog Lockjaw, and Hawkeye's one-eye golden retriever Lucky.
Powers of a Girl is currently available for purchase through Disney Books retailers.
Images: Disney Publishing Worldwide