What does the phrase "luxury island" bring to mind? Maybe you think about somewhere warm and sunny with lots of palm trees and delicious food. Or perhaps your mind goes to more a resort location with activities, music, and a couple of quiet places for relaxation. This luxury island proposal combines both of those thoughts but adds a dash of unsettling creepiness into the works.
According to a Boing Boing report, The Blue Estate Group is planning to create an artificial island relatively close to Nassau, Bahamas. The private oasis will include billion-dollar homes, rental space for service workers, and (of course) a place for everyone's yachts. Residents will access to ocean clubs, pools, bars, restaurants, shopping, and so much more. Basically, it's like being on a permanent vacation.
The Blue Estate Island will be about a 25-minute plane ride from Nassau, which is just under 90 minutes from Miami. It will be about half the size of Monaco and have space for about 15,000 residents. Although it's being highlighted as luxury, there's actually space for the non-rich people among us with interior apartments as low as $19,800. The concept photos are super futuristic with sleek white buildings, palm trees, and strong walls to protect the island from hurricane force winds.
Blue Estate Group
This might be the move for some people considering COVID-19's impact on densely populated countries like the United States. But, in our minds, we have a much more interesting theory about what this island could be.
It looks like the perfect place for a weary and unsuspecting vacationer to arrive for a lengthy getaway. They show up and realize that this luxury island is perfect… perhaps a bit too perfect. The residents don't seem to behave like normal human beings. The weather is the exact same every single day. And, they are beginning to see strange happenings and people wandering the streets at night, seemingly looking for someone… or something. What dark secrets are those pristine white buildings hiding? Truly creepy stuff.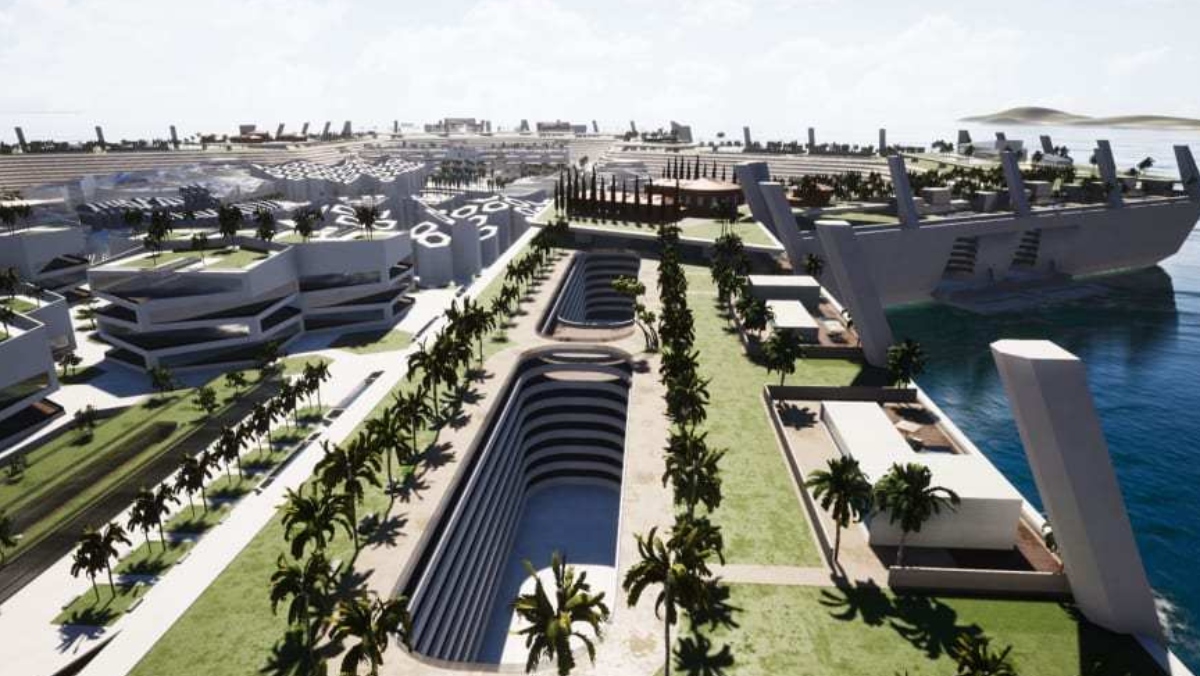 Blue Estate Group
Back to reality. The development has a 2025 completion date but some spots may be available for move in as soon as 2023. So look out for an application process and prepare to craft your perfect horror story… or be in a real-life story.