Does anyone else remember Blast From the Past starring Alicia Silverstone and Brendan Fraser? The premise of 1999 rom-com began with a family, convinced there had been nuclear war in 1962, living in an elaborate underground bunker for 35 years. It was a fun, silly idea, but obviously totally absurd. Or at least I thought so until now. Because there really is a giant underground home in Las Vegas, and it's designed to look like it actually exists above ground.
But while I doubt it would survive a nuclear bomb, it does look perfect for quarantine life.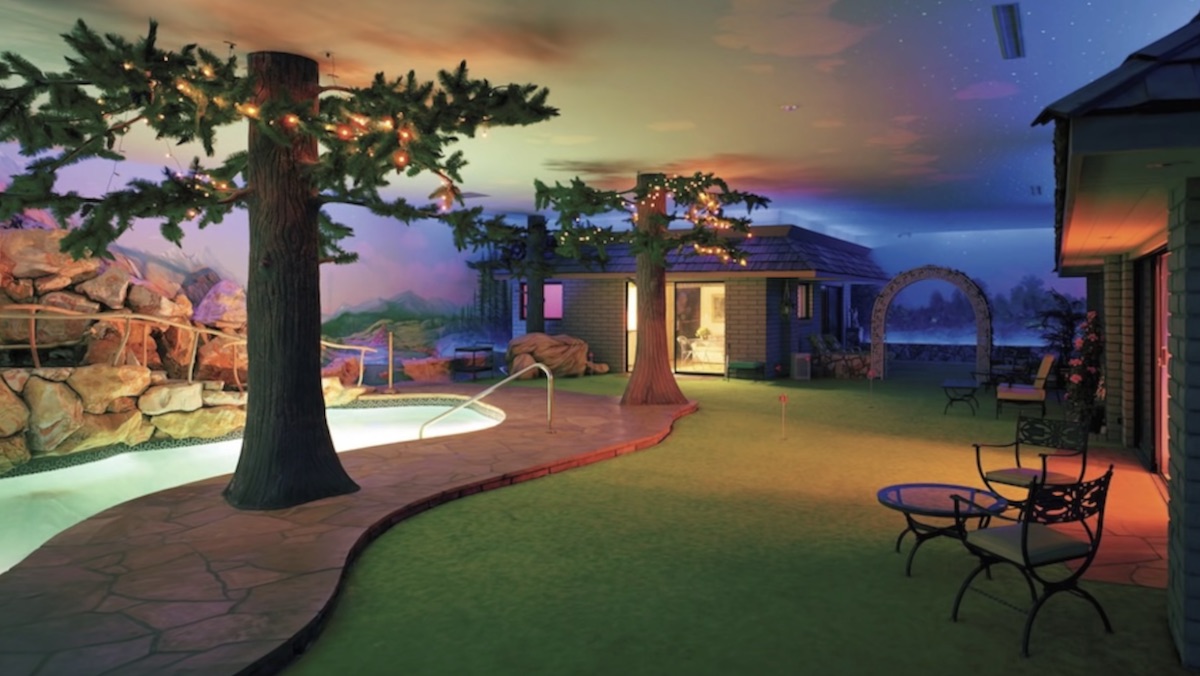 Weekly Spa Guy
Vegas Inc. reported on an unknown group known as the Society for the Preservation of Near Extinct Species (perfect) which purchased an infamous underground house for $1.15 million at the end of March. The hidden home (which we first learned about at Boing Boing) was built by Girard B. Henderson in 1978 underneath a large plot of land at 3970 Spencer St. in Las Vegas. He designed it as the ultimate Cold War fallout shelter. And mission mostly accomplished.
The house itself, which spans over 5,000 square feet on an over 15,000 square foot "basement," is fully-functional. It has a kitchen, two-beds, three-bathrooms, a laundry room, a fireplace, two elevators, fire alarms, smoke detectors, an intercom system, and a generator to give it all power. The home also looks like it did in 1978, for better and for worse. The dated decor essentially makes it double as a museum to '70s-style interior design.
Weekly Spa Guy
The "forest" really makes the hot pink sparkle, no?
But it's the "outside" of the house that makes this so remarkable. Murals that look like distant mountains and blue sky cover the walls and ceiling in an effort to hide the fact its residents live in a fancy tomb. There's also patio furniture, putting greens, two jacuzzis, a sauna, a dance floor near a small stage, a bar, a barbecue, and even an "outdoor" in-ground (really in-ground) pool. Fake trees even hide the steel beams holding the structure up.
Adjustable light settings for day, dusk, night, and sunset also give the complex the illusion of "time."
Weekly Spa Guy
The YouTube channel Weekly Spa Guy visited the location in a 2018 video. It includes some great drone footage to help make sense of just how big the plot is and where in Las Vegas it sits. This also highlights how many air conditioners the structure utilizes to make living in the shelter feasible. (Also someone spelled out "SEX" in rocks, so, you know, lot going on here.)
Those air conditioners also show why this would never really work as a nuclear fallout bunker. They'd be destroyed during nuclear war. The people below wouldn't survive for a month, let alone the year the home was designed to sustain life. Blast From the Past was a lie! I knew it.
However, that doesn't mean this home doesn't have value, especially in 2020. It's obviously cool as hell, and would make for an incredible vacation rental any year. But even better is how this is absolutely perfect for quarantine life. You'd be far away from both COVID and people who refuse to wear masks. And you'd still be able to go "outside" without worry.
Forget being a good bunker, that's just a good house period right now.
Featured Image: Weekly Spa Guy