As someone who has inhaled every season of The Great British Bake Off (a.k.a. Baking Show) available to stream in the US and the many clips and compilations on YouTube, I believe even Malcolm Gladwell and his very specific parameters would consider me a Bake Off expert. And with that, I can say that one of the biggest hidden gems in the Bake Off universe is the Celebrity Bake Off specials. The celebrity specials benefit Stand Up to Cancer and Comic Relief and are an absolute joy.
The regular seasons consist of amateur contestants who share their moving stories and bond over numerous weekends in a hot tent. We can't help but root for them all—to continue on with their baking journey if nothing else. But Celebrity Bake Off is pure chaos. And James McAvoy, a Celebrity Bake Off Winner, recently shared his journey on The Late Show with Stephen Colbert.
Now if there's one thing you learn from watching Bake Off it's that the baking tent is no joke. It's absurdly hot—hence the baffling decision to always make ice cream week on the hottest day of the year—and full of tension. And McAvoy confirmed as much to Colbert. 'Temperatures rising. There's wheat flow everywhere. It looks like Scarface times ten," McAvoy said of the tent's atmosphere. "It's sweaty, it's tense."
He added that while he doesn't usually get nervous—reiterating that this was all for charity—even he felt the heat inside the tent. McAvoy noted that even the contestants who enter the show ready to have a good time, end up succumbing to the Bake Off intensity. Bake Off is perfectly summed up by comedian James Acaster, who once said of his signature bake, "Started making it. Had a breakdown. Bon Appétit."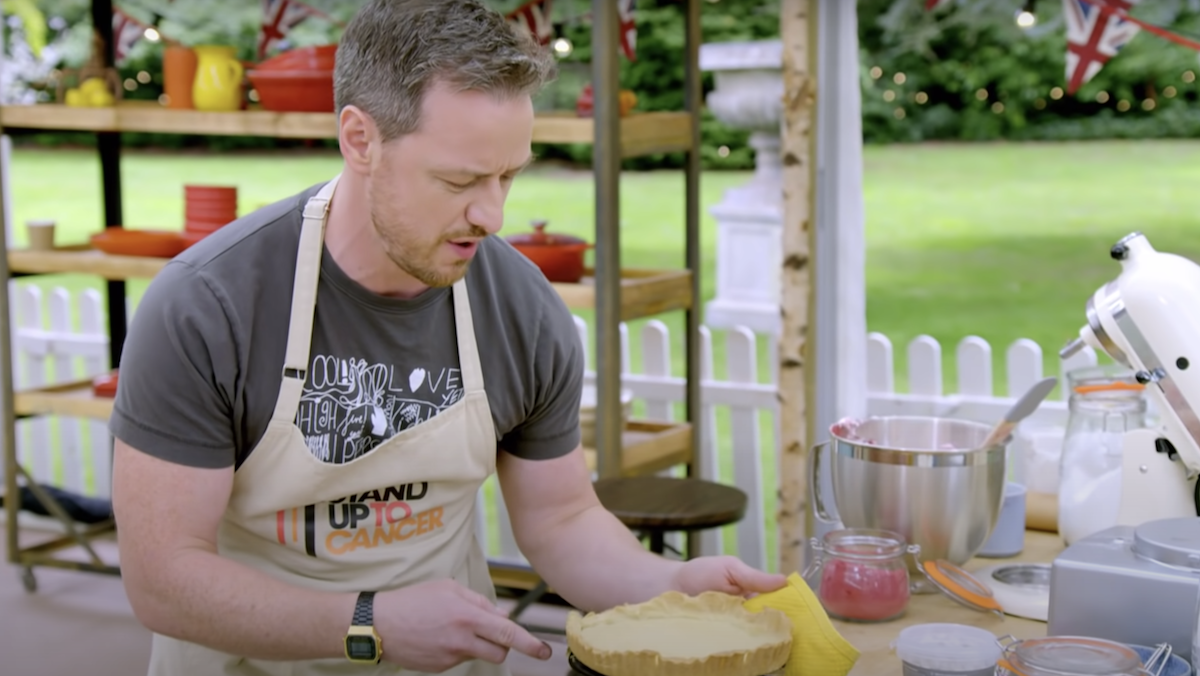 Unfortunately, the Celebrity Bake Off specials are not available in the US. And once he learned that Stand Up to Cancer, which his Bake Off special benefited, is also a charity in the US, James McAvoy was just as baffled that American viewers can't see him complete his His Dark Materials snow leopard cake in all its glory. And firmly believes a petition is in order. But as a consolation prize, the official Great British Bake Off YouTube channel does release highlights from the celebrity episodes.
Currently there are over 40 Celebrity Bake Off episodes—22 of them benefit Stand Up to Cancer, which is the charity Channel 4 has partnered with. (The Comic Relief and Sport Relief episodes were from the show's BBC days.) The contents are largely Britain-based comedians, actors, and presenters. This list includes Daisy Ridley, Tan France, Michael Sheen, David Mitchell, and the iconic Allison Hammond. But even a few Americans have snuck in, including John Lithgow, Richard Dreyfuss, and Teri Hatcher. Hopefully one day we'll get to see the episodes in their full glory.
But for now we have endless YouTube clips. And James McAvoy's very charming first-hand account.