Iris Compiet knows the world of faery. With a careful eye, the artist and writer explores realms beyond our own, discovering beautiful creatures and beings. You might have come to know her work through the gorgeous The Dark Crystal Bestiary: The Definitive Guide to the Creatures of Thra. If so, you're in for a treat as you enter the world of the Faultlines. Compiet created this place full of fantastical wonders, and the new Faeries of the Faultlines: Expanded, Edited Edition takes readers on a journey.
Faeries of the Faultlines took off when Compiet put it on Kickstarter in 2017. And now this updated edition brings expanded sections, more faeries, and additional documentation. We talked with Compiet about her inspiration for the Faultlines world, the field guide style of the book, and how the world of faery connects to our world.
Iris Compiet
Nerdist: How did the world of the Faultlines began?
Iris Compiet: From a very early age I was intrigued by the world of faery. I was always reading stories and listening to fairy tales. When I stumbled upon the book Faeries by Brian Froud and Alan Lee, I figured that could be my job when I grew older: paint faeries, be an artist. At first, things didn't really work out because I lost touch with fantasy and the faery world as I grew older and went to art school. Fantasy was frowned upon in art school so I had to put it aside for a bit.
I set out to build a career as a fantasy illustrator but, to be honest, it never really worked out for me, I never felt like I was doing anything I should be doing, and I hated the assumption that I would just draw faeries. One day, though, I felt so out of touch with myself and my art that I came to the conclusion that I needed to go back to my roots, so to speak. I started to sketch mermaids and faeries. They just trickled out of my pencil onto the paper—very slowly at first but once I got started again it felt like all these beings had just been waiting to come out. For me to find them again. And before I knew it I had filled 25 sketchbooks or so.
Those sketches turned into a book because I wanted to invite more people into the Faultlines, a world I've always known but wasn't quite ready for until that moment, that day when I just made peace with myself and let it flow.
Iris Compiet
The field notes style of the book really pulls you into the world. What made you land on this particular presentation? Did any naturalists who documented our world inspire you?
In all honesty the whole look and idea behind it was totally in line with the art itself. Nothing was really planned out, it was all very natural and it made perfect sense to create a book which people could take with them when they'd go out into nature. Something they could open up and read a bit then look at their surroundings and maybe see the creatures they'd just read about. I didn't really have any book in mind when I created this one. I just knew I wanted it to be as close as possible to my own sketchbooks, that's why I used a specific type of paper to print on, the finish of the cover—it all helps with the idea that this is my sketchbook and my journey.
The stories in the book are often very short and more like notes on particular faeries. I don't want people to just read my stories but instead be able to add to them, to elaborate on them in their minds as they read.
Like creatures in our world, the faeries lives in different habitats. What were some of your favorite types of environments to explore?
I grew up in the province of Zeeland in the Netherlands, Zeeuws-Vlaanderen to be exact, and I was always playing outside. I would just collect all kinds of things that inspired me, and I still do—I still have pockets filled with rocks and leaves and whatnot. But as much as I love the landscapes of Zeeland, my most favorite place to be has to be the forest. If there are trees I'm happy. Giant trees, moss covered rocks, the sound of leaves rustling, water trickling in a stream, the smell of wet earth, it's like coming home. Those sensations really feed me. The moment I set foot in an area like that it's just so easy to hear the stories.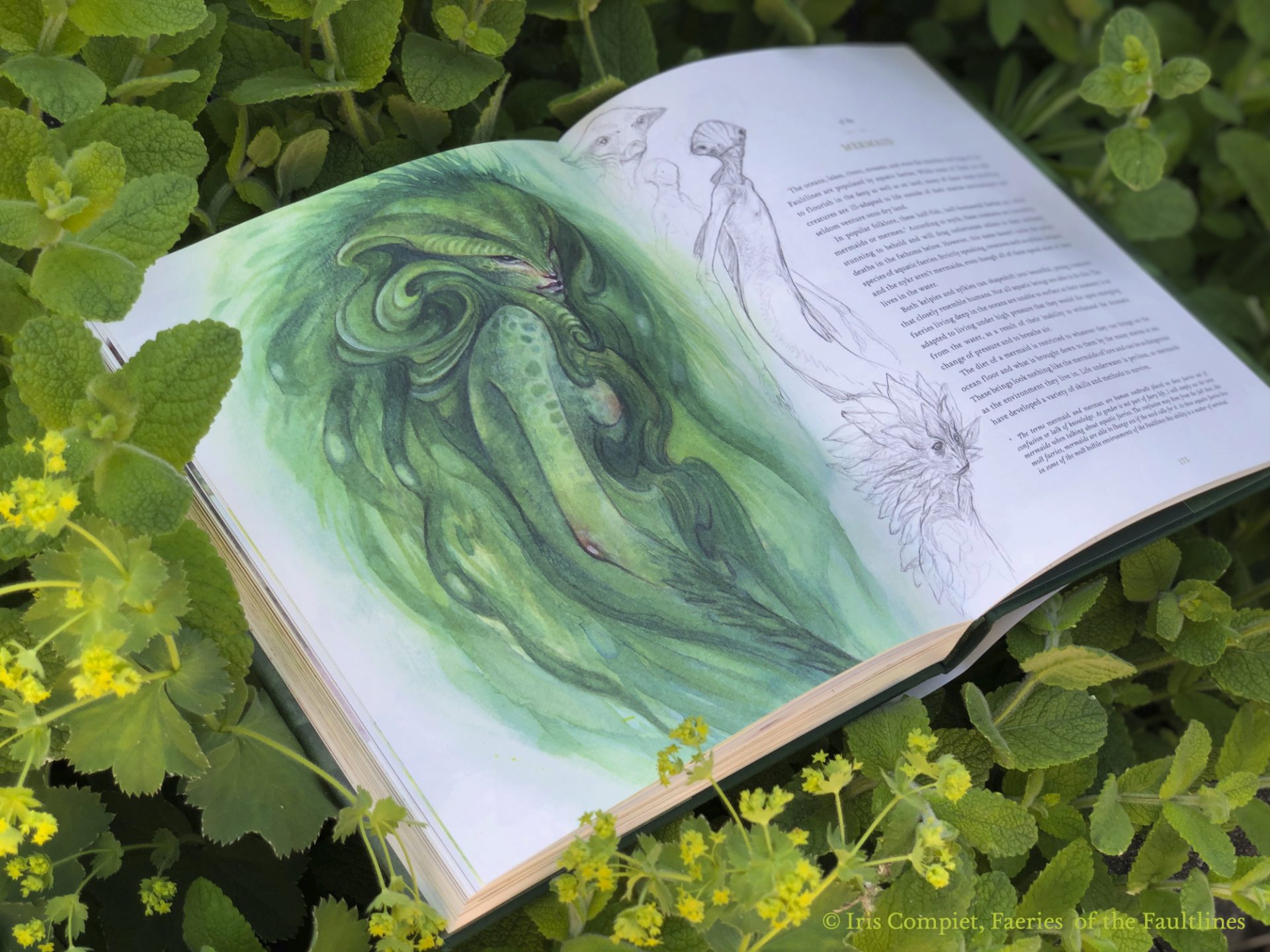 Iris Compiet
Connections such as talking about Michelangelo possibly using crushed faery pupae cement the Faultlines even more as a real place. Can you talk about developing those kind of touchpoints?
For me fantasy is reality, or reality is fantasy. To make fantasy real you have to root it in reality. There needs to be a link, a "what if" moment. The moment that sows a seed of doubt about the reality of the fantasy. As kids we can see a world that is magical. We look at really ordinary things with wonder and amazement. It makes sense that a certain stone just is a dragon egg. These are things we unlearn as adults. Fact and logic take over, but is it really fact and logic? Isn't it much more fun to sometimes wonder about the possibilities that lie in the what if?
This to me is the essence of Faeries of the Faultlines. I want to give people a glimpse of the "what if" to ignite their imagination, to bring them back to their childhood and to say it's okay to look at ordinary things with extraordinary eyes. So elements like this are my thoughts, my what if moments. What if Michelangelo really did use crushed faery pupae to paint with? Is that why the colors are still so vibrant after all this time? Maybe the faery magic puts a spell on all those who see the paintings? Things that I wonder about, I just try to see if the answer could lie in the Faultlines.
Spending so much time exploring the Faultlines, do you find that you start to see your creations in our world?
I'm often asked if I see the faeries in our world and I think people mistake seeing with actually seeing, by way of looking. It's difficult to explain but yes, I 'see' them. Just not like you'd see something else. It's more a matter of feeling. And when I'm working I generally never know what I'll be painting or drawing before I begin. It's usually just a matter of putting my pencil on the page and following it. Exploring the Faultlines by way of pencil so to speak. And once I get started there's no telling what happens or where I'll end up. Not every story that finds its way into my sketchbook is ready to be told. Sometimes stories need time. There's no sense in rushing this. It's faeries—their concept of time and place isn't like ours. It happens when it happens.
Faeries of the Faultlines is available today.
Featured Image: Eye of Newt Books.
Amy Ratcliffe is the Managing Editor for Nerdist and the author of A Kid's Guide to Fandom, available now. Follow her on Twitter and Instagram.