In February, AMC+ released a teaser showcasing a lot of its 2022 content. It included just the briefest—like a few seconds— glimpse of its upcoming Interview with the Vampire series. The footage sees a suave, unbothered Lestat and a very rattled Louis. Admittedly there wasn't much to go off of, but it certainly piqued our interest. Now we have our first actual look at Lestat de Lioncourt and Louis de Pointe du Lac in the upcoming series. And we have to say, the pair look quite dapper.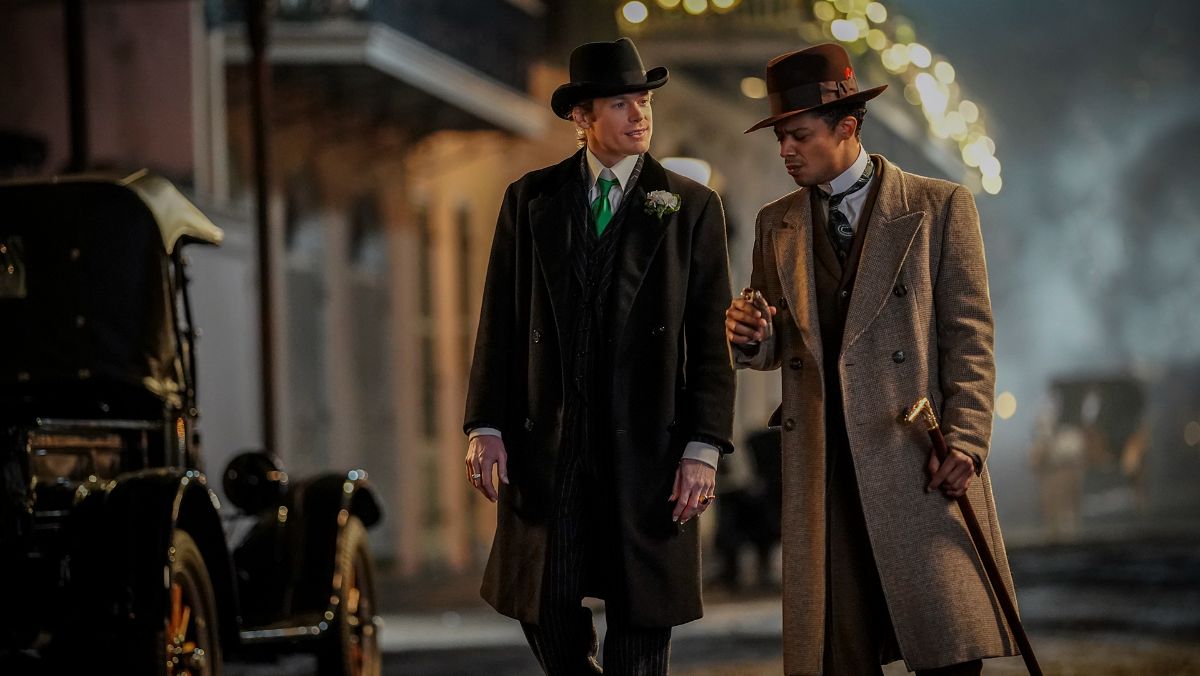 AMC released four images from the Interview with the Vampire series on Twitter, including a pair featuring Sam Reid as Lestat and Jacob Anderson as Louis. And it's certainly a far cry from Louis' fraught demeanor in the tiny tease. In fact, in the solo image below, he even looks fairly content! Notably missing from the images is Bailey Bass as Claudia. Considering, she is an integral part of this story, hopefully we'll get a first look at her—and the trio—soon.
AMC hasn't released much of what to expect from the Interview with the Vampire series, noting: "Based on Anne Rice's iconic and bestselling novel, the series follows Louis de Pointe, Lestat De Lioncourt and Claudia's epic story of love, blood and the perils of immortality."
Christian Robinson, Kalyne Coleman, and Eric Bogosian also appear in the series. Bogosian is the journalist Daniel Molloy, played by Christian Slater in the 1994 film. Meanwhile, Colman is Louis' sister Grace, who appears in the books but not the film, and Robinson is Grace's love interest, Levi.
Rolin Jones is creator, showrunner, and executive producer for Interview with the Vampire, alongside Mark Johnson who is overseeing AMC's Anne Rice universe. But for fans worried about the late author's involvement, both Anne Rice and her son, Christopher Rice, are executive producers on the series. Alan Taylor is directing the series first two episodes and serves as executive producer. Season one boasts seven episodes.
Interview with the Vampire is the first of the Anne Rice adaptations from AMC to arrive. The network is also working on adapting the late author's Lives of the Mayfair Witches novels. Alexandra Daddario is set to star in that series, which should premiere not long after Interview with the Vampire.
The Interview with the Vampire series arrives this fall on AMC and AMC+.