We can't wait to see the magical world of Shadow and Bone hit Netflix in April. The fantastical series centers on Alina Starkov. She's a young woman who discovers a hidden power that throws her into the center of an ancient war. Based on the bestselling novel of the same name as well as the beloved follow-up duology Six of Crows, Shadow and Bone has fans eager to see their favorite characters come to life. But there's one relationship in particular that's key. Alina's childhood best friend and potential love interest, Mal.
In the books he was less than perfect, but the show reimagines their love as something pure and real. Recently Nerdist joined a cohort of journalists to chat with the cast and creators of the show. And they were all eager to talk about the shift in the love between their leads.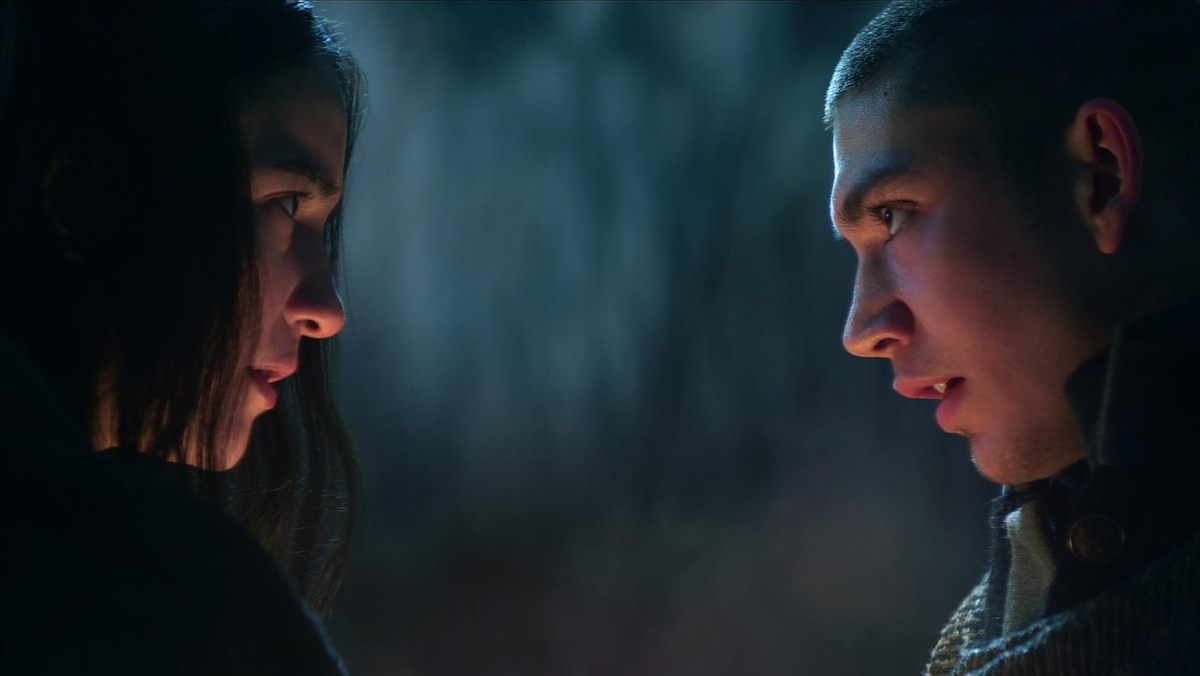 Netflix
This radical reconsideration of Mal and Alina's relationship came out of the writers' room exploration of the characters. Showrunner Eric Heisserer explained how his writers' own lives shaped the show's version of the central pair. "Half my team in the room is mixed race. A lot of the time they brought their voice and their experience to these characters. It was my job really to just get out of their way," Heisserer said. "One of the things that they felt was important was representing the kinship of how marginalized both Alina and Mal felt at an early age and how that bonded them. And how that relationship grows organically out of a sense of protecting another, and can turn into a sort of an unrequited love where both sides are really reluctant to take the plunge because they need each other so much in other aspects of their life."
Aside from their new connection, there's the matter of Mal. This on-screen iteration is a far cry from the distant and sometimes cold boy who put others before Alina and took his sweet time realizing her worth. Here, Mal is an honorable sweetheart and a heartthrob worthy of our affections. That was a conscious effort. "We built out someone, honestly, at the end of the day, who could be the perfect boyfriend that a lot of us would love to have," Heisserer laughed. But he's just a little scared and a little trepidatious. For all that he hunts and he tracks, there are times where Mal himself can be a bit of a woodland creature. And we felt that helps accentuate the strength of Alina as a protagonist."
Netflix
Grishaverse creator Leigh Bardugo was quick to mention a lot of that credit is due to the young British actor bringing Mal to life. "Archie [Renaux] is a big part of that; he's an unbelievable actor," Bardugo enthused. "Finding him was really this incredible stroke of luck because we knew right away that this guy could play this character in a way that made him feel real and raw, in a way that a lot of actors cannot."
For Renaux, building the rapport between Mal and Alina came easily, thanks to his co-star Jessie Mei Li. "That chemistry was something that came very naturally," he told the group. "Jessie is just—mind the pun—like a real beam of light and energy and happiness. She's very good to work with and is a great lead for our show. I remember even on our chemistry tests before I even got the part, afterwards we got some lunch and she was getting all excited about starting work and started filming. And I had to remind her that I still hadn't got the part yet and sort of calm things down a little bit."
Netflix
He also had help from another cast member during his prep for the role. "Ben [Barnes] helped me out a bit in the audition process as well," Renaux recalled. "He called me up and he'd already read the books. And he said that for the show to work we have to believe in this relationship and that these two people are all they need. That's the beating heart of the story."
Shadow and Bone hits Netflix on April 16.