Remember the video of the little girl that went viral recently, who was excited beyond words because Michael Myers showed up at her birthday party? Well, there are millions of other little kids out there who love "The Shape" from the Halloween series. And one day, they'll grow up and need some fancy jewelry to show off their love for Haddonfield's most resilient slasher. And now, someone has crafted the pendants of their dreams. Well, of their nightmares we should say.
Aporro
The folks at Aporro have crafted this gorgeous 14k Gold Iced Custom Michael Myers pendant. One made to wear at the very fanciest of Halloween parties. The pendant is brass with a gold plating, with Cubic Zirconia stones. And for $650.00, it can be yours.
Aporro
But what if Michael isn't your thing? And Jigsaw from the Saw movies is more your style? Well, Aporro has got you covered as well. Their white gold iced custom jigsaw pendant is a thing of beauty. And unlike the Michael Myers one, will only set you back $499.99. This one is also brass with a gold plating, with Cubic Zirconia stones. So does one buy a Michael Myers or a Jigsaw pendant? Well, as the latter was so fond of saying in the Saw movies, "make your choice."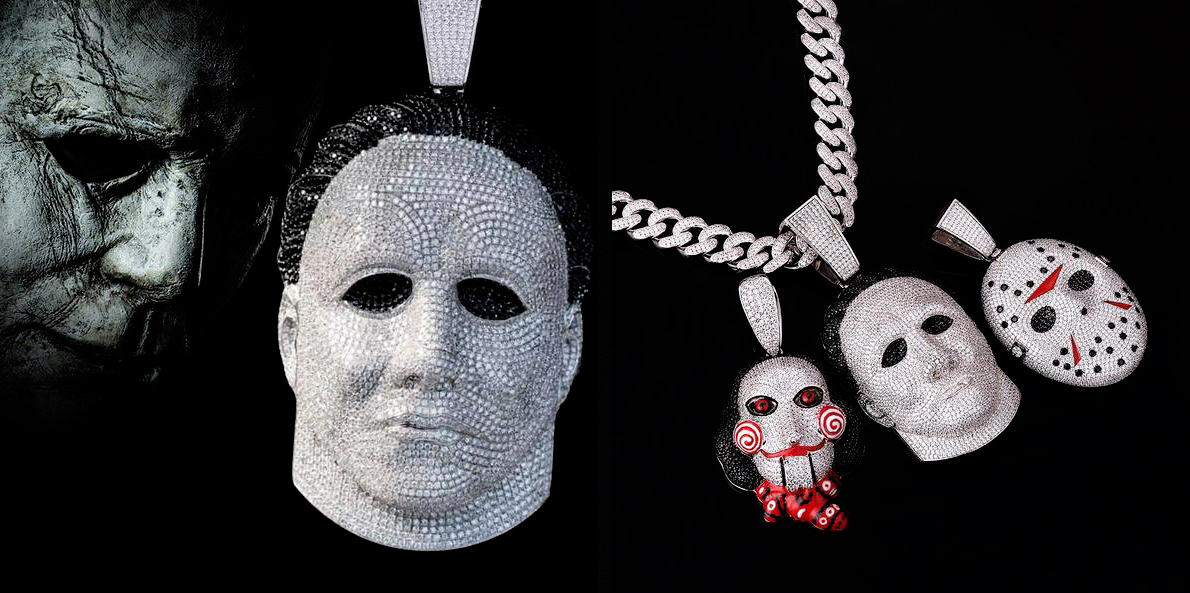 Markus Dayan
But both of those might be a little too rich for your blood (see how we worked in blood?) So this Markus Dayan Michael Myers Iced pendant might be more for you. At a price of $198.90, hardcore Halloween fans with a taste for the shiny might not want to pass this one up. And Markus Dayan also has their own version of a Jigsaw pendant, as well as one for Jason Voorhees from Friday the 13th. Now, where can we get an iced gold Ghostface pendant? That one's got to exist too, right?