Last year marked the first time a fully 3D-printed house went on sale in the US. The home in Riverhead, New York, features plenty of room and modern amenities. All while exceeding energy efficiency codes and costs. But what made the house especially enticing was its price tag, with a listing half that of equivalent homes in the area. With modern technology making it possible to build an eco-friendly, cost affordable home, its no surprise Habitat for Humanity is now building its own 3D-printed homes. And a mother and her teenage son recently moved into the organization's first one made in America.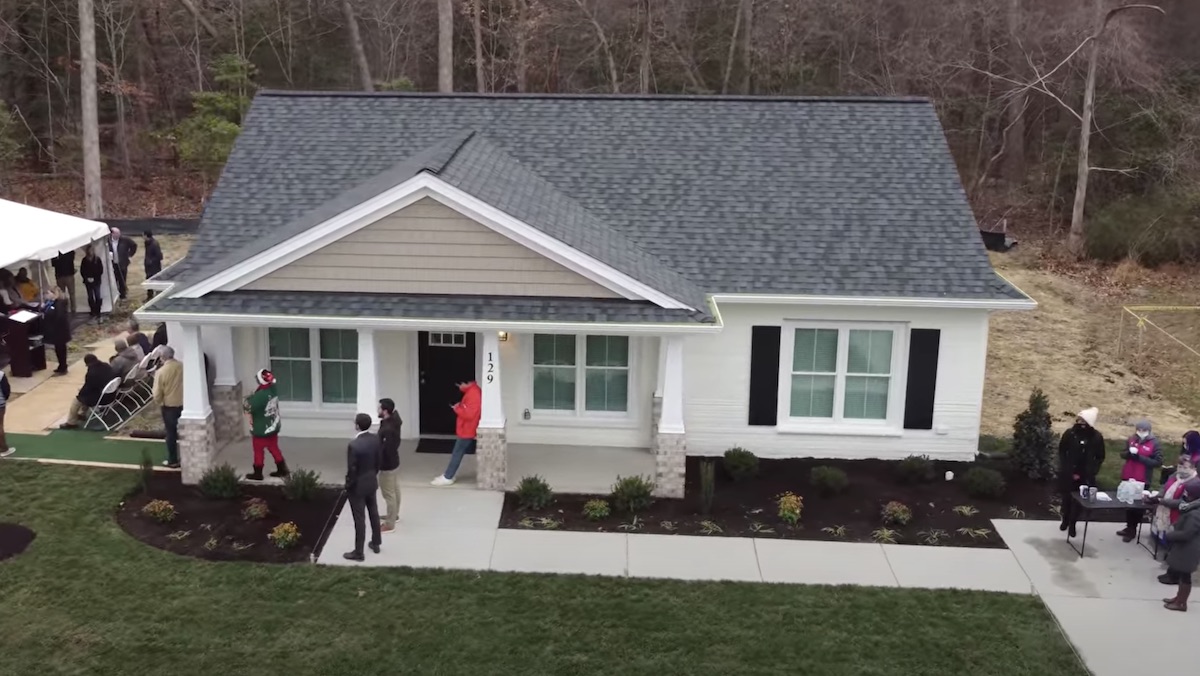 Habitat for Humanity Peninsula and Greater Williamsburg teamed with the 3D printing home construction company Alquist to give a mom and her 13-year-old son a dream home. Made of concrete, the 1,200-square foot house in Williamsburg, Virginia (which we first learned about at Architectural Digest) has three bedrooms and two full baths. And it only took 12 hours to make, despite being much cheaper to build then a typical home.
From Habitat for Humanity Peninsula and Greater Williamsburg:
"Alquist uses concrete to 3D print its homes, saving up to 15% per square foot in building costs based on preliminary estimates. Concrete also confers additional long-term savings because it better retains temperature, saving on heating and cooling costs. It is resistant to tornado and hurricane damage."
And like all Habitat For Humanity homes, this 3D-printed house is EarthCraft certified.
New owner April Stringfield and her son moved into the home late last year. Her mortgage payments will not exceed more than 30 percent of her income. And that price includes her real estate taxes and homeowner's insurance.
Stringfield was able to purchase the house as a member Habitat For Humanity's program after providing at least 300 hours of volunteer work known as "sweat equity". Safe to say she doesn't have any complaints about giving her time to to the organization. Especially since her home also comes with a 3D printer so she can easily make replacement parts for her house.
Affordable housing is one of the world's greatest needs. In every country. Building durable, eco-friendly homes that can withstand severe weather is another. And 3D printing might be the answer to all those problems. Habitat for Humanity's first such home in the US definitely won't be its last.