At the close of World War II the Nazis, unwilling to share their art with the Russians, torched the Immendorf Castle in Lower Austria and the paintings inside it. Including three masterpieces by the Austrian symbolist painter, Gustav Klimt. Now, however, thanks to historical clues and artificial intelligence, Google and the Belvedere Museum in Vienna have been able to colorize black and white photos of the paintings. And they reveal what could be the jaw-dropping, vibrant originals.
Design Taxi reported on the colorization of the trio of masterworks by Klimt. The Austrian master had originally painted the three images as decorations for the ceiling of the University of Vienna. The school commissioned Klimt to capture the essence of three faculties—medicine, law, and philosophy—but it didn't like his work. The school dismissed Klimt's paintings as ugly and even pornographic and he kept them for himself. (Klimt died in 1918 and the paintings later on ended up at Immendorf.)
To restore the three paintings, Emil Wallner, a resident at the Google Arts & Culture Lab, and Dr. Franz Smola, a curator at Belvedere, teamed up to develop a machine learning program; using stories of the paintings from journalists as well as reference works from Klimt from the same period as data points.
Google Arts & Culture
As Wallner notes in the video above, the program worked by having him apply reference colors to the black and white images. Using descriptive articles, one remaining color detail from "Medicine," and other Klimt paintings as references, the AI then applied the reference colors to the black and white images in the way Klimt would've. Presumably.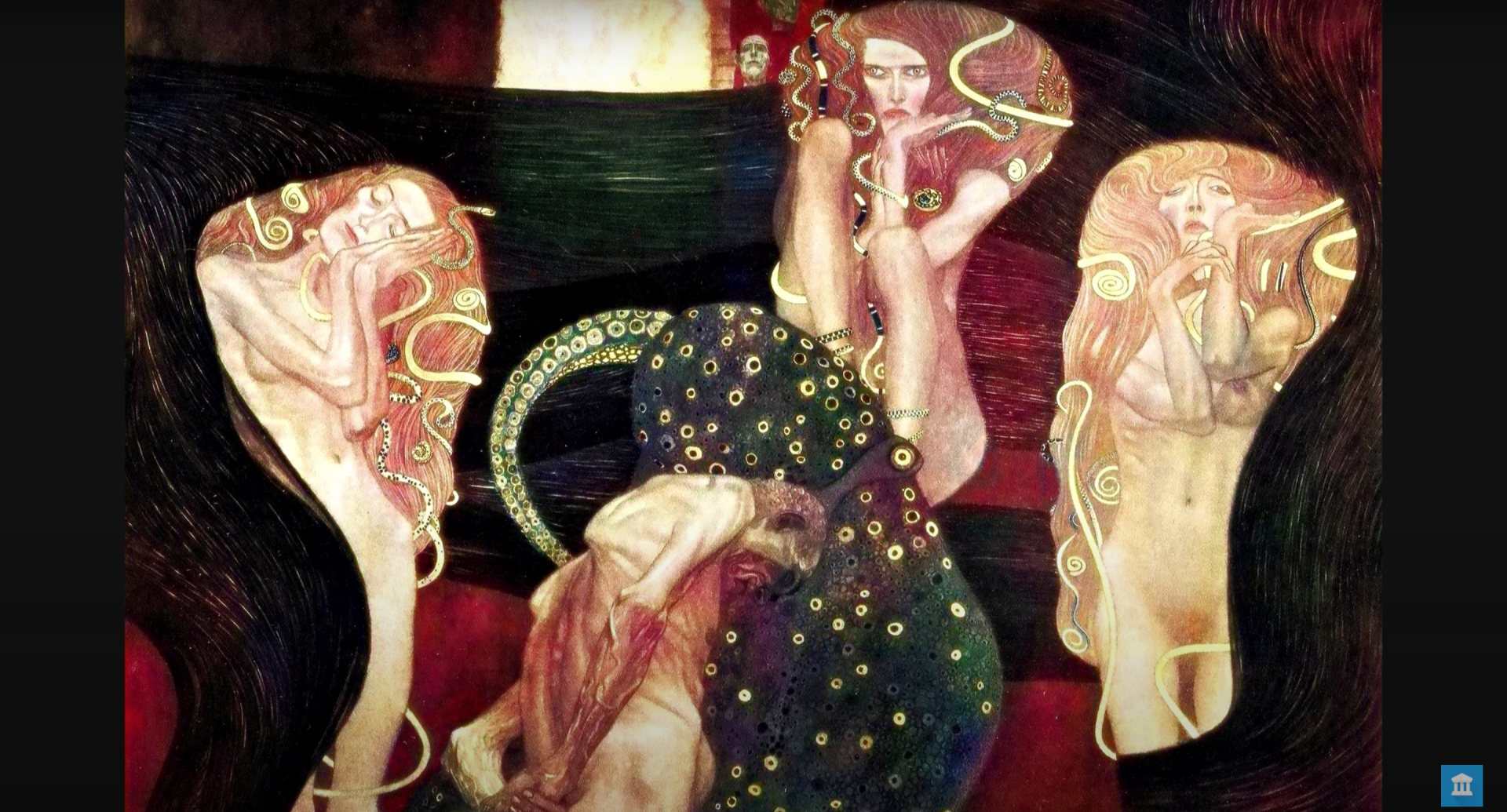 Google Arts & Culture
As for the results? The three paintings astound just like all of Klimt's other works. Each of the paintings has rich, vibrant color schemes and Klimt's familiar flecks of gold. Medicine is perhaps the most familiar-looking piece (especially considering the extant color detail), but they all seem true to form. They also, however, seem uniquely grand for Klimt, who often only had one or two figures in his paintings. Which makes us wonder: How in the world could people have wanted these destroyed so badly? Hopefully Skynet will just leave them alone!