Despite the fact that Game of Thrones' final season premieres in just two months, we don't know much about what to expect just yet. All we've seen from season eight so far is Daenerys arriving at Winterfell. But the Three-Eyed Ravens at Watchers on the Wall seem to have discovered program details for the first episode. If correct, the first episode is going to include some intriguing surprise returns.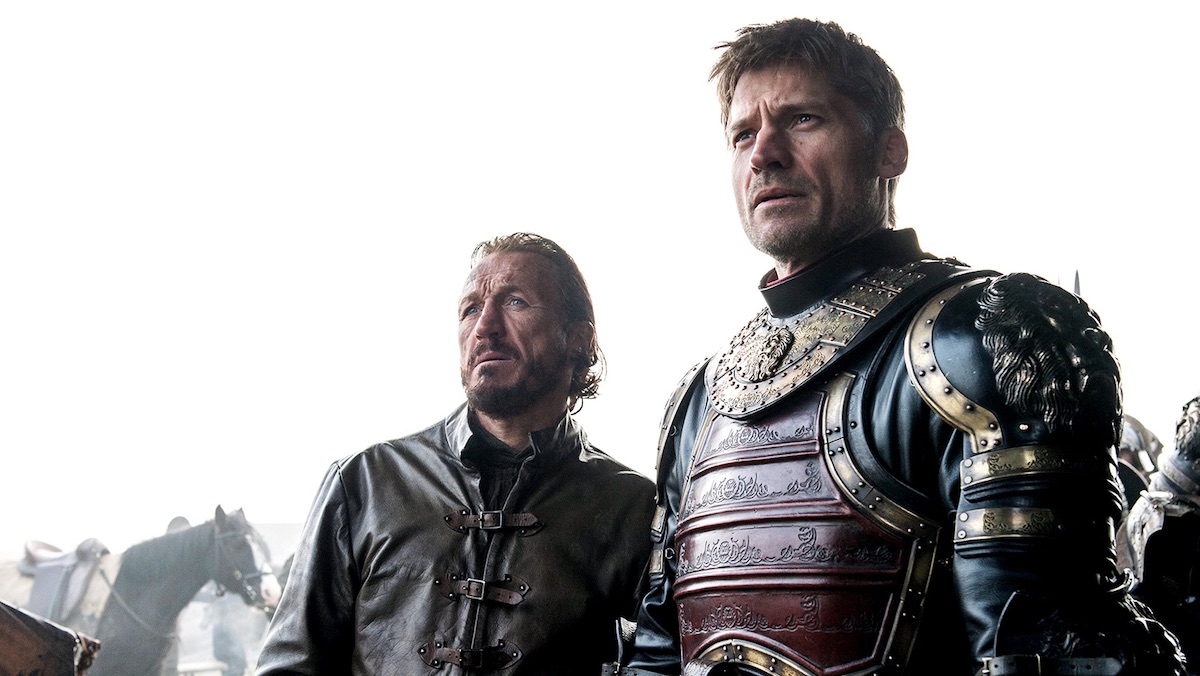 Internet sleuths found the URL for the still unlisted and unnamed premiere episode. At only an hour long, it's not what we expected, since all six episodes have been teased as being featured length. Beyond this, the URL does list almost every major and minor cast member we expect to see this season.
However, two major omissions—Vladimir Furdik who plays the Night King (he's definitely going to be on the show), and new addition Marc Rissmann, who is playing Commander of the Golden Company Harry Strickland—points to this list being incomplete, suggesting perhaps that it's only a cast list for the season premiere episode.
And if that's the case, the list has some unexpected names that might give us our best clues yet at what could happen in the premiere.
THE EXPECTED
With Jon and Daenerys heading to Winterfell, where so many are waiting and training, none of these names are a surprise:
Peter Dinklage (Tyrion), Nikolaj Coster-Waldau (Jaime), Emilia Clarke (Daenerys), Kit Harington (Jon), Liam Cunningham (Davos), Sophie Turner (Sansa), Maisie Williams (Arya), Nathalie Emmanuel (Missandei), John Bradley (Sam), Isaac Hempstead Wright (Bran), Conleth Hill (Varys), Gwendoline Christie (Brienne of Tarth), Rory McCann (The Hound), Hannah Murray (Gilly), Iain Glen (Jorah), Jacob Anderson (Grey Worm), Daniel Portman (Podrick), Joe Dempsie (Gendry), Rupert Vansittart (Lord Yohn Royce), Bella Ramsey (Lyanna Mormont), Richard Rycroft (Maester Wolkan), Megan Parkinson (Alys Karstark), Harry Grasby (Ned Umber), and Staz Nair (Qhono).
Three others—Ben Crompton (Dolores Edd), Kristofer Hivju (Tormund Giantsbane), and Richard Dormer (Beric Dondarrion)—could either be at Castle Black or fleeing to Winterfell to warn them about the Wall's demise. The season seven finale script confirmed Tormund and Beric survived the Night King's attack by running sideways and not down.
There are no surprises in King's Landing either, where we'll also see Lena Headey (Cersei), Hafþór Júlíus Björnsson (The Mountain), and Anton Lesser (Qyburn). Jerome Flynn is also listed in the episode, but we hope Bronn stays far away from Cersei, as she thinks he betrayed her.
No surprise Alfie Allen (Theon Greyjoy) is also included, but two other cast members appearance might tell us where we'll see him.
THE SOMEWHAT EXPECTED
We knew we'd see Gemma Whelan's Yara Greyjoy and her uncle Euron, played by Pilou Asbaek, this season. But if we're not going to see Harry Strickland in this first episode, that means Euron likely hasn't transported the Golden Company to King's Landing yet. That would place Euron and his prisoner/niece either on a boat to Essos or already there. This might point to where we'll see Theon too, since we know he's on his way to save his sister. Could Theon's pursuit hinder Cersei's plan to get her mercenary army to Westeros?
If the Greyjoys end up in Essos, they could go to the major port city of Volantis, and there they just might run into another somewhat surprise appearance on this list: Carice van Houten.
Melisandre said she'd be back at some point to die in Westeros, but we didn't expect to see her in episode one. If she's not still in Volantis, that means she's already back in the Realm. Will she have an army of red priests and priestesses with her to fight the darkness? We certainly hope so.
THE TOTALLY UNEXPECTED
We did not expect to see Lino Facioli on the cast list, largely because we forgot who he is. The young actor plays the irksome Robin Arryn. The Lord of the Vale was presumably at Winterfell during season seven, but we didn't see him. It makes sense he's still there and has a role to play; he's just been such a non-factor we didn't give him much thought.
Just like Jon bent the knee to Daenerys, and just like we know Sansa will begrudgingly give over Winterfell, Robin Arryn will be called on to decide if he and the Vale will also accept Daenerys as his queen. He's a big baby so that might not go well, but this sets up an amazing opportunity for the show to call on the history of Westeros. The Vale bent the knee to Aegon the Conqueror after his sister Visenya gave the young Lord of the Vale a dragon ride as his horrified mother looked on.
We don't care if the Night King wins if we get to see Daenerys give Robin Arryn a dragon ride first.
The last cast member is definitely the most surprising: Tobias Menzies, who plays Edmure Tully. The last time we saw him, he was betraying the Blackfish and giving Riverrun to the Lannisters and the Freys in season six. He did it in exchange for Jaime's offer to be a respected prisoner at Casterly Rock with his wife and son, but it's not clear if he ever ended up there, since Walder Frey later said Edmure was back in a cell.
Was he at The Twins when Arya killed all the Freys? Is he a free man now? If so, we might expect to see him head North. However if he was a prisoner of Casterly Rock, he would have been evacuated when the Lannisters gave up the castle, meaning he's in King's Landing now. He wouldn't be as valuable a hostage as Cersei thinks, though, since Brienne knows he betrayed his uncle (she was there when it happened).
Either way, it's a pretty intriguing name to see pop up. Is that true because we're two months away from the premiere and still know so little that we're super excited for Edmure freaking Tully? Or is interesting because literally everything about Game of Thrones fascinates us?
Yes.
Images: HBO