HBO is going to extraordinary lengths to prevent spoilers for Game of Thrones' eighth and final season from getting past the network's protective Wall of secrecy, but a two-year wait between seasons gives us plenty of time to forge our Maester's link in Westerosi mysteries.
And while we still have a lot of old dusty books to dig through, we have already unearthed some important facts about what to expect from the end to the Great War between the living and the army of the dead. Here's everything we know about Game of Thrones final season…so far.
2 New Promos and a Poster
UPDATE, 4/2/18 – We're less than two weeks away from the final season premiere(!!!) and HBO dropped two new promos featuring some new footage. Both also feature Lannister boys taking an active roll in arguing for why past enemies need to bound together. In one, Tyrion talks about how they will all die if they don't work together. In the other, Jaime says it's not about loyalty; it's about survival.
Below the teasers, check out our episode of Nerdist News, which broke them both down.
The Longest Battle Ever in the Show's Longest Episode
We knew the looming Battle of Winterfell with the White Walkers would set the record for the longest continuous battle sequence ever recorded. However, now that we know the final season's third episode will possibly be the longest in show history, and all signs pointing to that being when the big showdown happens, that epic fight might totally demolish the previous record.
A Real Trailer!

After making us wait for a very long time, HBO finally released a full trailer for the final season made up entirely of new footage. We broke it all down, frame-by-fascinating-frame, but the biggest takeaway is that Winterfell is going to be home of one epic battle.

New Footage (and a New Friendship?)

HBO has given us another sneak peak at Daenerys' arrival at Winterfell, showing what happens when dragons come to the North. (Spoiler: even the toughest people in Westeros freak out). Read here why we think this latest clip, with a fearless Arya smiling at Drogon, points to the start of a powerful new friendship.

Premiere Date and New Teaser
Mark your calendars, send ravens inviting friends and family to a viewing party, and get ready to face winter in spring, when Game of Thrones final season premieres on Sunday, April 14th. HBO has finally announced when the long-awaited season will debut. And not only did they give us an official start date, they did it with a great new, symbolic teaser. "Crypts of Winterfell" shows Jon, Sansa, and Arya walking through Winterfell's underground tomb past the statues of Lyanna Stark, Catelyn, and Ned. They then find statues of themselves, but that bit of horror is interrupted by even more terror, when ice from the White Walkers starts to take over.

Is it spring yet? Cause we can't wait for winter.
Sansa Bends the Knee (Kinda)

HBO released a new promo for their upcoming 2019 slate during this year's Golden Globes, and it featured Sansa greeting Daenerys at Winterfell. Here's why it revealed a lot more than you might think.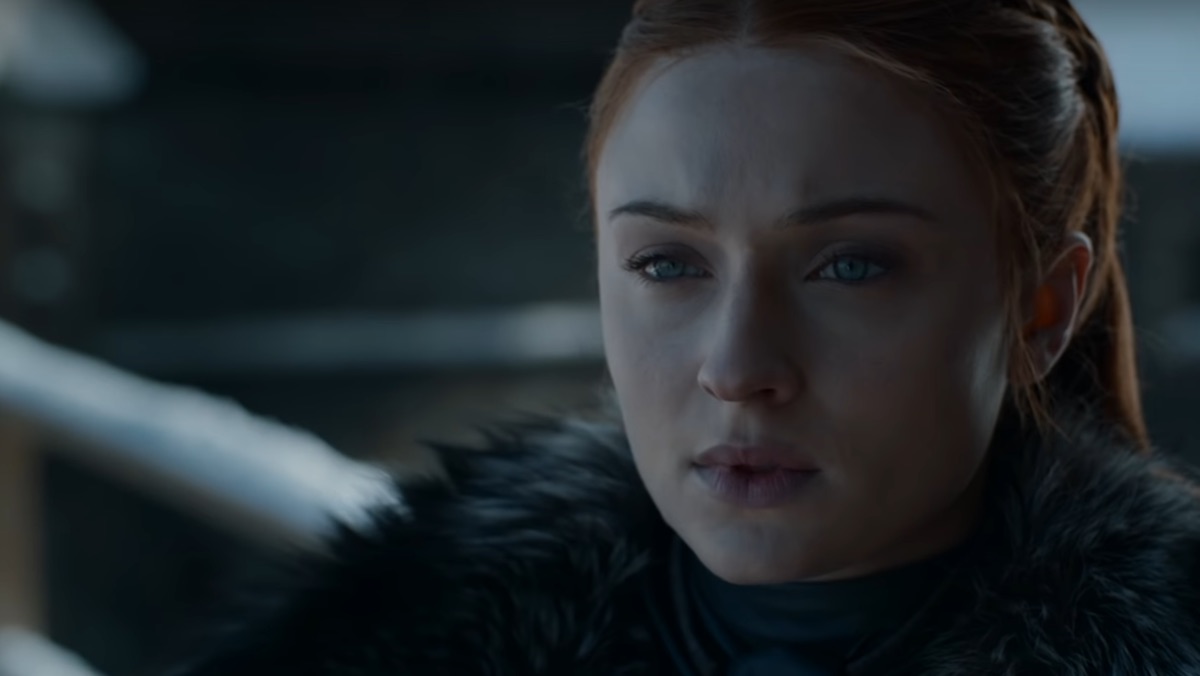 First Teaser
As far as new footage from the season goes we still only have a half second hug between Jon and Sansa, but the show's final season now has a symbolic, tantalizing teaser that highlights the coming clash between fire and ice. As the snows of the White Walkers spreads across everything and everyone in the North, flames consume the South as the two forces meet in the middle of Westeros. While we can't take this literally (Daenerys is heading North already), we can't rule it out entirely. Also, we can't help but notice a dire wolf in Winterfell being overrun by the cold, or a lion in the Westerlands being overtaken by flame.

Fire and ice. #GoTS8 pic.twitter.com/ixHIsPjyhW

— Game Of Thrones (@GameOfThrones) December 6, 2018
Premiere Date
After some signs pointed to another summer premiere like season seven had, HBO has finally announced the show's final season will kick off in April. Game of Thrones will end–fittingly–with A Dream of Spring.
First Official Photo

Entertainment Weekly shared the first official from the series, and while it and the accompanying interview doesn't tell us anything new just yet, it's still cool to see Jon and Daenerys warming each other up in the Northern snow.

The first official photo from #GameOfThrones' final season is here! Get exclusive details on the most impossible finale in TV history in our report from the #GoT set: https://t.co/wjWGa4K2Yr pic.twitter.com/59aFZkCR0U

— Entertainment Weekly (@EW) November 1, 2018
Episode Order, Length, and Budget

The bad news – the final season will only be six episodes long. The good news – each episode might be feature length. So while we will get less of the Seven Kingdoms on a weekly basis, the season's total run time could be one of the longest yet.
With bigger episodes comes a bigger budget, and HBO is expected to spend $15 million per episode, which is a whopping number even for the most popular show in the world. But if they are essentially making the equivalent of six movies it almost seems like a bargain.
Writers and Directors
The six episodes will be helmed by three directors: Miguel Sapochnik, David Nutter, and Game of Thrones creators and showrunners David Benioff and D.B. Weiss. Nutter will direct episodes one, two, and four; Sapochnik will lead three and five; and Benioff and Weiss will direct the series finale.
Sapochnik has previously directed episodes with some of the show's biggest battles and sequences, including "Hardhome," "Battle of the Bastards," and "The Winds of Winter." Nutter's resume with the series is just as impressive, having led "The Rains of Castamere" (a.k.a. The Red Wedding), as well as "The Dance of Dragons" and "Mother's Mercy." With those three sets of directors tapped for the show's end, we expect a whole lot of battles and tears.
Benioff and Weiss also penned scripts for the final season, along with Bryan Cogman who has written for the show since 2011, and Dave Hill, who worked as a writer from season five forward.
Spoiler-Fighting False Finales
HBO has had to deal with some very serious leaks before, so to make sure no one can know exactly how the show will end, they are reportedly going to shoot multiple fake endings for the finale. That way even if any of them are spoiled, the public won't know if it is real even if it was actually filmed.

The Biggest Battle in Show History

A letter to the cast and crew from the show's assistant director Jonathan Quinlan (that we probably were never meant to see) thanking them for their work on an unparalleled shoot in television history revealed that a single battle sequence took three locations and an astonishing 55 days to shoot. Even with all of the incredible sequences the show has had over the years, they've never filmed something like this before.
A New, Brief Glimpse

An HBO sizzle reel gave us our first footage from the new season, but all it showed was Jon and Sansa reuniting and hugging at Winterfell. It's not much, but it does tell us Jon and Daenerys will make it there before the Night King.

Each Character In a "Completely Alien Environment"


Samwell Tarly himself, and one of our favorite D&D players, John Bradley said in an interview that the final season would send every character to an all new environment that will force them to face new challenges. That wasn't very specific, but we do have some ideas what that could mean for all the different players in the great game.
New Cast Member Sets Sale For King's Landing


In the season seven finale, Cersei sent Euron Greyjoy to pick up the famous, 20,000 strong mercenary group the Golden Company, and we think we know who will play their leader. An accidental slip up by the agency for actor Marc Rissmann (The Last Kingdom, Into the Badlands) indicated he will play the head of the Golden Company, Harry Strickland, in two episodes. Based on when he was expected to film, it looks like he might be there at the start of the season and for whatever force comes looking for Cersei at the end.
A Whole Lot of Gendry

Joe Dempsie said his character, Robert Baratheon's last surviving child Gendry, has "done well out of it this year," appearing in a lot of the season. He didn't say that guarantees he will survive, but it also means he is a real candidate to end up on the Iron Throne.
Fate of Beric and Tormund
The script for last year's season finale was made available online thanks to the Emmys, and we learned some interesting facts from it, like how internally HBO refers to the Night King's new transportation as an ice dragon ( even if that's still confusing). Among the other revelations though was that Beric Dondarrion and Tormund Giantsbane, last seen atop the Wall fleeing the blue flame of Viserion, both survived. Yay!
A New Queen?

Did Lena Headey and Maisie Williams spoil the ending by revealing Arya will be the last woman standing? MAYBE.
Make sure to check back here for updates as we learn more about the final season. In the meantime tell us in the comments section below your boldest prediction for a character's ending.
Images: HBO