HBO is really taking that whole "less is more" thing to heart when it comes to Game of Thrones final season.

Despite the show's April 14 premiere date being only two months away, the only new footage we've been given so far is a few seconds of Daenerys's arrival at Winterfell. We understand all of the secrecy around the highly anticipated end to the world's most popular show, but it doesn't make waiting any easier. You know what does though? New season eight character images.

What could these mean for the final season? Jessica Chobot breaks down some of our theories on Nerdist News:


Editor's Note: This episode of Nerdist News is sponsored by Alita: Battle Angel.

But while these images (and a chance to wildly speculate) put a smile on our face, it doesn't look like most people are enjoying winter in the North.

The only photos in the bunch that are clearly not from Winterfell are two separate images of Cersei. She looks worn out and worried as she sits on the Iron Throne.
This more cinematic photo highlights just how isolated and alone she is in King's Landing.
The rest of the bunch appear to show the major players from Jon and Daenerys' united force at Winterfell (or at least in the snowy North). Many look upset about something, included Tyrion.
Sansa doesn't look pleased she's no longer the highest ranking woman at her own castle.
Sansa's protector Brienne looks worried too, but in fairness, she always looks worried.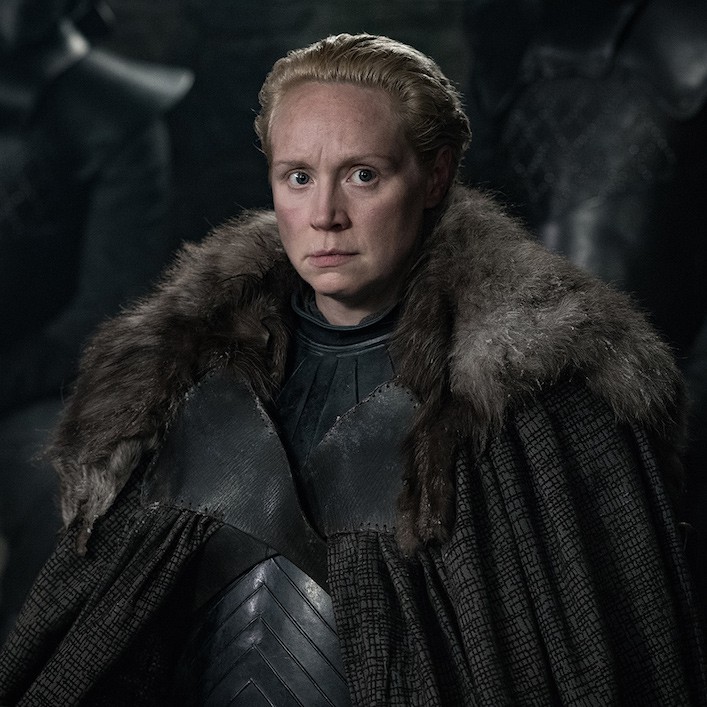 Davos also looks troubled at what looks like a big meeting.
Bran (and his massive coat) doesn't look worried as he stares at the fire yet again. He looks like his usual stoic self and deep in thought.
It's always hard to know exactly what Arya is thinking, but she looks serious as she eyes someone over. (Most likely she's looking at Daenerys upon her arrival, since these photos are probably from the season premiere.)
Notoriously grim-faced Jon…still looks grim-faced as he looks over Winterfell's courtyard.
Speaking of Daenerys, she's one of the few people who is happy. And why not! We know from the brief season eight footage we've seen that Sansa gives her the North without much of an issue. It's good to be the queen.
And there is one thing that makes Jon happy: Daenerys. The pair get lovey dovey in this photo.
Lovable Sam Tarly is one of the few who also looks happy at Winterfell. Could this be when he tells Jon the truth about his birth, and therefore who his secret aunt is? If so that smile could be fleeting.
The look on Varys' face indicates he's one of the few people not angry or worried. He looks downright bemused.
But the absolute best photo, hands down…or rather, "hand down," is Jaime Lannister in black, Northern-like armor, sporting an amazing new beard.
Sure he committed treason and his mad queen/lover/twin sister is furious at him, and yes, he is surrounded by people who hate him, and of course an army of the dead is heading his way, but life is good when you can rock that beard.
We'd smirk if we could pull it off. We can't, but at least we have these new photos to make us smile.
Images: HBO