In retrospect, Anna and Elsa had a pretty easy go of it in the first Frozen. Yes, they had to deal with chaotic ice powers, perilous mountainside treks, abominable snowmen, petty trade embargoes, and devious fiancés⁠—admittedly, it was no picnic. But when you compare that lot to all the harrowing hazards we only glimpse in this latest trailer for Frozen 2, that first journey seems like a walk in the park.
Returning directing team Jennifer Lee and Chris Buck have upped the ante on the intensity for their six-and-counting-years-awaited sequel, which finds Anna and Elsa traveling together beyond the borders of Arendelle to save their delicate hometown from yet another meteorological fiasco. Among the new dangers in store are sword fights, walls of impermeable mist, randomly forming floating crystals, sudden gale force winds, leaps over bottomless pits, expeditions down battle-ravaged waterways, tornadoes, rock monsters, mystical horse visions, and, of course, the whole lose-yourself-to-the-allure-of-magic thing that's plagued all too many of us.
But that's not to say that Frozen 2 looks like one big stress-fest. The trailer also introduces some more cheerful elements, like some more time with Elsa and Anna's loving parents (here, we hear a few sweet words from their father, voiced by Alfred Molina), a potential new frolicking family for Sven the reindeer, and an adorable little lizard whom Elsa seems to have taken to. The accompanying press release describes the little lizard, named Bruni, as, "Curious and cute, this salamander inhabits the Enchanted Forest. Though shy at first, Bruni can't help but be drawn to Elsa's icy magic and enjoys the cool snowflake treats she creates."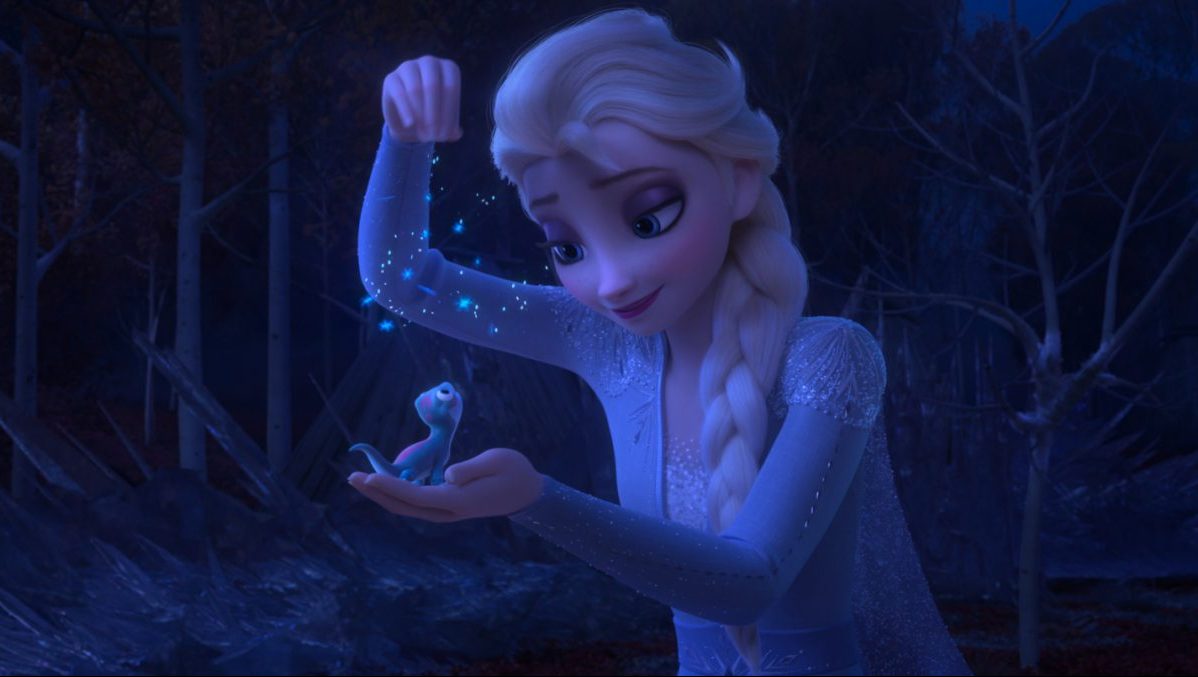 The salamander in question is just one of Frozen 2's new characters to whom its latest trailer has introduced us. We also meet, per the press release, the members of the nomadic Northuldra people, including leader Yelana and members Honeymaren and Ryder. The press release describes the trio as such:
Yelana: The unspoken leader of the nomadic Northuldra. She is fiercely protective of her family and community but is known to soften when people show an understanding of nature and their environment. Martha Plimpton was called on to bring Yelana to life.
Honeymaren: A member of the Northuldra, Honeymaren is a true free spirit and wants nothing more than to bring peace to the enchanted forest. She is bold and brave, with a reverence for the magic of nature. Rachel Matthews provides the voice of Honeymaren.
Ryder: Eager and fun, Honeymaren's brother Ryder embraces life with optimism. Ryder's love of reindeer might just rival Kristoff's – but unlike Kristoff, Ryder has never roamed the great plains outside of the Enchanted Forest. He longs to embrace the world and venture beyond the magical mist. Jason Ritter lends his voice to Ryder.
All in all, it seems like Frozen 2 may endeavor to balance out its bevy of new stresses with some new delights as well. After all, the sight of Sven roaming free with a herd of reindeer is a joyful one indeed, and worthy of any number of threats of fiery death.
Featured Image: Disney