It's not always easy to explain why something was once popular. Fads come and go all the time, and many of them seem strange in retrospect. (Sometimes they're even weird in the moment. Looking at you, frosted tips!) But that is not the case when it comes to little tiny skateboards for your fingers. They were only bizarre right up until you played with them. Then it all made sense. Now they're coming back in a big way. Hot Wheels has partnered with Tony Hawk for the company's first-ever fingerboard line, Hot Wheels Skate.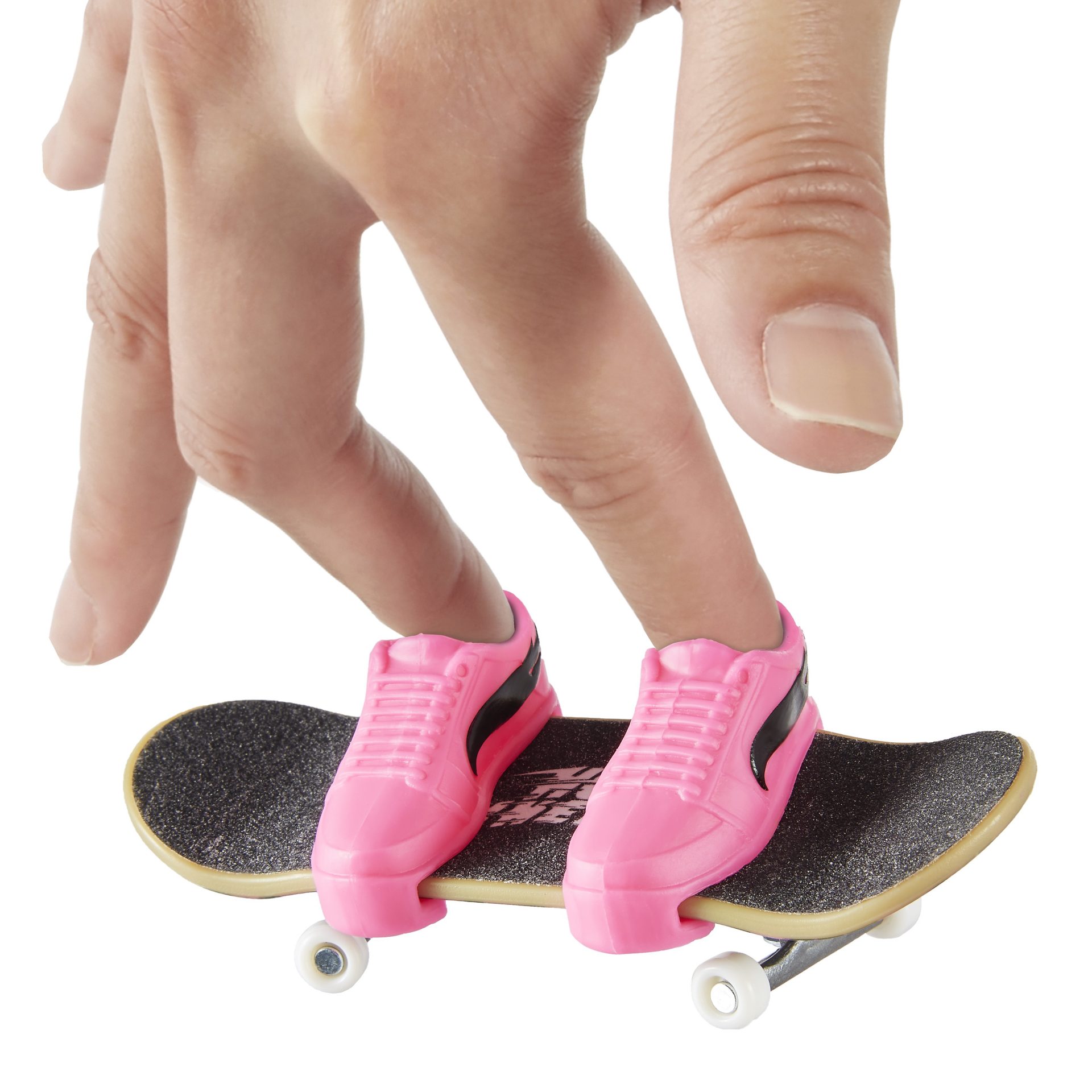 Hot Wheels' first foray into what it delightfully calls "the fingerboard space" features a collection with mini boards for all ages and abilities. The line features clip on shoes "so that even the youngest skaters can execute stunts they wouldn't be able to on a regular fingerboard." But for veteran fingerboarders you don't have to use them; your experienced uncovered digits are all you need. (However, the shoes look way cooler.)
Hot Wheels said its collection is "not bound by realism," either. Instead the company says the set is meant to be a "fantastical spin on the sport." It features original designs created with Hawk, alongside replications of some of his most famous board designs. But the line also includes skatepark playsets with "giant piranhas, roller coasters and donuts." Not exactly the type of obstacles you find at an actual skate park. Well, not at a normal skatepark. Maybe some really awesome ones have piranhas.
Click To View Gallery
The Hot Wheels Skate first wave includes:
Singles Assortment ($2.99)
Collector Series Assortment ($5.99): Each board comes fully assembled and ready to ride. The included die-cast Hot Wheels vehicle is 1:64 scale and boasts the decos beloved by car fans of all ages. 
Multi-Pack Assortment ($11.99): Multipack features 4 fully assembled fingerboards created in collaboration with iconic skateboarder Tony Hawk plus 2 pairs of cool skate shoes. 
Skate Drop-in Skate Set Assortment ($14.99): Build an epic skate venue with the Hot Wheels Skate Drop-in Skate Sets that are packed with obstacles for gnarly rides and cool tricks.  
Amusement Park Skate Set ($29.99): Explore the Hot Wheels Skate Amusement Park Skate Set for high-flying, 360-skating action with stunting obstacles, awesome style and kid-activate sounds. 
You can get the Hot Wheels Skate boards and playsets beginning in August exclusively at Walmart stores and at Walmart.com. But to celebrate the launch Hot Wheels is also selling a "super limited edition" Birdhouse Tony Hawk x Hot Wheels Skate Wildfire Freestyle Deck ($350). That package will feature full-size boards, "all signed by Tony Hawk and based on his personal router template." It will also come with decks that include a matching fingerboard. The set will only be available at Mattel Creations starting on July 29. And we doubt they'll last long. Hot Wheels is only selling 100 of them.
If you don't get one, though, don't feel bad. You can still have fun skateboarding with your fingers, even if that will always be weird to say.