Steve Rogers might be too old for the superhero game, but his two closest friends are still in their prime. And, unlikely as it once seemed, Sam Wilson and Bucky Barnes will be teaming up. Anthony Mackie and Sebastian Stan will star in their own live-action Disney+ series, where they'll be fighting a familiar foe, Captain America: Civil War's villain Baron Zemo. Only this time Daniel Brühl will really look the part. But what else can we expect from the series? And when can we expect to see it? Here's everything we know about The Falcon and The Winter Soldier so far.
Official Synopsis and Timeline
The show takes place right after the end of Avengers: Endgame, when a very old Steve gave Sam his shield.
"Following the events of Avengers: Endgame, Sam Wilson/Falcon (Anthony Mackie) and Bucky Barnes/Winter Soldier (Sebastian Stan) team up in a global adventure that tests their abilities—and their patience—in Marvel Studios' The Falcon and The Winter Soldier."
Release Date
The show will begin streaming March 19, 2020 on Disney+.
Logo
The show's official logo includes Captain America's iconic shield. He gave it to Sam at the end of Avengers: Endgame. Clearly Steve Rogers' legacy will loom large over the two heroes' new adventure.
Marvel
We also got a new poster at the Disney shareholders meeting in December.
First Footage
A Super Bowl ad for Marvel's upcoming live-action shows offered the first footage from the series. It showed Sam training with the iconic Captain America shield, a short-haired Bucky looking very intense, and the return of Baron Zemo.
We also got a full trailer for the series at the Disney shareholders meeting in December.
Returning Characters
In addition to Anthony Mackie and Sebastian Stan's title characters, the series will also bring back Daniel Brühl's Baron Zemo, the character who used Bucky to try and bring down the Avengers in Civil War. And in a move that will make comic book fans very happy, this time the brilliant villain will be wearing his classic purple mask.
Original concept art for Captain America: Civil War featured Zemo's mask, but was ultimately deemed the wrong fit for the film and version of the character. That will not be the case in The Falcon and The Winter Soldier.
Emily VanCamp will also reprise her MCU role as Sharon Carter for the series. Hopefully everyone will just ignore the fact she once kissed the man who turned out to be her secret, time-traveling uncle.
New Characters
Wyatt Russell will join the cast as John Walker, also known as U.S. Agent, a character familiar to comic readers. Based on the super-soldier's past work for the government, his issues with Steve Rogers, and his own time holding the mantle of Captain America, Bucky and Sam's past problems working together might not seem so bad in comparison.
The super patriotic, smug Walker might have even been spotted, from behind, in the show's only released footage.
Marvel
Revealing Concept Art
In 2019, Marvel shared artist renderings for the show's five announced characters as part of an Expanding the Universe special on Disney+. The images show them all in garb that more closely resembles their looks in the comics. That includes a far more red, white, and blue Bucky.
Marvel Studios
Marvel Studios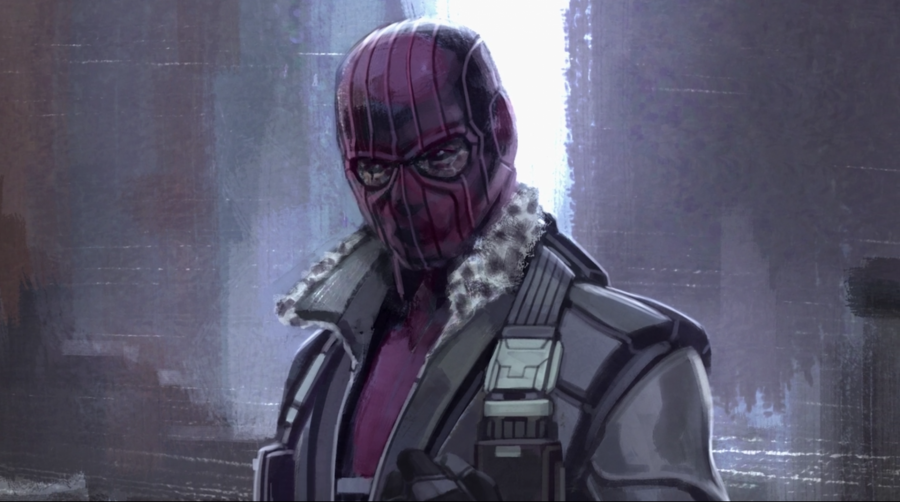 Marvel Studios
Marvel Studios
U.S. Agent's costume looks a lot like Captain American's own costume, which hints at the role he will play on the show. John Walker took up the mantle of Captain America after Steve Rogers abandoned it. However, he had a very different approach to being a superhero.
Walker, and the U.S. government, might not be willing to let Sam Wilson take on the title himself.
Marvel Studios
But just looking the part doesn't make you a hero.
On September 15, 2020, Mackie posted that they had returned to filming and in the process, he shared a look at Falcon's new costume. It closely matches the concept art featured above.
Featured Image: Marvel Studios
This post was originally published on July 20, 2019.