The Whovians on staff here at Nerdist have been reeling from the fantastic news that Christopher Eccleston will be returning to the role of The Doctor for a series of new Big Finish audio dramas. We've also speculated about how these new stories could fit into Eccleston's Doctor's timeline. With his initial audio run, the Ninth Doctor will double the number of stories he starred in on TV. Far from simply being a return to form for the veteran actor to the role he regenerated in 2005, these new episodes could go even further and actually redefine the Ninth Doctor entirely.
Christopher Eccleston starred in 13 episodes of #DoctorWho, but there were 3 two-partners meaning he only did 10 stories.

He's committed to 12 audios with @bigfinish. That more than doubles the number of stories he's played the Ninth Doctor in.

— Ben Paddon 👋 (@BenPaddon) August 11, 2020
Television is the primary source of new Doctor Who stories and the medium which most folk know it from. For many fans, however, the Big Finish range of Doctor Who stories are their Doctor Who, and it's not uncommon to see Whovians wandering conventions like Gallifrey One juggling a collection of CDs they've either just purchased or are eager to get autographed.
In a few notable cases, the Big Finish versions of the Doctor have breathed a completely new life and energy into a specific iteration, or revisiting aspects of their era that weren't fully explored by the show, sometimes decades after their run ended. Here are some Doctors whose audio versions have arguably surpassed their TV ones.
The Eighth Doctor
BBC
Paul McGann's Doctor made his first appearance in the 1996 TV movie Doctor Who, which was created to serve as a back-door pilot for a revival of the series. The revival didn't go forward and Doctor Who would not return to screens for another nine years, with Eccleston now in the role, as the regeneration (at the time) following McGann's. For a while, the Eighth Doctor only lived on in print media, and McGann had the strange distinction of being the actor who had held the role of the Doctor the longest while also portraying him the least.
Since first joining the main range of Big Finish stories and then the launch of his own Eighth Doctor Adventures range, McGann has gone on to star in over 70 audios. For most fans of McGann's Doctor, the audio adventures are his definitive stories, and his primary existence within the theater of the mind is part of the appeal. His presence in audio form is so significant that in 2013, then-showrunner of the TV series Steven Moffat wrote a mini-episode, "Night of the Doctor," that featured McGann's return to screen for the role, and directly named his companions from Big Finish, implying that those stories might even be series canon.
The Sixth Doctor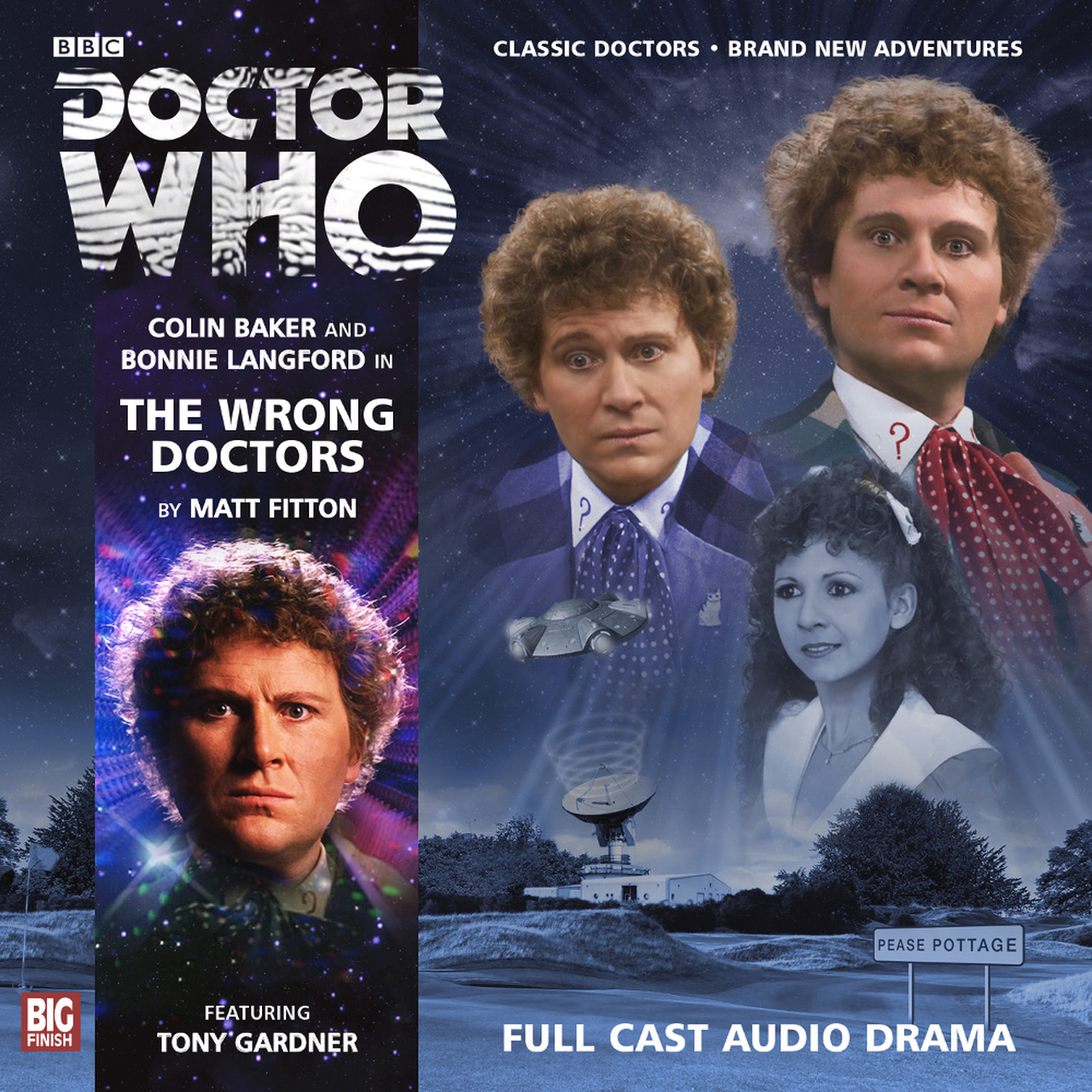 Big Finish Productions
While Colin Baker's tenure of classic Doctor Who has its fans, it's an era that was, let's just say, a bit rough. Baker got a little bit of a raw deal. His Doctor was intentionally written as rude and cantankerous and even went so far as to strangle a female companion. This combined with some not unrelated drama behind the scenes with the BBC culminated in Baker's early dismissal from the role by the network.
With the Sixth Doctor's audio adventures, however, Big Finish began to soften the portrayal of the character with energy that ultimately was far more in line with Baker's own kind demeanor. He was given a companion, Dr. Evelyn Smythe, who helped him smooth out his rough edges, and even got a new costume for his cover art that's a little less intentionally tasteless as his TV wardrobe, and a bit more in line with the darker, stealthier colors that Baker originally asked for.
There's such a stark difference from TV Six to Audio Six that Big Finish even released a story, "The Wrong Doctors," written by Matt Fitton, that features the character bumping into himself from across his own timeline. Through the Big Finish era, and Baker's own gentle appreciation of Whovians, he was able to go from the Doctor who was fired by the BBC to a warm statesman of the series.
The War Doctor
BBC
Interestingly, John Hurt's War Doctor only exists because Eccleston had previously declined to return to the role of the Doctor for the 50th anniversary special, "Day of the Doctor." Intended as a one-off character for the series, the War Doctor was so popular among fans that he eventually got his own books and Big Finish audios as well. It's likely the character would have been given even more time to travel in our headphones were it not for the tragic loss of Sir John Hurt in 2017. Still, thanks to the War Doctor series, fans of his character were able to travel with him again, if only briefly.
Charlotte Tromans/BBC
Time will tell if Eccleston's Doctor will be more remembered from his on-screen stewardship of the role, shepherding the Doctor back into the hearts of audiences the world over, or from the new portrayals he'll bring to it over time. Given his recent re-embracing of the series and his immense expressions of love for its fandom, it's hard to imagine that these new stories won't be something to cherish.
Featured Image: BBC
Riley Silverman is a contributing writer for Nerdist. She can be found on Twitter and Instagram. Her comedy album Intimate Apparel is available in digital formats.