Fans of Disney Parks are some of the most loyal and patient in all of pop culture fandom. But even our patience is wearing thin when it comes to waiting for news of Disney's much needed update for one of both Disneyland and Walt Disney World's signature lands—Tomorrowland.
With this most recent D23 Expo, rumors were swirling that we would finally get news of a new Tomorrowland coming to the U.S. theme parks, specifically to Disneyland. But just as we were in 2015 and 2017, fans were left very disappointed as nothing was revealed. Those hoping for the announcement that even just the TRON Lightcycle Power Run coaster would be coming to Anaheim were left with zilch, yet again.
Walt Disney Company
Disneyland in particular desperately needs a new Tomorrowland, one with the same thought put into it as that of the the recently opened Star Wars: Galaxy's Edge. But before we get into how Tomorrowland can and must be fixed, we must explain its complicated history going back to Walt Disney's era. Because in a way, Tomorrowland has been an issue since day one.
The History of Tomorrowland
Walt Disney Company
Tomorrowland was one of Walt Disney's original lands when Disneyland opened in 1955. But the Tomorrowland of opening day was far different than what would appear in later years. The other lands from opening day have remained more or less the same aesthetically, as they represent the past. But Tomorrowland is meant to represent the future. And as Yoda once said "always in motion is the future."
The 1955 Tomorrowland was mostly made up of pavilions showing off future technologies by a variety of corporate sponsors, and things like the House of the Future. By 1959, the Submarine Voyage was added, along with the Tomorrowland Monorail. But just a decade later, the land was already dated and needed an update.
The First "New Tomorrowland"
Walt Disney Company
In 1967, the new Tomorrowland opened. New innovative attractions were added like the dark ride "Journey Through Inner Space," and the Rocket Jets were given a NASA/Apollo mission-style makeover. Going through the entire land was the People Mover, which allowed guests to wind their way through area at a leisurely pace. The entire land was given a very '60s design aesthetic, which evoked the art of futurist artist Syd Mead. A decade later, Tomorrowland was given its signature attraction: Space Mountain. This era is considered "peak" Tomorrowland by most fans.
As the '80s rolled around, a few key new attractions were added to the land, primarily Star Tours, and the 3D movie experience Captain EO. But in the era of Space Shuttles, the rocket jets were hopelessly dated (although still fun). So was the Submarine Voyage, and Mission to Mars. Even by that time, park guests were jokingly referring to the area as "Yesterdayland."
Tomorrowland '98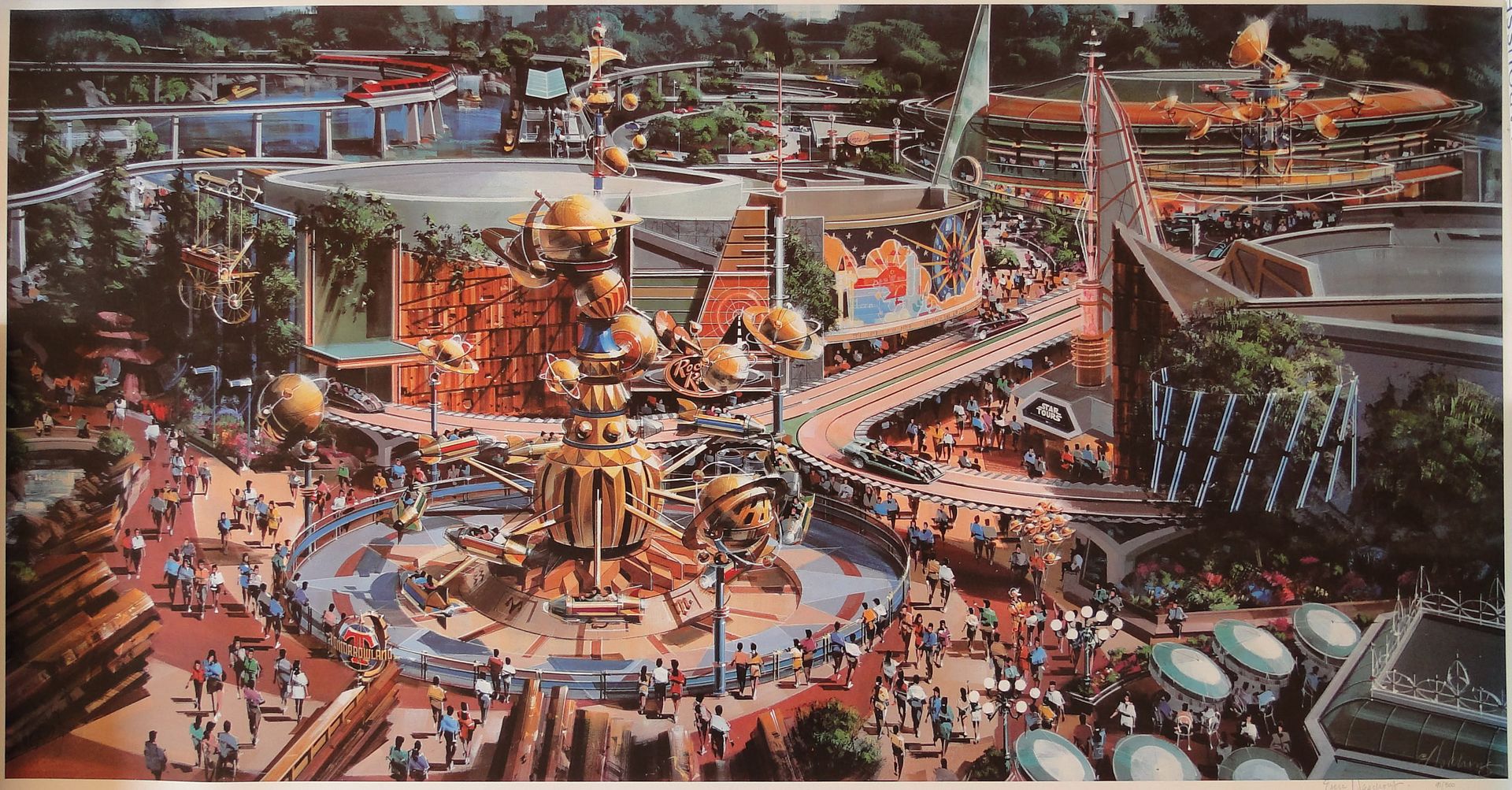 Walt Disney Company
In 1998, Disney decided it was finally time to give Tomorrowland a proper update. Although ambitious plans for a Tomorrowland 2055 were considered, what fans ultimately got was less than thrilling. Realizing that the land constantly becoming dated was a problem, they sought to solve this issue by evoking Disneyland Paris' Discoveryland. There, a Jules Verne-esque steampunk vision of the future was in play. This was a good idea on its surface. But instead of knocking down the old Tomorrowland and starting over with that theme, a far less innovative—and likely cheaper—idea was put forward.
Walt Disney Company
A sort of steampunk layover would happen on the existing buildings, along with a new brown and gold paint job. But it was a mismatch from the word go. All the 60s looking buildings simply didn't go with the new retro-future looking rides like the Astro Orbiter. The old People Mover was replaced with a "high-speed" ride called the Rocket Rods. Captain EO was replaced with a new show called "Honey I Shrunk the Audience," while the Submarine Voyage was closed, leaving a big empty lagoon. Only Space Mountain and Star Tours remained.
Within a year, there were problems. The Rocket Rods had to close down, because the old People Mover tracks weren't built for a high speed ride and had begun to crack. Innoventions used the old Carousel of Progress building to show off new tech. But with an Apple store in every mall, this hardly drew in any crowds. And just about everyone hated the brown and gold hued Space Mountain. Tomorrowland '98 was a cheap and ugly mish-mash, with a lack of a cohesive theme. Eventually, the old color scheme slowly crept back in, and now only a few vestiges of the '98 re-do remain.
Yesterdayland
Walt Disney Company
Today, Tomorrowland in Disneyland is the park's biggest eyesore. Magic Kingdom's is better, but not by much. Tomorrowland seems totally beneath Disney's impeccable standards of theming. The old People Mover tracks still stand there, rotting away—a constant visual reminder of when the land was thriving. Similarly, the old Rocket Jets loading area stands empty. Autopia is more outdated than ever. If kids want to experience a cool car themed ride, there's Cars Land across the way in California Adventure. Innoventions, now Star Wars Launch Bay, feels like a huge waste of real estate. The Finding Nemo update to the Submarine Voyage was an improvement, but not a big enough one. In modern slang, it's what one would refer to as a hot mess.
How To Save The Future
Walt Disney Company
For Tomorrowland in Disneyland to thrive, it must let go of the past. Of course, Space Mountain is too iconic and beloved to remove. But everything else has got to go in order for a new and vibrant and actually futuristic land to take shape. Which means that yes, almost the entire land as it now has got to be bulldozed. Things like the People Mover tracks and the old Rocket Jets platform only serve to remind guests of a much greater land that is now gone.
But what to put in its place? The first obvious answer is the Anaheim version of TRON Lightcycle Power Run Coaster. This has been a huge hit in Shanghai Disneyland, and is being constructed for Walt Disney World now. It's high time one of these was announced for Disneyland as well. Next to Space Mountain, these attractions could anchor the new land. It is a large enough ride to take over the space currently occupied by Innoventions, the Submarine Voyage and Autopia, but it's worth it.
Walt Disney Company
And as much as I love it, Star Tours has to go, too. If needed, it could always move to Galaxy's Edge. But both the old Adventure Through Inner Space and Circe Vision buildings from 1967 have served their purpose. Whatever takes their place has to be new and exciting. We know Walt Disney Imagineering has got it in them to create an amazing looking new Tomorrowland. The version we see know in Shanghai Disneyland is a testament to that. There is so much amazing new technology that Imagineering could incorporate to create mind-blowing attractions. And the advancements in LED lighting could make for a land that comes alive at night like never before.
Walt Disney Company
One can't help but wonder if the 2014 Brad Bird film Tomorrowland had been a hit, if we'd be celebrating the rebirth of this land right now. But a new Tomorrowland shouldn't depend on whether its name branded IP clicked or not. Here's hoping that by the next D23 Expo, Disney finally gives fans what they want. And that Disneyland's 70th anniversary is celebrated with the all-new world of the future we deserve.
Header Image: Walt Disney Company