Since 1982, Walt Disney World's Epcot has been a one-of-a-kind experience for Disney park fans. Initially envisioned as a planned community that would serve as an epicenter for innovation and urban living, it was later transformed into a park with similar values–of showcasing innovative ideas and attractions, with an added focus on world nations. It's the park where you can both take a trip into an imagined future and also visit mini versions of many countries around the world, from Japan to Norway to Germany.
Though the park is unique and beloved, it's also been due for an update–and that's exactly what's about to happen. At the D23 Expo in Anaheim this Sunday, Disney officially announced plans to update Epcot. According to Disney, the Walt Disney World Resort theme park is about to begin the biggest transformation of any Disney park in history, a massive endeavor that will take years, and bring brand new rides and attractions to the destination.
According to the official Disney Parks website, the new Epcot will be divvied into four "neighborhoods" that speak to different aspects of the world: World Showcase, World Celebration, World Nature, and World Discovery. Here's a breakdown of what to expect from each new world.
Image Credit: Disney
World Showcase
The Disney Parks website describes World Showcase as an area that "will continue to be a celebration of culture, cuisine, architecture and traditions – infused with new magic." It will contain the United Kingdom pavilion, which will host an attraction inspired by Mary Poppins, and feature the Banks house on Cherry Tree Lane. In 2020, it will also feature a limited-run nighttime spectacular called "Epcot Forever," which will replace the current "HarmonioUS" and be a pyrotechnic celebration of the park and its global allure.
World Showcase will also update the French pavilion with a new ride called Remy's Ratatouille Adventure, based on the Pixar film, and a Beauty and the Beast Sing-Along feature; and will feature updated attractions in the Canada and China pavilions as well.
World Celebration
World Celebration "will offer new experiences that connect us to one another and the world around us," according to Disney. This will include a reimagining of Spaceship Earth, which will have new narration and a new musical score, though it will remain a voyage through time. The area will also have a new pavilion that includes a three-level structure with plaza, middle, and top levels, described as having "one of the most remarkable architectural designs at any Disney park." The entrance to Epcot will also be transformed, with a new fountain, new pathways, and new greenery.
World Nature
World Nature will be "dedicated to understanding and preserving the beauty, awe and balance of the natural world." It will include The Land and The Seas with Nemo & Friends, and also feature a new experience inspired by Moana called Journey of Water. This "exploration trail" will let you play with "magical water" and teach you the importance of the water cycle. A new film, called Awesome Planet, will also screen at World Nature, and showcase the beauty and diversity of the Earth. This is set to debut in January 2020.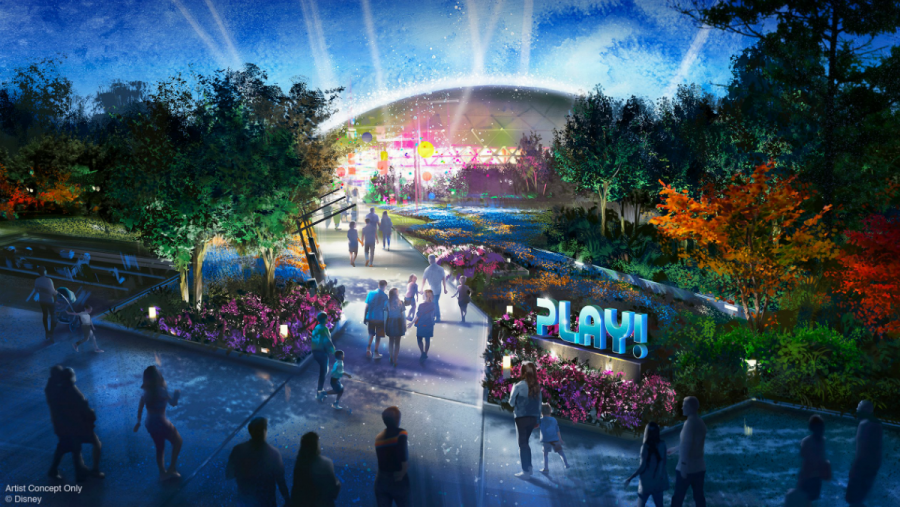 Image Credit: Disney
World Discovery
World Discovery is where "stories about science, technology and intergalactic adventure come to life." It will contain arguably the most modern and exciting aspects of new Epcot, including a showcase called Guardians of the Galaxy: Cosmic Rewind. This attraction will begin as a planetarium-like experience, where you'll learn more about Xandar, before transitioning into a roller coaster, featuring the first "reverse launch" of a Disney coaster.
There will also be an expansion of the Mission: SPACE pavilion that includes a new restaurant called Space 220, where you eat with a view of Earth from 220 miles up in the sky. To celebrate the 50th anniversary of Walt Disney World, a pavilion called PLAY! will open in World Discovery. PLAY! is described as a "digital metropolis" including games and Disney characters
Big things are in store for Epcot, and we're excited to see them in action as they start rolling out soon.
Header Image Credit: Disney