There's something rotten afoot in Ryme City and the newly released poster for Detective Pikachu is packed to the gills with clues about the film's big mystery.
While we're still a few months away from seeing the fruits of Ryan Reynolds' method acting labor, Warner Bros. and Legendary released a new Detective Pikachu poster on Tuesday. By our count, there are at least 15 distinct Pokémon that can be seen in the poster, as well as some potential other easter eggs. Some of them are easier to find than others, but here's who we spotted:
In the lower right side of the poster, we see Jigglypuff in good spirits at the corner booth of a coffeeshop, Bulbasaur perhaps contemplating a vine whip, and Psyduck peering through the blinds, giving a truly haunting thousand-yard stare. Perhaps he is remembering the Great War that left the world of Pokémon with nothing but old people and 10-year-olds doomed to engage in eternal battle?
On the rooftop of the building, we see Tim Goodman (Justice Smith) and his Ryan Reynolds-voiced compatriot, Detective Pikachu, staring off into the middle distance of Ryme City. What are they staring at? It's hard to say, but it seems like someone else is staring at them. We'll get to that in just a moment.
Down and to the right of our heroes, you'll see a Joltik clawing its way on to the roof. Next, direct your gaze towards the bottom-right corner of the rooftop where you'll see a decidedly different group of electric rodents: Emolga! If you look atop the neon Detective Pikachu sign, you'll see a pair of cheeky Apom who are positively filling me with cute aggression.
Right behind the building in the foreground is a water tower emblazoned with "M2" graffiti in purple paint, which seems to be hinting towards the presence of Mewtwo. But a glimpse of the hammiest Pokémon in the world directly below it makes me think that M2 stands for "Mr. Mime" instead.
More M2 graffiti from the previous poster
More interesting than the M2 graffiti, though, is the electric blue sign towards the top of the poster, which seemingly reads "Oak." While this is more than likely just a coincidence, it could also be a clever nod to Professor Oak, the kindly Pokemon scientist who sent generations of youngsters on their first journey to collect 'em all way back in 1998 (or 1996 if you lived in Japan).
Down on the city streets in the bottom-middle of the poster, we can see Snorlax fulfilling his blood oath to block any and all traffic. Someone needs to tell this dude that there are way more comfortable surfaces than asphalt for a nap. Continuing along the bottom left of the poster, we can see a sign for coffee emblazoned with a Noctowl, as well as a Loudred unleashing some sort of barbaric yawp beneath what I can only assume is the record company it owns. Also on this building, we can see Squirtle standing on a balcony and Treecko clinging to the neon pool sign.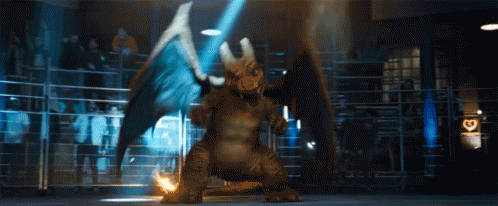 High above the Ryme City skyline, a Charizard flies overhead, presumably getting in some light cardio to limber up for its throwdown with Detective Pikachu in whatever cage fighting arena we saw in the first trailer. Right below it though is the most jarring and exciting detail in the entire poster, one which justifies all the tinfoil hat theories about purple graffiti: Mewtwo standing on the rooftop of a skyscraper beneath a crane, eyes gleaming in the distance.
While we'll have to wait for the new trailer to find out what it's up to, something tells me that it is connected to the disappearance of Tim's father, Harry. That being said, if it's anywhere near as traumatizing as what happens at the climax of Pokemon: The First Movie, then I'm sending Ryan Reynolds an invoice for emotional damages.
Detective Pikachu opens on May 10, 2019.
Images: Warner Bros/Legendary
Editor's note: Nerdist is a wholly owned subsidiary of Legendary Digital Networks.