Bruce Wayne is never far from our thoughts, and soon he'll once again be in front of us on the big screen. The Batman starring Robert Pattinson comes to theaters in the US on March 4. However, that won't be the only way fans can celebrate writer-director Matt Reeves' upcoming take on the Caped Crusader. DC Comics has announced its own fitting tribute. One that honors the character's comic book origins. Nine DC Comics March releases will get variant covers inspired by the Dark Knight's newest feature film.
Batman is vengeance. He's also the reason comic book collectors will soon be making a withdrawal from Gotham National Bank. DC Comics is marking the character's theatrical return with nine variant comic covers for Batman-related series.
Each cover will feature unique artwork from nine different artists, with every cover based on the movie and its take on the iconic characters. DC Comics says each piece "perfectly captures the intense and moody feel consistent with Reeves' vision of Bruce Wayne's first foray as Gotham City's Dark Knight." They're also really cool to look at.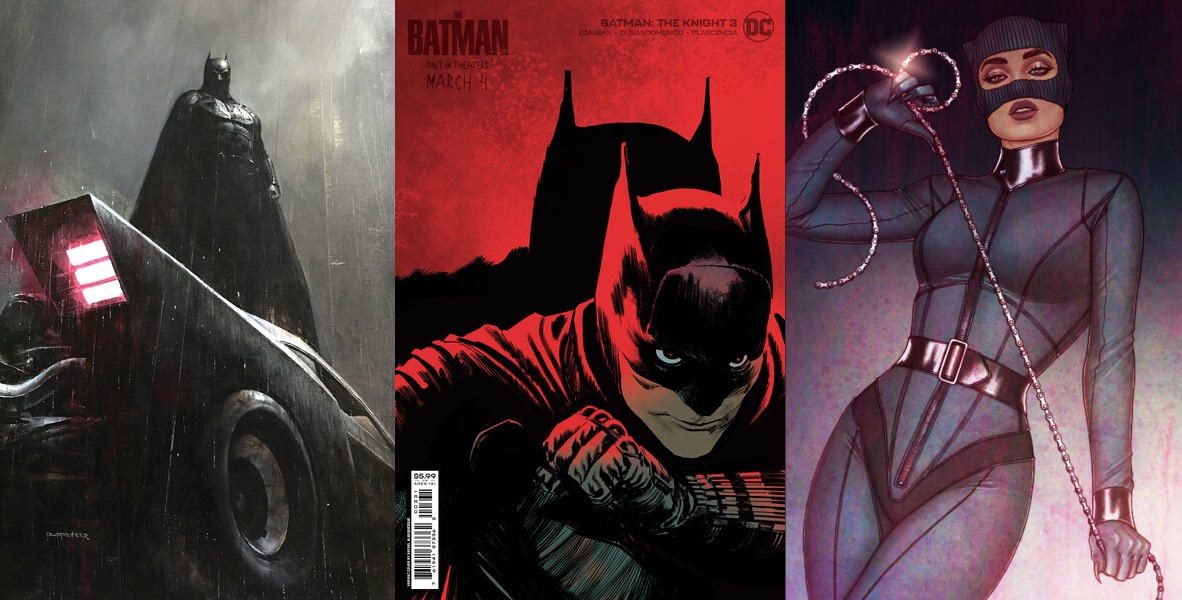 The nine March issues—with their release dates and variant cover artists—making up the collection include:
Batman #121 (March 1) – variant cover by Lee Bermejo
Batman: Killing Time #1 (March 1) – variant cover by Carlos D'Anda
Batgirls #4 (on sale March 8) – variant cover by Jonboy Meyers
Detective Comics #1056 (on sale March 8) – variant cover by Puppeteer Lee
Batman: The Knight #3 (on sale March 8) – variant cover by Rafael Albuquerque
Catwoman #41 (on sale March 15) – variant cover by Jenny Frison
Justice League #74 (on sale March 15) – variant cover by Ben Oliver
Nightwing #90 (on sale March 15) – variant cover by Riccardo Federici
Harley Quinn #13 (on sale March 22) – variant cover by Simone Bianchi
The Batman comic cover collection includes renderings of Batman, Catwoman, the Penguin, the Riddler, the Batmobile, and the Batcycle. Each issue and their variant covers are also already available to pre-order at DC Comics. You'll also find them in your local comic book shop when they hit stands.
However, there's nothing we can do about the wait for The Batman to arrive in theaters. Until March 4 all we can do is think about Batman. Fortunately we do that all the time anyway.