Way back in November 2018, Netflix officially announced its live-action Cowboy Bebop. Inspired by the beloved anime series that aired in the late '90s, this live-action take has been in the works for a while. But now we have two key things: first look images and a premiere date. The genre-bending space Western will debut on Netflix on November 19. And as for the images? They definitely call back to the original anime.
Let's start with the official synopsis first.
Cowboy Bebop is an action-packed space Western about three bounty hunters, aka "cowboys," all trying to outrun the past. As different as they are deadly, Spike Spiegel (John Cho), Jet Black (Mustafa Shakir), and Faye Valentine (Daniella Pineda) form a scrappy, snarky crew ready to hunt down the solar system's most dangerous criminals—for the right price. But they can only kick and quip their way out of so many scuffles before their pasts finally catch up with them.
Something we noticed right away: they don't mention Edward. Edward's a teenager with excellent hacking skills and part of the main crew in the anime. Maybe Edward will join the group later?
Netflix
Now for those images. Above we see Spike, Jet, and Faye complete with their corgi Ein in front of C'est La Vie. That's a bar and pool hall from episode 20 of the anime, "Pierrot le Fou." Let's just remember and appreciate that Ein is a genetically-engineered super smart corgi.
Netflix
This shot shows Spike practicing his Bruce Lee-inspired Jeet Kune Do (variant of Wing Chun) using a wooden training dummy.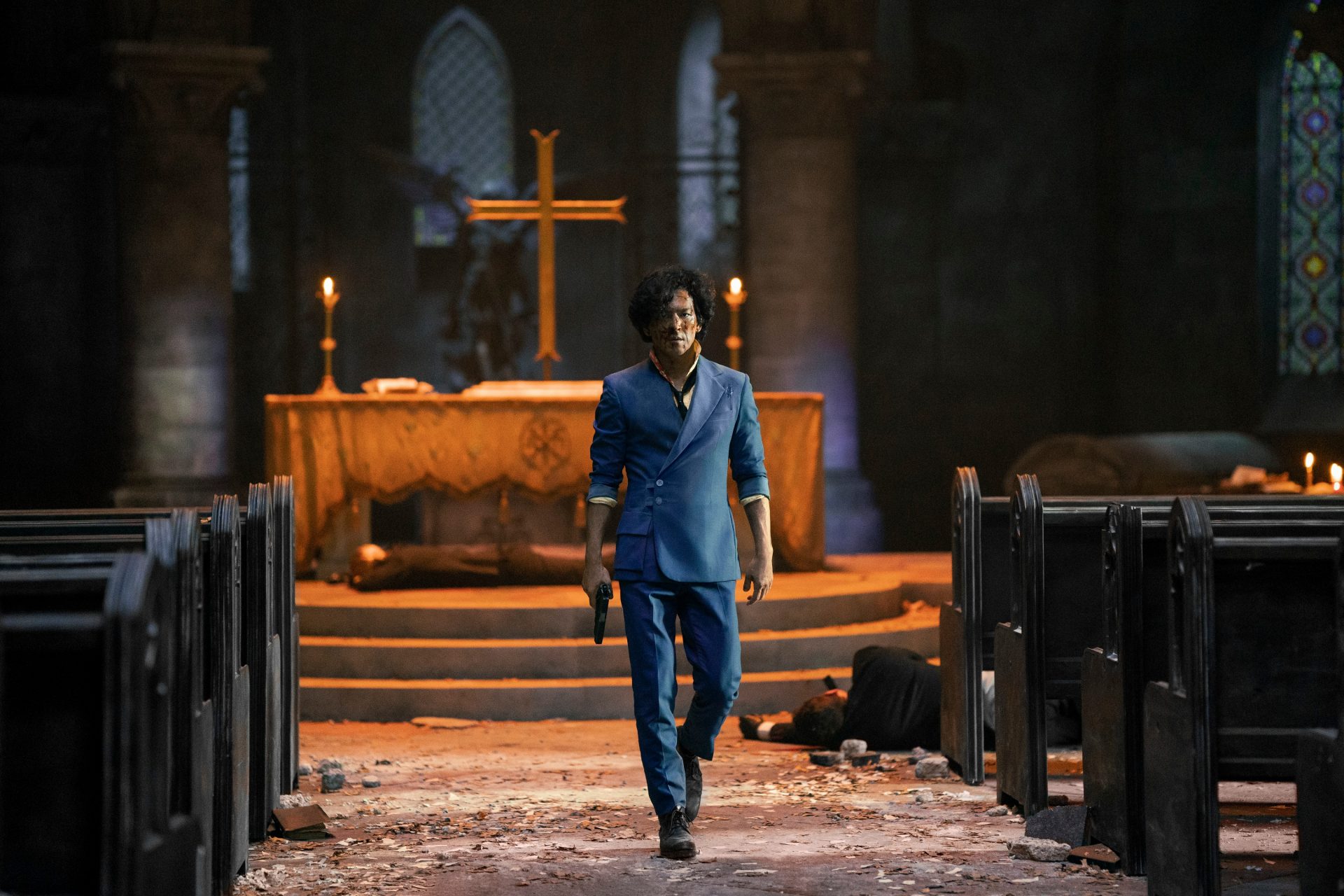 Netflix
Spike walking down the church aisle gives us a beautiful view of his costume. It's a well-done adaptation of his signature suit in the anime. But this church scene does more than show off Spike's threads. It's likely a reference to one of the anime's most famous scenes when Spike fights Vicious, his ultimate rival, in a church. That happens in the fifth episode of the anime, "Ballad of Fallen Angels."
Netflix
Look how badass Faye looks here! This photo of her in what looks like a nightclub is likely from the adaptation of the two-episode "Jupiter Jazz" story. Gren (played by Mason Alexander Park in the live-action series), a jazz musician, figures heavily into those episodes. The jazz club is called Rester House.
Netflix
And of course, the above photo shows Spike aboard the Bebop. The crew uses the vessel as a home and to travel the solar system. The yellow sofa in this picture and the one below is right out of the anime.
Netflix
With only a handful of images, Netflix strongly referenced Cowboy Bebop's anime roots. Yes, they could have chosen these exact moments to pull at nostalgia heartstrings. But with original anime series director Shinichirō Watanabe as a consultant on the series and original composer Yoko Kanno returning, we feel like Netflix is staying close to the anime. Now we wait for the trailer.
Additional reporting by Dan Casey and Lee Travis.
Amy Ratcliffe is the Managing Editor for Nerdist and the author of A Kid's Guide to Fandom, available now. Follow her on Twitter and Instagram.