Welcome to our The Best Things Streaming column, where we highlight the best of what's hitting your favorite streaming channels each month. As we head into July under the shadow of rising COVID-19 cases, stay in and enjoy Hulu's impressive roster of new additions. From a Sundance smash comedy through a selection of stunning documentaries all the way to a mass of new anime and a stack of underrated contemporary horror, there's lots to enjoy!
We Are What We Are
Artificial Eye
Coming to Hulu: July 1
This stunning Mexican horror flick turns the genre on its head with a heartfelt and gore-filled take on cannibalism. When a man dies in the street, it sparks a chain of terrible events and uncovers his family's terrible secret. They're cannibals and their father was the hunter who fed them. With him dead, the family has fallen apart, questioning who will take his place and what the rituals they live by really mean. Jorge Michel Grau made something truly special here.
The Devil's Candy
IFC MIDNIGHT
Coming to Hulu: July 1
Another horror gem you might have missed, The Devil's Candy is a true dark delight. Starring Ethan Embry, the film centers on Jesse, an artist who moves into a new house with his family. As is always the way in a new home and a horror movie, things soon get strange; he becomes consumed by his need to create art and haunted by an ominous stranger. There's plenty to fear here, from Jesse himself to the blood that has soaked the abode in the past. The Devil's Candy is steeped atmospheric creepiness.
Palm Springs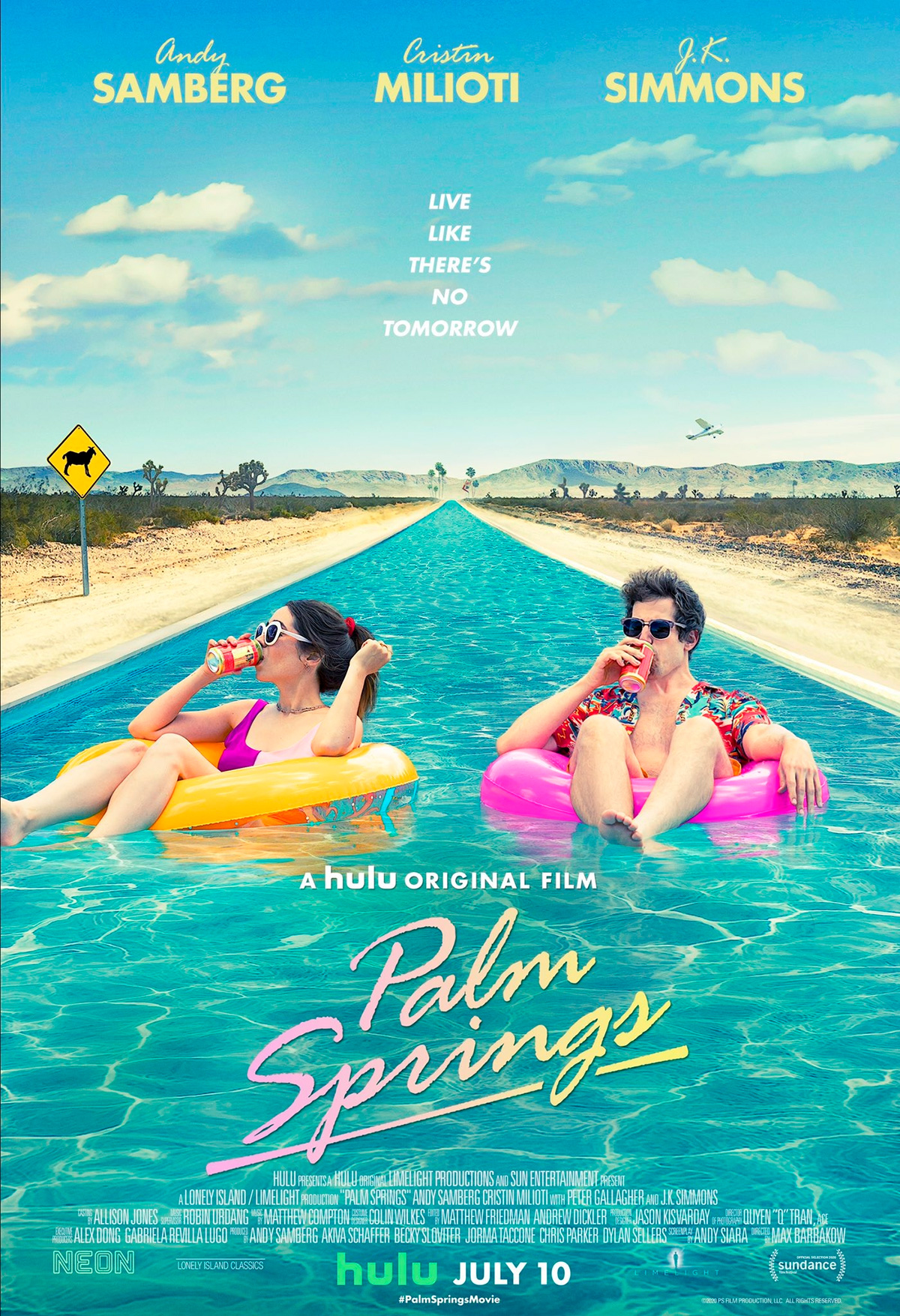 Hulu
Coming to Hulu: July 10
This Groundhog Day-style rom-com throws Andy Sandberg and Cristin Milioti into a time loop adventure. Set in the titular city at the wedding of mutual friends, it sees the two young scamps get stuck living the same day over and over. The trailer promises plenty of twists on the often used trope as well as a lot of comedy and heart. Palm Springs broke records at Sundance and Hulu will likely be hoping it does the same when it hits their service in July.
Promised Neverland season one
Funimation
Coming to Hulu: July 15
Life at the Grace Field House orphanage is idyllic. The kids have free rein of the building and its gorgeous campus. But when the departure of a friend leads to the discovery of a horrible truth. It's best to go in knowing as little as possible about this one, but we will say it's one of the most popular and successful anime/manga series of recent years for a reason.
The Assistant
Bleecker Street
Coming to Hulu: July 20
A hard but necessary watch, this atmospheric flick was one of our unexpected 2020 Oscar picks. Julia Garner offers up a sterling and subtle performance as a young assistant who tries to combat the culture of sexual harassment at the production company where she works. The Assistant is a slow burn experiment, taking place over just one day; it offers no answers, and is explicitly real about the dangers of turning a blind eye and the retribution wielded against those who won't play along.
You can check out our other July picks below!
Disney
New Line Cinema
IFC Midnight
Sony
Kodak, Artificial Eye
Amazon, Magnolia
Hulu
Bleecker St
Funimation
United Artists
Lionsgate
Lionsgate
Warner Bros.
IFC Midnight
Paramount Pictures
July 1
2001 Maniacs (2005)
The Axe Murders of Villisca (2017)
Best In Show (2000)
Beyond the Valley of the Dolls (1970)
Buffy, the Vampire Slayer (1992)
Bug (1975)
Buried (2010)
Cadaver (2009)
Captain Kronos: Vampire Hunter (1974)
Cheech & Chong's Still Smokin' (1983)
The Client (1994)
The Color Purple (1985)
Cortex (2008)
The Cured (2018)
Dark Touch (2013)
The Devil's Candy (2017)
The Devil's Rejects (2005)
Dheepan (2016)
Die Hard 4 (Live Free or Die Hard) (2007)
Exorcismus (2011)
The Eye (2008)
The Eye 2 (2005)
Flashback (1990)
Footloose (1984)
The Forbidden Kingdom (2008)
Freddy vs. Jason (2003)
Freddy's Dead: The Final Nightmare (1991)
Grizzly Man (2005)
Hot Rod (2007)
House of 1,000 Corpses (2003)
The House That Jack Built (2018)
Iron Eagle IV: On the Attack (1999)
Liar, Liar (1997)
The Man Who Could Cheat Death (1959)
Mary Shelley (2018)
Moonstruck (1987)
My Cousin Vinny (1992)
The Ninth Gate (2000)
Psycho Granny (2019)
Rebel in the Rye (2017)
Robin Hood: Prince of Thieves (1991)
Search for General Tso Chicken (2015)
The Shock Doctrine (2010)
The Shrine (2011)
Sliver (1993)
Speed 2: Cruise Control (1996)
Spider-Man 3 (2007)
Sugar Hill (1994)
The Tenant (1976)
Tetsuo III: The Bullet Man (2011)
Three Musketeers (2011)
Trapped Model (2019)
The Trip (2011)
The Trip to Italy (2014)
The Trip to Spain (2017)
Trishna (2012)
The Truth About Cats & Dogs (1996)
We Are What We Are (2011)
The Wedding Planner (2001)
West Side Story (1961)
July 3
I Am Not Your Negro (2016)
To The Stars (2019)
July 8
Bofuri: I Don't Want to Get Hurt, So I'll Max Out My Defense: Season 1, Episodes 1-8
July 10
Palm Springs
July 15
Diary of a Prosecutor: Complete Season 1 (Viki)
Plunderer: Season 1, Episodes 1-12 (Funimation)
Promised Neverland: Complete Season 1 (Aniplex)
Search: WWW: Complete Season 1 (Viki)
The Weekend (2019)
July 17
Into the Dark: The Current Occupant
July 20
The Assistant (2019)
July 21
Sorcerous Stabber Orphen: Season 1, Episodes 1-9
July 22
Bolt (2008)
July 29
Infinite Dendrogram: Season 1, Episodes 1-8 (Funimation)
July 31
A Certain Scientific Railgun T: Season 3, Episodes 1-11 (Funimation)
Featured Image: Hulu