2020 saw DC leave Diamond, the direct market shut down for months, and the world fall into disarray with publishing dates pushed back due to the global pandemic. But the year was also filled with brilliant comics. Whether you love superheroes, scary stories, magical fantasy, or emotionally driven semi-autobiographical cartooning, there's something for you in this roundup of the best comics that 2020 had to offer.
A Magical Year for All Ages
The Magic Fish by Trung Le Nguyen and Patrick Crotty
Random House Graphic
Trung Le Nguyen has long been one of our favorite artists, so we were delighted to read their debut graphic novel The Magic Fish. This gorgeous contemporary fairytale tells a story about growing up, family, and coming out. We adored every page of this personal, moving, and magical comic that's as vital as it is enchanting. Buy it here.
Seance Tea Party by Reimena Yee
Random House Graphic
Seance Tea Party is probably the loveliest comic of the year. Yee's art is sumptuous and sweet, and the story should impact any reader. Lora doesn't want to grow up; in fact, she wants to be a kid forever. But as her friends follow their dreams into teenhood, Lora finds friendship and solace with the ghost of a young girl who never got the chance to get old. Buy it here.
Twins: A Graphic Novel by Varian Johnson and Shannon Wright
Scholastic
Johnson and Wright prove that they're a creative dream team with the delightful Twins. This middle grade tale of two sisters growing up and growing apart has all the hallmarks of the kind of books that become timeless classics. If there's any justice in the world kids will be reading Twins for decades. Buy it here.
The Wizerd Vol. 1: And the Potion of Dreams! by Michael Sweater and Rachel Dukes
Oni Press
If you're looking for fun frolics and astonishing art, then you've got it. Two of the best cartoonists in the business team up for this fantasy tale about—you guessed it—a wizard and a magic potion. The artwork here is so intricate and dense, you could spend weeks poring over the pages after you finish reading. And we did! Buy it here.
Check, Please!: Sticks and Scones by Ngozi Ukazu
First Second
Continuing her reign as queen of contemporary slice of life comics, Ukazu released the second volume of her beloved queer hockey and baking romance comic Check, Please! Eric's heading into his junior year with a new secret boyfriend and a new hockey team. This is pure unadulterated sports comic joy and a great pick for new comics readers. Buy it here.
Witch Hat Atelier by Kamome Shirahama
Kodansha
Seeing as Volumes 5 and 6 of this stunning series came out this year (and Volume 7 is dropping on December 29), we're shouting it out again. Witch Hat Atelier follows the adventures of a young girl named Coco who discovers the secrets of witchcraft and becomes a student of magic. There isn't a better looking or more engrossing manga on the shelves at the moment. Buy it here.
A Map to the Sun by Sloane Leong
First Second
This gorgeous coming-of-age graphic novel is a sun-drenched story about a struggling girls' basketball team and the lives of the young women in it. Leong's lively, inventive art will draw you in, and her deft character work will keep you hooked. Reading this book feels like basking in a sunset with your best friend on the edge of adulthood. Buy it here.
Incredible Indie Comics
Blue in Green by Ram V, Anand RK, John Pearson, Aditya Bidikar, and Tom Mueller
Image Comics
Collaboration is at the heart of what makes comics great, but Blue in Green takes that to its most extreme and experimental level. Created via "jam sessions," the book was never outlined, but ends up telling a hauntingly beautiful tale of a young musician who'll do anything for greatness. Like the jazz music that inspired it, this graphic novel was an evolving, living, and changing thing between the creators. Buy it here.
The Loneliness of the Long-Distance Cartoonist by Adrian Tomine
Drawn & Quarterly
Adrian Tomine's long-awaited new comic didn't disappoint. This hilarious, moving, and raw autobiographical collection centers on the pursuit of being an artist. It's painfully relatable to anyone who makes comics or art of any kind. Tomine's easy line work and smart humor is on display here. This is probably our favorite work that the cartoonist has released yet. Buy it here.
Living Heroes by Steph Williams and ONeill Jones
Williams, Jones
This is the first time Williams has been on our list but likely won't be the last. This incredible fan comic just led to her first official Marvel work: a Monica Rambeau story for Marvel's Voices. But we're here to sing the praises of Living Heroes, her awesome mashup with artist O'Neill Jones. The comic puts some of our fave characters from the House of Ideas into a classic '90s sitcom a la Living Single. Complete and utter joy. Buy it here.
Elements: Earth by various creators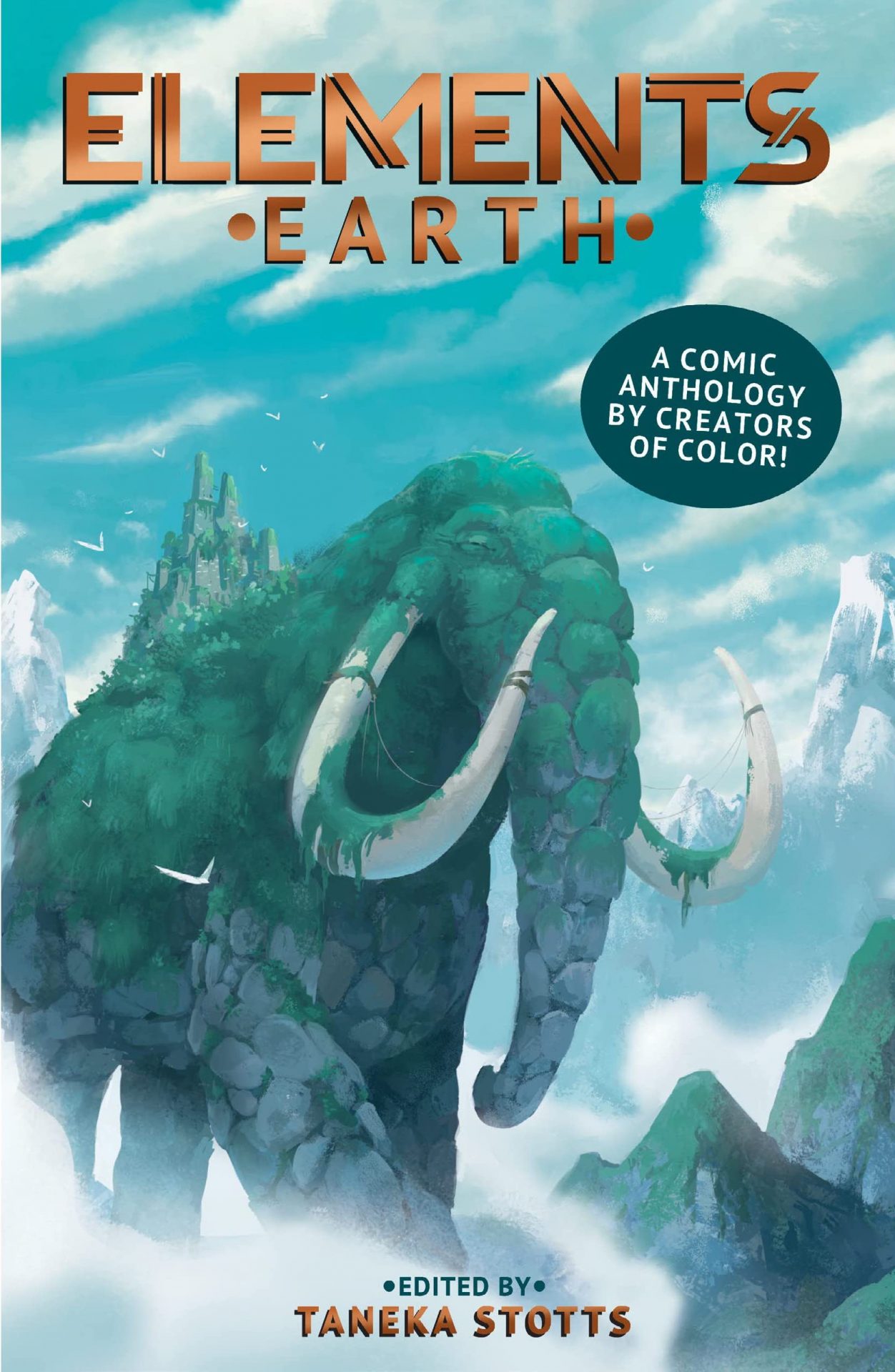 Ascend Comics
Curated, edited, and kickstarted by the incredible Taneka Stotts, this anthology is one of the most exciting collections of comics that you'll ever read. The all-ages, LGBTQ+-friendly book collects gorgeous stories about the Earth from some of comics' best and brightest creators of color. This is the kind of vital, progressive, and boundary-pushing work we love to celebrate. Buy it here.
Don't Go Without Me by Rosemary Valero-O'Connell
Shortbox
This was kickstarted last year but physical books were sent out in January, so it's just sneaking in. And thank goodness it has! Multi-award winning cartoonist Valero-O'Connell is one of comics' most luminous stars and this three-story collection is a perfect showcase of why. Supernatural, sci-fi, and mythology intertwine in this lovely oversized book that we couldn't get enough of. Buy it here.
Tartarus by Johnnie Christmas, Jack T. Cole, and Jim Campbell
Image Comics
This gorgeous yet gritty sci-fi epic comes from the mind of the awesome Johnnie Christmas. Teaming up with Jack T. Cole, the pair craft a crime comic like no other. Tilde is framed for crimes she never committed, all due to her mother's dark, dangerous secret. Cole creates a sprawling world you want to lose yourself in and Christmas spins a yarn that will keep you turning the pages. Buy it here.
Dracula, Motherf**ker! by Erica Henderson and Alex de Campi
Image Comics
We can't express just how much we love this '70s-set LA horror-noir. Dracula is back and that's not good for many people except for Quincy Harker, a crime scene photographer who is suddenly very, very busy. But an unexpected allegiance with the Brides of Dracula might end up putting him in grave danger. Henderson and de Campi are a team to be reckoned with. Buy it here.
Supremely Great Superhero Stories
The Green Lantern: Season Two by Grant Morrison, Liam Sharp, Steve Oliff, and Tom Orzechowski
DC Comics
Hal Jordan has never been more interesting than he is in this completely wild and wonderful series from the minds of Sharp and Morrison. Whether you're an old school Green Lantern fan or just want to enjoy a deep dive into deep space, this is a perfect read. We can't sing this book's praises enough. Buy it here.
Far Sector by N.K. Jemisin, Jamal Campbell, and Deron Bennett
DC Comics
The expansive lore of Green Lantern has often been strangely samey. But this Young Animal miniseries changes all of that. Not only does the series introduce a new radical Black Lantern in Jo Mullein but it truly takes advantage of the imagination and unlimited possibilities of what a Green Lantern can be in this dazzling Afrofuturist-tinged sci-fi murder mystery. Buy it here.
You Brought Me the Ocean by Alex Sanchez, Julie Maroh, and Deron Bennett
DC Comics
In case you didn't notice, we've been big fans of DC's work this year. Especially their groundbreaking YA titles, like this queer coming of age story centered around Aqualad. Maroh brings a light touch to the lovely art, while Sanchez's story lures you in. Jake Hyde is a fan fave character and it's great to see him get such a beautiful, thoughtful coming out story. Buy it here.
Shadow of the Batgirl by Sarah Kuhn, Nicole Goux, Cris Peter, and Janice Chiang with Saida Temofonte
DC Comics
Cass Cain has been a fan fave Bat-family character for two decades but has rarely gotten her due. That all changes with this brilliant comic that puts Cass back in the spotlight. Goux and Kuhn are a killer team who made something that feels completely inventive yet utterly familiar as a Bat-story. Just a total smash. We want more! Buy it here.
Hellions by Zeb Wells, Stephen Segovia, Carmen Carnero, David Curiel, Cory Petit, and Ariana Maher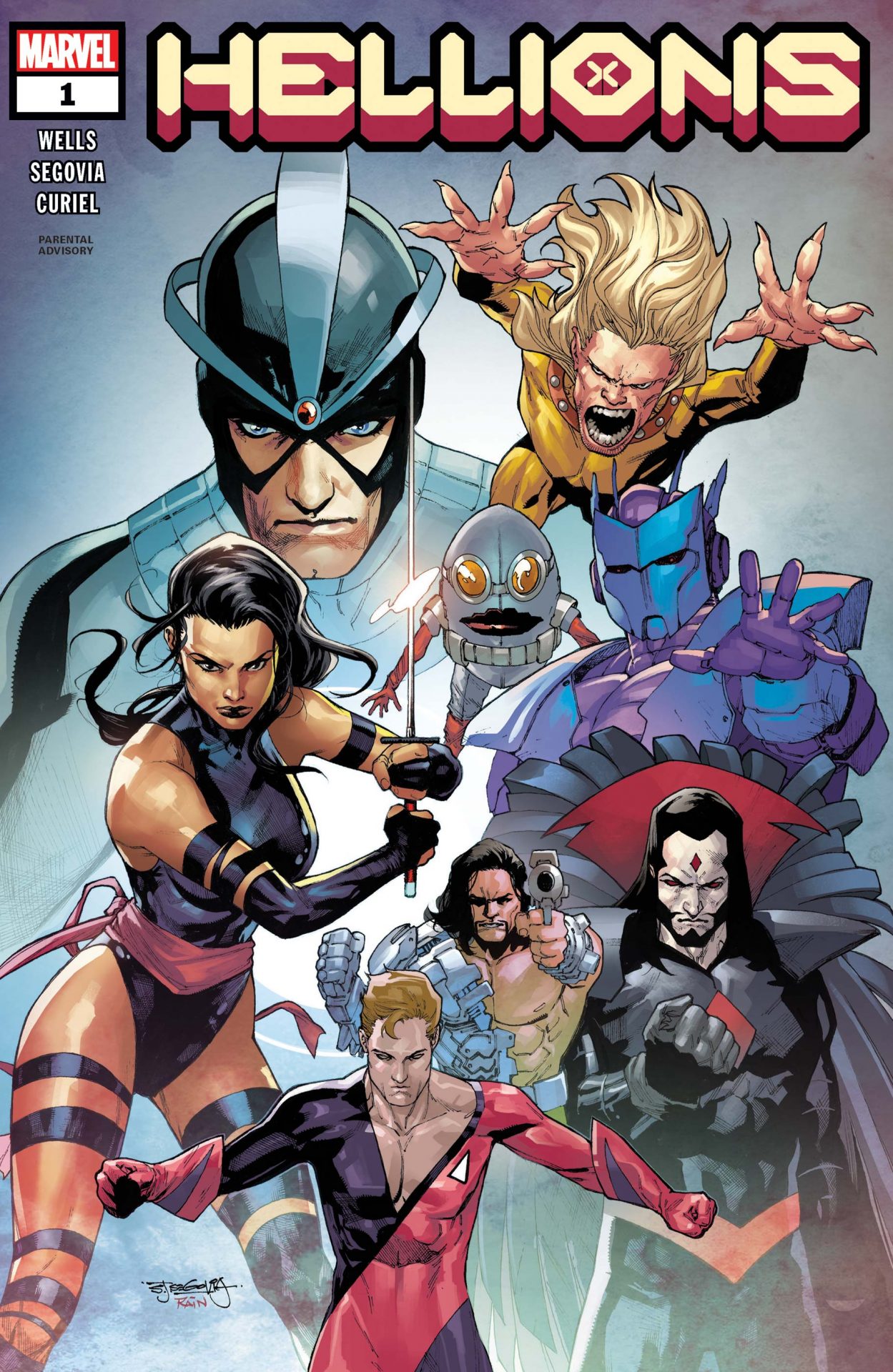 Marvel Comics
It's been a long time since we read a really, really funny superhero comic. Luckily, Hellions came along just when we were most in need of a laugh. This X-Men anti-team book is exactly what the doctor ordered in 2020. Led by maybe the best iteration of Mister Sinister ever, this gnarly crew of ne'er-do-wells is the team that we don't need but definitely deserve. Buy it here.
The Oracle Code by Marieke Nijkamp, Manuel Preitano, Jordie Bellaire, and Clayton Cowles
DC Comics
Barbara Gordon has gone by many names: Babs, Batgirl, Amy Beddoes, and, of course, Oracle. This YA graphic novel centers on the latter, with the young heroine solving a mystery at the nefarious Arkham Center for Independence. Chilling, creepy, and enigmatic, this is a great read. And Nijkamp is the first disabled writer to tell an Oracle story, which makes it even better. Buy it here.
Marauders #13 by Vita Ayala, Matteo Lolli, Edgar Delgado, and Cory Petit
Marvel Comics, cover art by Russell Dauterman
Sure, it was just one issue, but it's easily the best Storm story we've gotten in decades. Ayala is a superhero comic superstar and this is just more proof. Storm heads to Wakanda to retrieve a sword known as Skybreaker as part of the wider X of Swords event, of which this is a total highlight. This issue gives us some joyous Storm moments that will definitely go down in history. Buy it here.
Super Cool Comics to Read Online
Soft Lead by Chan Chau
Chan Chau
Cartoonist Chan Chau created what was probably my favorite superhero comic of the year with this utterly charming black and white Superman/Batman fan comic. Reimagining the relationship between The World's Finest, Clark is a cartoonist at The Daily Planet and Bruce is his biggest fan. As they share breakfast, they open up to each other about life, creation, and heroics. Buy it here.
Heart of the City by Steenz
Go Comics, Andrew McMeel
Reinventing a beloved cartoon strip isn't an easy task, but it's one that award-winning cartoonist Steenz has done with aplomb. The daily strip centers on the life of Heart and her buddies as they traverse school, homework, family, and each other. Steenz's gorgeous redesigns and sweet humor make this the kind of comic that warms your heart every day you read. Read it here.
Bianca Xunise at Six Chix
King Features Syndicate
You've likely seen some of Xunise's radical comics before. She's behind some of the most shared strips on the internet. But this year she broke new ground as the first Black cartoonist in the nationally syndicated strip Six Chix. Her entries range from irreverently funny to powerful, and are always striking. Basically, Bianca Xunise is brilliant and we can't get enough of her work. Read it here.
Blood Root by Caroline Sweater
Caroline Sweater
Although there have only been two digital issues so far, this is one of the most exciting comics this year. Sweater is a killer cartoonist with a cute and creepy illustration style that perfectly fits this atmospheric story about a pregnant couple who return home to a town that may or may not exist. Don't let the pastel hues and gorge character work lull you into a false sense of security. Read it here.
Nancy by Olivia Jaimes
Go Comics, Andrews McMeel
If you haven't been reading Olivia Jaimes' current run on the iconic Nancy strip, you're missing out. Nancy, Aunt Fritzi, and Sluggo are all here in strips that will blow your comics-loving mind. Funny, meta-textual, and often completely out of the box, Nancy is some of the most inventive and transgressive cartooning going. Plus, you can read it every single day for free.
Radical Reprints
Remina by Junji Ito
Viz
Junji Ito is THE name in horror comics and this gorgeous reprint of his 2005 story is a perfect example why. Remina begins with a scientist discovering a planet that has emerged from a wormhole, and he names it after his daughter. But when the planet begins devouring everything it comes into contact with, their newfound celebrity becomes a deadly curse. Buy it here.
Mermaid Saga by Rumiko Takahashi
Viz
There's a simple reason Rumiko is on our list twice this year: she's one of the best cartoonists to ever live. She's also behind some of your favorite anime and manga. This long-awaited reprint is the first in her cult horror story Mermaid Saga—based on real Japanese folklore about the flesh of the mythical creatures—is nothing short of spectacular. Buy it here.
Maison Ikkoku by Rumiko Takahashi
Viz
Last but by no means least is this slice of life comedy comic. A brilliant example of Rumiko's saucy sense of humor and stunning character work, this follows a young woman who takes over a boarding house. The eccentric crew will keep you engrossed, and every hilarious and heartfelt page showcases why Rumiko is such a beloved mangaka. Buy it here.