It is an unquestioned fact that all dogs are good. And do you know what good dogs deserve? Delicious treats. And that's exactly what Ben & Jerry's is going to give them, with the company's first-ever ice cream flavors made just for canines.
But don't worry, they are completely safe for humans too. Which is important, because you are definitely going to eat them by accident in the middle of the night.
Ben & Jerry's has announced two new flavors for their ever-expanding catalogue of ice cream flavors. But for the first time in the company's history, they have designed products entirely for our favorite puppers. Doggie Desserts by Ben & Jerry's, which they say "are tasty frozen treats that are paws-itively perfect for your pet," use a sunflower butter base "specifically formulated for dogs." (So not technically ice cream, but close enough.)
The two new items include "Pontch's Mix." It combines the "frozen fun of peanut butter and pretzel swirls," for a truly dog-friendly combo. And the other, "Rosie's Batch," mixes "the cool creaminess of pumpkin" with mini cookies. (Both sound so good we're a little jealous of dogs right now.) Each was named after a dog you can find roaming Ben & Jerry's offices.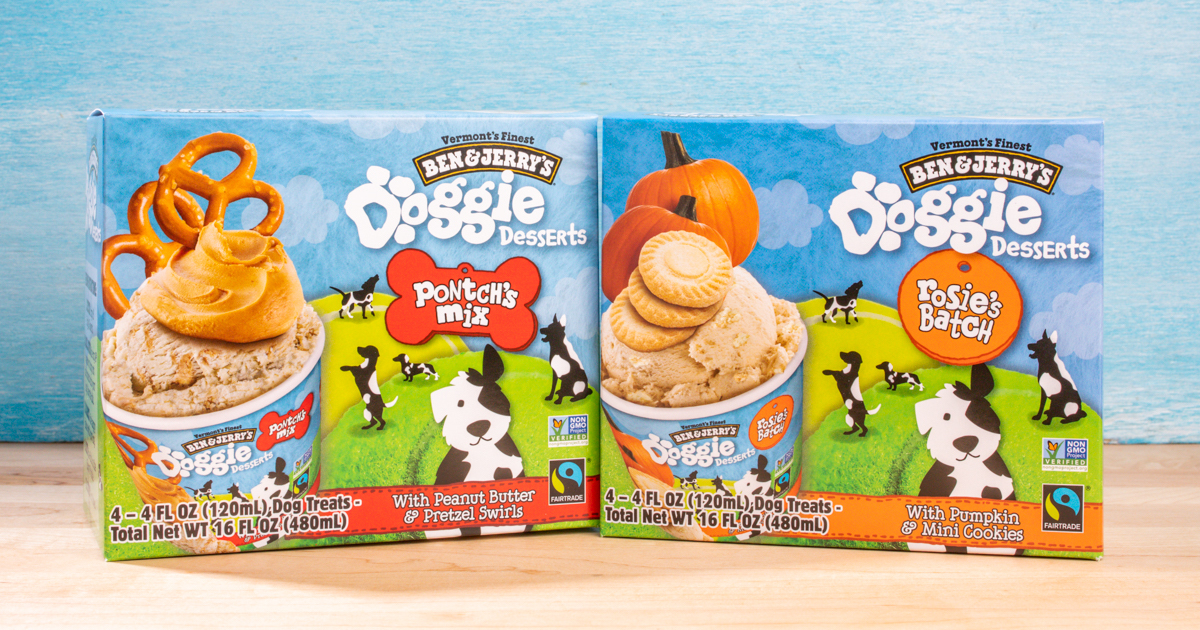 Ben & Jerry's
"We know our fans love their dogs and treat them like family," said Lindsay Bumps, a Ben & Jerry's Global Marketing Specialist and certified veterinary technician, in a press release. "We created this product line so pups can enjoy something even better than belly rubs. Doggie Desserts are the sweetest treat they'll ever put their paws on."
Doggie Desserts will be available in stores both individually in 4-oz mini cups ($2.99) and in 4-count multipacks ($4.99). You'll be able to pick them up in supermarkets, mass retailers, and "select pet stores" nationwide. You can also head to Benjerry.com for more information. Or, even better, follow their @BenandJerrysDogs Instagram account to see more of their employees' dogs.
Ben & Jerry's
Ben & Jerry's didn't forget about dogs' owners though. They company didn't skimp on the ingredients, even though these treats will appeal to palettes of those who drink from the toilet. The "high-quality" ingredients used in Doggie Desserts are also found in current Ben & Jerry's ice cream recipes sold to humans.
Why does that matter to you, a human? Because these treats look like regular Ben & Jerry's ice cream. And inevitably some people will accidentally consume these at some point. All dogs deserve delicious treats. And they also deserve healthy owners, even if they're not careful when they reach for a pint of ice cream.
Featured Image: Ben & Jerry's