It's been 35 years since Marty McFly discovered the DeLorean and time traveled back to 1955. That also means it's been 35 years since the timeless classic known as Back to the Future blasted into our lives. From Josh Gad bringing the cast back together on his Reunited Apart podcast to super fans recreating the popular Universal Studios ride, it's clear that the cult film trilogy remains relevant. To commemorate the film's lasting impact on pop culture, Playmobil has launched a new line of toys. Timed to the 35th anniversary release, they're just as magical as Marty's time travel adventures.
The sets are both impressive and creative. Whether you're a die-hard fan of the 1985 film or just someone who loves collecting pieces of pop culture history, you'll appreciate the attention to detail. A "1955 Edition" two-pack which retails at $7.99 features an adorable Marty McFly and Emmett "Doc" Brown. Both characters are dressed in trademark outfits. As for accessories, Marty comes with his red electric guitar and Doc Brown holds a newspaper with the "Save The Clocktower" headline.
Playmobil
Unsurprisingly, it's the DeLorean itself that takes center stage. The 64-piece set includes carefully crafted details that make it a must-own for movie fans and collectors alike. For starters, the car includes gull doors that fully open, allowing Doc Brown and Marty to sit inside. It also has dashboard circuits as well as a plutonium tank, a flux capacitor, and even a dashboard time travel indicator. Batteries light up both the outside of the car and the flux capacitor—the very thing that allows the DeLorean to travel through time. If you want to get into flight mode (who wouldn't?) all four wheels fold down to give the illusion of a flying car. The iconic OUTATIME license plate and DMC emblem are also featured.
Playmobil
The DeLorean set includes a 1985 version of Marty and Doc Brown. Marty wears his signature puffy red vest while Doc Brown wears a white jumpsuit. Einstein (or "Einie") also tags along for the ride. After all, how can you leave out Doc Brown's beloved sheep dog?
The complete DeLorean set retails for $49.99. All in all, the entire collection is pretty impressive. It's definitely perfect tribute to one of the best cult films of all time.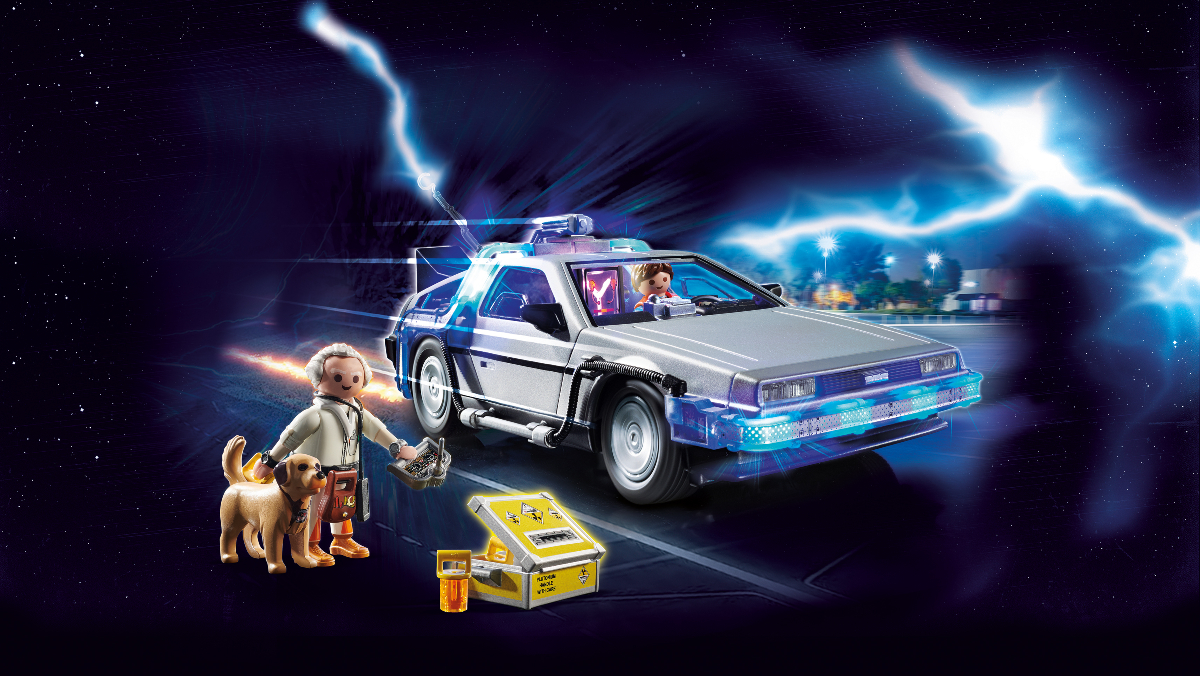 Playmobil
The Back To The Future Playmobil sets are available to buy now, so you can start recreating your favorite scenes. Just remember to be careful with those plutonium cores.
Featured Image: Playmobil