Earlier this year European Space Agency (ESA) astronaut Thomas Pesquet released unto the internet a batch of glorious new images of Earth. The images, which he took from the International Space Station, were so vivid and clear they looked surreal. Now, Pesquet has delivered a new set of beautiful Earth images. This time featuring a rare bluish aurora over our planet's southern hemisphere.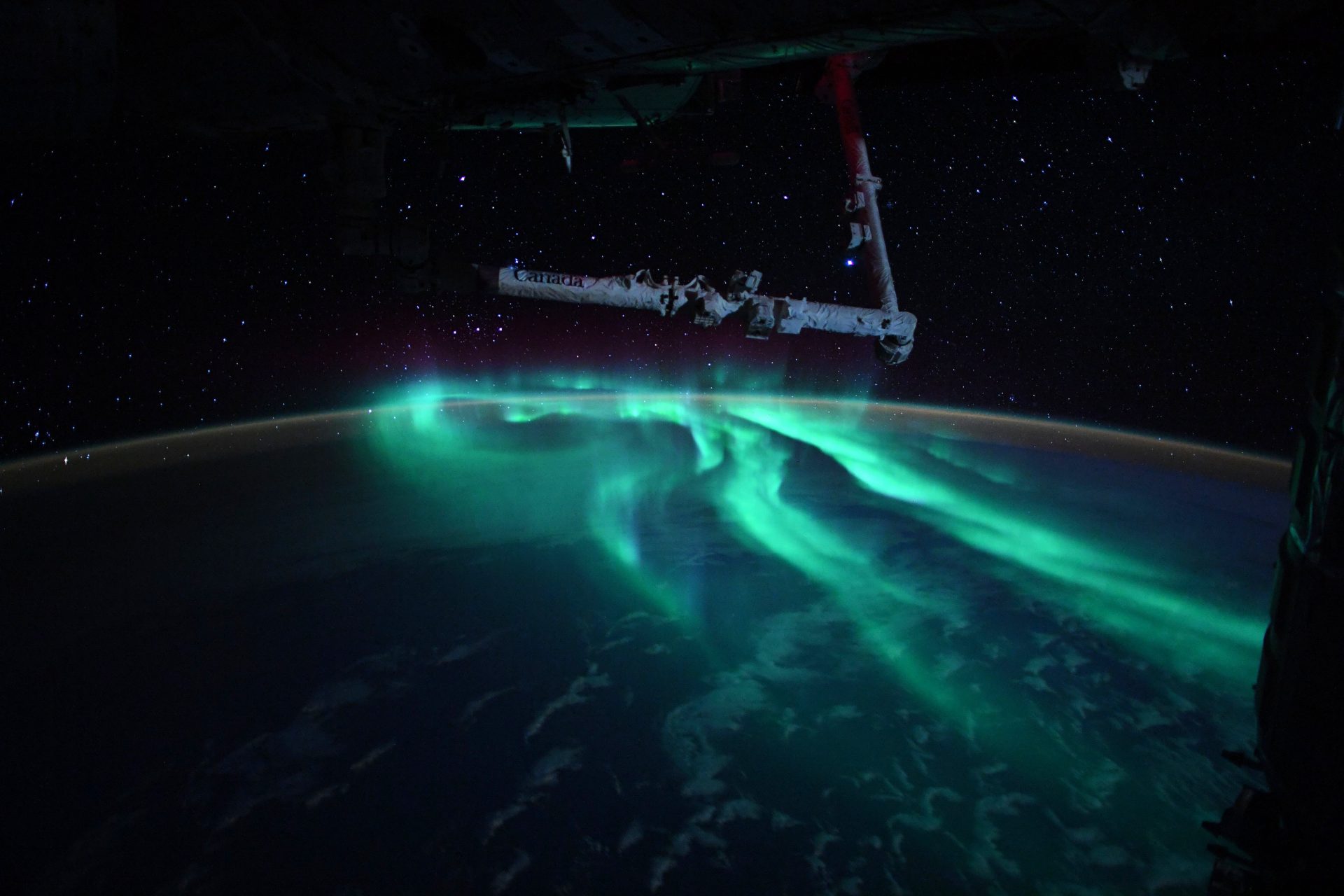 PetaPixel picked up on Pesquet's new snaps, which he's—thankfully—plastering all over his social media accounts. It turns out astronauts aboard the ISS have had spectacular views of the southern lights, or Aurora Australis, for some time now. Although Pesquet took these particular photos when a full Moon shone in the sky.
ESA/NASA-T. Pesquet
"I don't know why we saw so many [auroras] in the span of a few days, when I barely saw one during my entire first mission, but these last ones came with something extra," the astronaut said in a post on Facebook. "As the Moon was high and bright, it lit up the clouds from above, which created a distinct atmosphere… and almost turned the aurora blue," Pesquet added.
Despite that wording, Pesquet does explicitly note that this aurora has blue hues; saying outright that "[It's] a blue aurora!" on Twitter. Something we mention because of the fact this aurora is definitely quite green in general. Although, if you look closely, you can see blue light spraying into the night sky from the glowing green waves below.
ESA/NASA-T. Pesquet
Pesquet also makes it clear that the blue hue is not from some kind of camera balance issue. Indeed, while it's rare to see a bluish aurora, it does occur. High-energy particles from the Sun cascading onto Earth that interact with the planet's magnetic field cause the light shows. Which in turn cause several different atmospheric constituents to emit visual light. Oxygen, for example, emits either an orange-red or yellow-green glow. Ionized diatomic nitrogen, on the other hand, emits a blue and/or purple color. Hence this fleeting moment of blink-and-you'll-miss-it beauty.