We've been waiting for Rick and Morty's Voltron tribute since the show's first season five trailer. And it delivered. But we never could have imagined it would also deliver a spot-on mob movie homage. Summer's quest to help her grandpa consolidate GoTron power had so many voiceovers, needle drops, and whackings we had to check if Martin Scorsese directed. He didn't, but his filmography played a major role throughout the episode. As did other popular mob movies, gangster tropes, and real-life mafioso. Here are all the mobster references we found in "Gotron Jerrysis Rickvangelion."
Morty Breaks Rick's Heart
It wasn't a Fredo-level betrayal, but an angry Rick's callback to Michael Corleone in the The Godfather: Part II kicked off the mafia references. Just to be safe, Morty should never get in a canoe.
As Far Back As We Can Remember, We Always Wanted to Hear Voiceovers
Morty and Summer's competing voiceover narrations mirrored two classic Scorsese mafia movies, Goodfellas and Çasino. Scorsese also employed narration at the start of The Departed. Other crime films, like The Usual Suspects, have used it too. None of them featured little voiceover aliens, though. At least we don't think they did.
Fancy Egg Noodles With Ketchup
Adult Swim
That classic American-Italian entrée, a popular mob movie meal, appeared twice in the episode. Beth and Jerry ate it during their first scene. It was also served at episode's end, after the family left behind it's mafia-like life. While it looked the same both times, the latter dish hearkened back to Ray Liotta's last scene in Goodfellas, when he explained the banality of his new life in Witness Protection. "Right after I got here I ordered some spaghetti with marinara sauce and I got egg noodles and ketchup," he said. "I'm an average nobody. I get to live the rest of my life like a schnook."
Jerry is also a schnook. But that doesn't count as a reference.
Never Go Against the Family
Adult Swim
Whether by blood or blood pact, just about every mafia movie ever made is about "family." And you never, ever, ever go against the family. The Smith clan thought Morty did. But he wasn't a "rat" like Jerry said. (Another mob trope also covered in just about ever mafia movie ever.) Morty's loyalty ultimately saved his grandpa's life. Even though Rick made the same terrible decision Tony Montana did in Scarface.
Tony killed the person closest to him, the only member of his crew he could ever truly trust, his friend and head of security, Manny. Fortunately Rick only fired Summer rather than kill her. In a move that echoed Michael Corleone demoting Tom Hagen from consigliere. Like Tom with Michael, Summer only wanted to be accepted and loved by Rick.
The episode also included another Godfather Tom Hagen reference, when Summer said, just like Sonny Corleone said about Tom, Beth was not a "Wartime Mom." Ouch.
Scorsese Staples and Mobster Tropes
In addition to voiceovers, the episode also relied on other mobster calling cards of Martin Scorsese. It featured countless needle drops, mainly in the style of the Rolling Stones. Just like in Goodfellas, Casino, and The Irishman. And unchecked greed led to a precipitous rise in power followed by a deadly tumultuous fall from grace. Just like in all those movies.
Warner Bros.
The episode also featured car bombs, clandestine offers, meetings in the desert, an exclusive gangster nightclub that wasn't as safe as everyone thought, talk of "clipping" people, and cold-blooded executions. Rick shot those Voiceovarians like he was a Joe Pesci character. Oh madone! Now that's a recipe for one tasty mob film tribute.
Five Families and Familiar Faces
The meeting of the five Rick families came from both The Godfather and real life. Setting it at a BBQ was a Goodfellas-esque. And the heads of each family pulled from multiple films. Big Fat Rick was the show's tribute to Marlon Brando's Don Corleone.
Paramount Pictures/Adult Swim
Rickardo Montoya was the episode's answer to Scarface's Tony Montana.
Universal Pictures/Adult Swim
Hot Head Rick was a dead-ringer for James Caan's ill-fated Sonny Corleone in The Godfather.
Paramount Pictures/Adult Swim
Like Sonny, Hot Head Rick's inability to control his anger led to his death. One he also should have seen coming.
And the first part of Little Ricky Wrap-it-Up's name is a common mobster moniker. One given to real-life figures such as Little Nicky Scarfo, Little Augie Pisano, and countless others. Little Ricky Wrap-it-Up seemed a lot nicer than any of them, though. RIP Little Ricky. We'll make sure to toast to your memory the next time we're wearing a tuxedo at a nightclub.
Adult Swim
And despite Yo-Yo Rick not having a mobster counterpart, he did get his own mafia movie reference. Summer helped him cover up a murder. Just like Tom Hagen did for Senator Geary in The Godfather: Part II.
Adult Swim
The infamous Chicago mobster Al Capone also got a shoutout via graffiti outside the GoTron nightclub. "Get Capowned!" What does that mean? We don't know, but based on Capone's own life we don't want to risk finding out.
Adult Swim
"Now I Gotta Turn My Back"
Adult Swim
If you thought it was cold in Goodfellas when Paulie handed a desperate Henry Hill a measly 3,200 bucks and said, "Now I gotta turn my back on you," that was nothing compared to Beth giving Morty $16,000 and saying the same thing to her son. That was Frankie Carbone in the ice truck cold. It was also one of the funniest mob references in the whole episode.
Rick and His Little Friend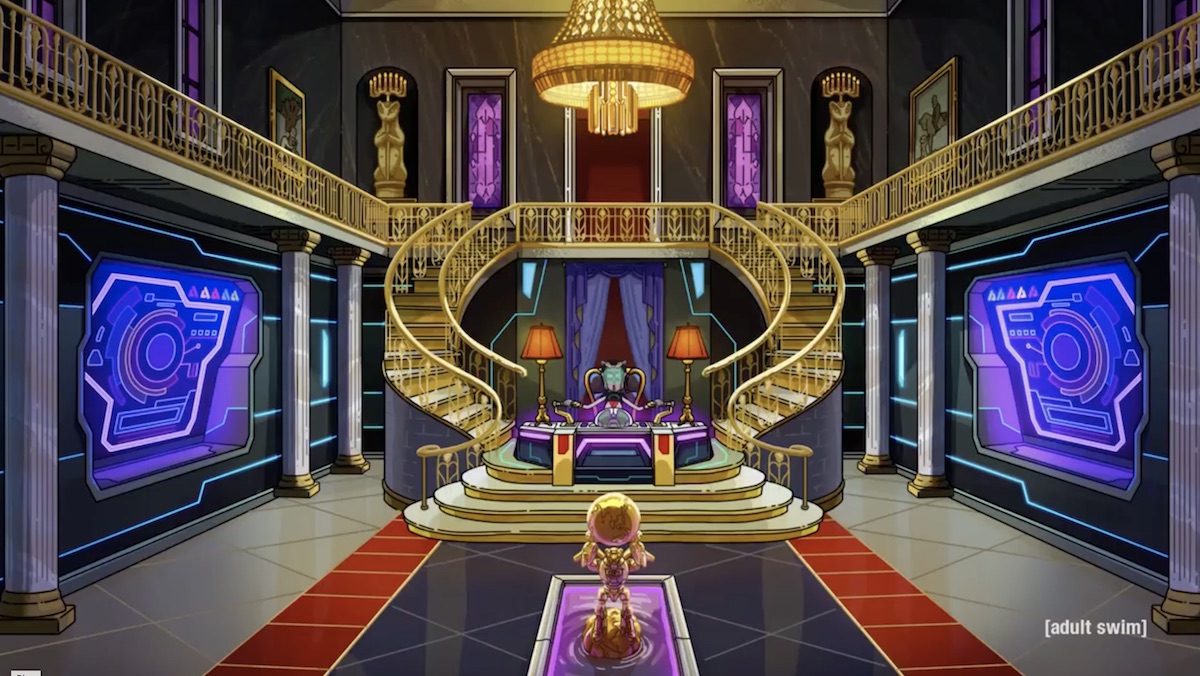 Adult Swim
Rick's final stand as head of the GoTron Family was a direct parody of Tony Montana's final scene in Scarface. Rick's cockpit mirrored Tony's home and office. And when his enemies came calling, Rick introduced them to his own little friend. "Say hello to my little me!" Unlike Tony, Rick survived his shootout. Because he still had people who loved him. Like a giant incest baby.
No mobster movie has ever ever had a giant incest baby. But if Martin Scorsese has one in his next movie we'll know where he got the idea.
Mikey Walsh is a staff writer at Nerdist. You can follow him on Twitter at @burgermike, and also anywhere someone is ranking the Targaryen kings.