If you're one of the many viewers who woke up this morning and became subscribers to HBO Max then you are in for a treat. The service boasts over 10,000 hours of content. But we are only here to talk about one thing: ANIME!! Yep, if you're an anime fan then HBO Max has a whole bunch of brilliant options for you to sink your teeth into. This list runs down everything you need to know about all the anime that HBO Max has to offer right now.
Ghibli Library
Studio Ghibli
This is obviously the biggest get for the streamer as the full Ghibli library has never streamed in the US. All of Ghibli's movies are magical—and that's not hyperbole—but Kiki's Delivery Service, Ponyo, Spirited Away, Howl's Moving Castle, and Princess Mononoke are great places to start with their sprawling catalog. One warning though: whilst most of their movies are suitable for kids, the stunning Grave of the Fireflies is a hard watch even for the toughest of adults.
ERASED
Aniplex of America
This twisty time-travel crime series is a must watch. Erased follows a young boy who uses his unique ability to travel through his past to try and save a murdered classmate. Atmospheric, gorgeously animated, and genuinely scary at times, Erased is a great place for newbies to start.
Fullmetal Alchemist: Brotherhood
Aniplex of America
Based on Hiromu Arakawa's manga phenomenon, Fullmetal Alchemist: Brotherhood is an epic fantasy show that begins with a tragedy as two brothers attempt to bring their mother back from the dead. From there it only gets wilder as the strange duo head out on a quest for the Philosopher's Stone!
Your Lie in April
Aniplex of America
Music anime are a unique delight and Your Lie in April is no exception. Kōsei Arima is a child prodigy but after the death of his mother he loses his ear for the piano. A young violinist could change everything, but can he allow himself to love? You'll have to watch to find out!
Re:ZERO – Starting Life in Another World
Crunchyroll
Sucked into an alternate-universe on his way to the store, prolific gamer Subaru doesn't know what's hit him. The futuristic-tinged-fantasy landscape is nothing like his home and along with gaining strange new powers, he's thrown into a wild adventure after befriending an elven girl.
In/Spectre
Crunchyroll
Battling ghosts? Surreal supernatural occurrences? Unrequited love? If those are some of your favorite tropes then you'll likely enjoy In/Spectre. When Kuro is approached by a woman calling herself the Goddess of Wisdom he thinks she's crazy but soon realizes there's a whole other world that he never knew existed.
Keep Your Hands off Eizouken!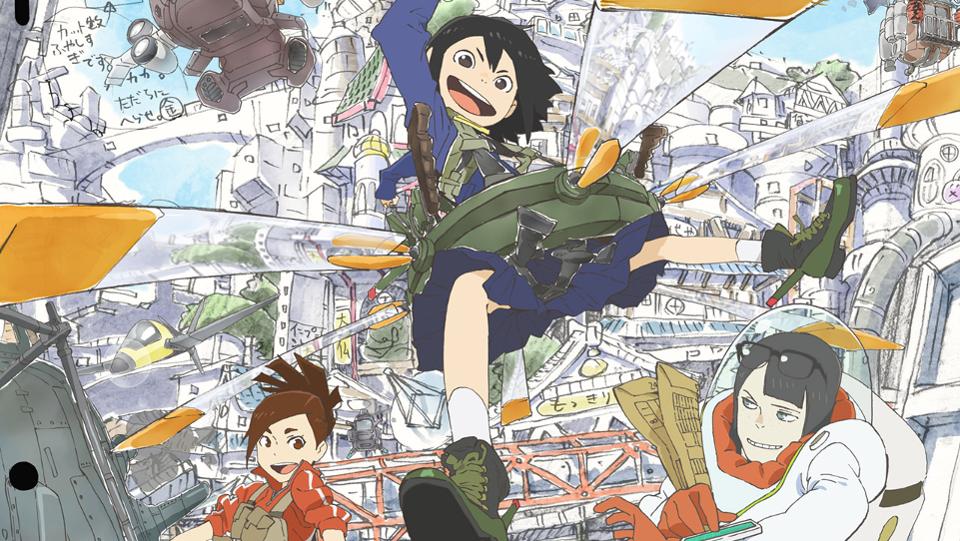 Crunchyroll
One of our favorite anime subgenres is series centered on making anime and manga. Keep Your Hands off Eizouken! falls firmly into the first camp as a group of teens attempt to make their dreams of becoming animators come true!
Rurouni Kenshin
Aniplex of America
If period pieces are more your thing, then check out this classic series which is based on one of the best-selling mangas of all time. Wandering swordsman Himura Kenshin explores Meiji era Japan helping anyone he can in order to pay penance for the sins he committed in his past.
KONOSUBA – God's Blessing on this Wonderful World!
Crunchyroll
This RPG-inspired tale also works as a meditation on the afterlife. After dying in a car crash Kazuma is transported to a strange world where he can battle monsters and go on quests. Whilst there, he ends up finding a purpose and friends that he never had in his former life.
Bungo Stray Dogs
Crunchyroll
A mystery solving hero who can also turn into a white tiger? That's just the tip of the iceberg when it comes to the strange world of Bungo Stray Dogs. After being kicked out of his orphanage, Atsushi meets a stranger with incredible powers who draws him into a supernatural detective agency.
Kiznaiver
A Kiznaiver is a young child selected to become bonded to another in a revolutionary experiment for world peace. This anime questions, what makes us the same? What makes us different? And can experiencing the lives and pain of others make us more empathetic?
Rokka: Braves of the Six Flowers
Ponycan USA
Aesthetically inspired by Mesoamerican Mayan culture this expansive fantasy series follows six warriors who are chosen by a god to defeat a Demon God. Each of the warriors has a different mystical power but when they first meet there is an imposter among them… but who is it?
The Testament of Sister New Devil
This "echhi" series is a wild ride. When Basara Tojo's father remarries and he meets his two new stepsisters, he realizes they're part of the hero clan that he's vowed to defeat. After a contract signing gone wrong, Basara gets into various mature shenanigans with his new sibs.
91 Days
Crunchyroll
Ever wanted an animated show about prohibition era Illinois? Well, you're in luck! 91 Days is a story of vengeance as Angelo Lagusa decides to hunt down the Mafia don who killed his family. But when he infiltrates the crime family, his 91 day quest becomes far more complex.
Schwarzesmarken
Crunchyroll
This anime is set in East Germany in 1983 and reimagines the world and its wars as one fueled by alien machinery and giant robots. A military heavy series with plenty of impressive tech and interpersonal drama, Schwarzesmarken is an alt-world take on the light novel series Muv-Luv.
Berserk
Crunchyroll
Guts is a swordsman in a dark Medieval fantasy world. Taken on as a wandering mercenary by a group known only as Band of the Hawk, his life has been defined by death. This dark and shocking continuation of the classic anime series is a brutally engaging watch.
Kabaneri of the Iron Fortress
This industrial revolution-set monster mash is perfect for fans of Attack on Titan. Taking the zombie trope and mixing it with historical drama Kabaneri of the Iron Fortress is a blast. Will the ragtag group of locals be able to survive the newly undead and their mysterious glowing hearts?
Header Image: Aniplex of America