It's time to play the music and light the lights! Disney recently announced that The Muppet Show is finally coming to Disney+ on February 19, 2021. The hilarious variety show originally aired from 1976 to 1981; a wide range of guest stars took a turn in the spotlight alongside Kermit, Miss Piggy, and the gang, fearlessly jumping into comedy, song, and dance. We couldn't be happier to see the return of this silly and weird wonder.
If you weren't an '80s kid, five seasons and over 100 episodes might sound daunting. (Not to mention a long list of unfamiliar guest stars!) We're here for you. Here are 10 fantastic episodes of the show that you shouldn't miss when you fire up Disney+ in February.
"Vincent Price" (Season one)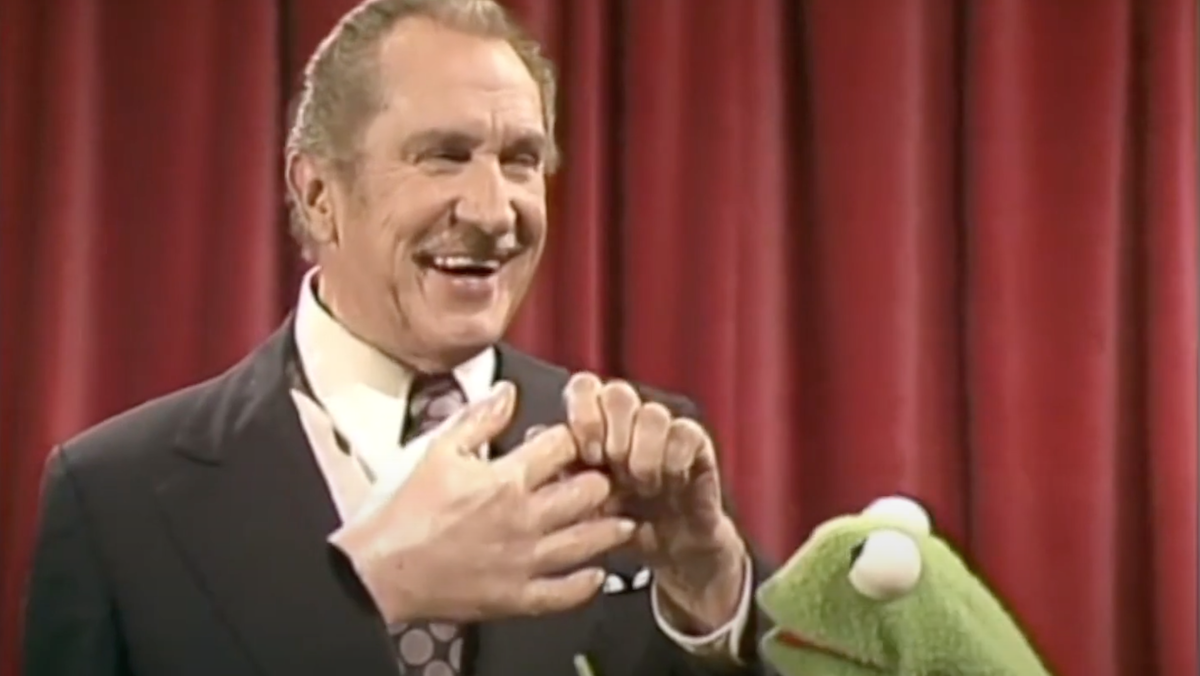 Disney
One of the earliest episodes of the series features Vincent Price, master of horror. As Price was famous for portraying vampires and other creatures of the night, The Muppet Show leans into the spookiness in these sketches. Uncle Deadly and Price make a perfect pair. You'll also see a quick exchange between Kermit the Frog and Price that you might have seen floating around the internet during Halloween. Price even bursts into song himself at the end of the episode. If you love Muppets at their weirdest, this episode is a must-see.
"Julie Andrews" (Season two)
Disney
Is this episode only on this list because of the Muppet version of "The Lonely Goatherd"? …Maybe. (There's also a live cow.)
Andrews joyfully belts out the Sound of Music classic along with another Broadway mainstay, "I Whistle a Happy Tune" from The King and I. You'll also find the Swedish Chef, Beaker and Professor Honeydew, and a Muppet News Flash in this jam-packed episode. Granted, Gonzo plays the bagpipes while sitting on a flagpole. Sorry about that one.
"George Burns" (Season two)
Disney
The cigar-chomping comedian George Burns was a familiar face on televisions in the 1970s. In 1977, Burns appeared as a guest on The Muppet Show, singing and cracking jokes with his irresistible old-school charm. This episode is worth watching just to get to know the comedy legend as he and Rowlf join in a quick duet. You'll also get a rare song and dance featuring just Kermit and Piggy; "I Won't Dance" is a delight.
"Harry Belafonte" (Season three)
Disney
A strong argument could be made that this episode is the series' single best. We've told you before about how much we love " Turn the World Around" from Harry Belafonte and the cast; but this season three episode also marks the very first time the classic "Day-O" was performed on television. We guarantee you will laugh during this rendition of the banana boat song. Belafonte's voice is dazzling and Fozzie Bear is at his very funniest during the performance. (Not even Belafonte can resist a giggle.)
"John Denver" (Season four)
Disney
If John Denver and The Muppets: A Christmas Together is in your holiday music rotation every year, just stop reading here and queue this one up. That same joyful energy can be found in this episode when John Denver stops by to sing about gardening and grandmas. Yes, it's as pure as it sounds. There's also a camping trip in the works; plus, the Swedish Chef, and a version of "The Happy Wanderer" that will make you cackle. This one is one of the best.
"Star Wars" (Season four)
Disney
You already know Jim Henson and Star Wars were well-acquainted. But did you know several of your favorite rebels stopped by The Muppet Show? This episode originally aired in January 1980. That's right, before The Empire Strikes Back came out! Lucky viewers got a sneak peek of Luke Skywalker's never-before-seen Bespin outfit. They also met his "cousin," Mark Hamill. C-3PO, R2-D2, and Chewbacca come along for the fun (and dance!) on this odd comedy variety show planet they've landed on.
"Christopher Reeve" (Season four)
Disney
Talk about a super special guest star! Christopher Reeve, best known for playing Superman, stops by The Muppet Show in the fourth season. Quoting Shakespeare? Check. Singing? Check. Playing the piano? Check. Donning a certain blue and red suit? Well… "I didn't bring it," Reeve says with a smile when Miss Piggy looks in the closet. Reeve just about does it all in this endearing episode. Miss Piggy can't help swooning over the super man. We can't either.
"Lynda Carter" (Season four)
Disney
You might think The Muppet Show couldn't get any more wonderful after having Christopher Reeve on, but the very next episode featured none other than Lynda Carter. Carter is best known for her turn as Wonder Woman on the popular television series. Like Reeve, she doesn't put on her alter ego's spangly suit, but Miss Piggy is more than happy to try it on. Carter also sweetly sings and dances her way through the upbeat episode.
"Diana Ross" (Season four)
Disney
When Diana Ross stops by The Muppet Show, you know the episode is going to be packed with terrific musical numbers. The performances are weird and wonderful as always, but Ross elevates them to pure magic. She joins some of the largest Muppets out there for "Love Hangover." "Last Time I Saw Him" with Doctor Teeth and Electric Mayhem is a toe-tapping treat. Don't miss this one.
"Linda Ronstadt" (Season five)
Disney
Speaking of magical musical guests, Linda Ronstadt is one of the most talented. Her version of "Blue Bayou," complete with chirping frogs and The Electric Mayhem, sticks with you long after you hear it. The accomplished singer was known for not being tied down to any one genre. She demonstrates that versatility on the show. Kermit admires her, and the feeling is mutual, making this one of the sweetest episodes of The Muppet Show. (Which means Piggy is off-the-charts jealous.)
Those are just ten episodes to start with! Enjoy your journey through the zany world of The Muppets. We can't wait to visit them time and time again now that they're on Disney+.
Kelly Knox is a freelance entertainment writer in Seattle, WA who writes for Star Wars, DC Comics, and more. Her first book, Marvel Monsters, comes out in July 2021 from DK Books.