The spookiest time of the year is upon us once more. While we have plenty of horror movies and TV shows to get us in the Halloween spirit, is that enough? If you're looking for a haunting comic book to really set the mood this October, look no further than Cullen Bunn and Tyler Crook's Harrow County. Published by Dark Horse Comics, the series centers on a young girl named Emmy, who soon uncovers a troublesome truth about her home of Harrow County as well as her own secret past. From countless haints to witches reborn, here are five reasons Harrow County is the perfect horror story to check out this Halloween season.
Gorgeous Artwork
Without a doubt, one Harrow County's draws is the artwork. Before you even know the story, the art leaps off the pages. It invokes a distinct tone of ethereal beauty and haunting wonder. With each page hand-painted in watercolor by artist Tyler Crook, the series sets itself apart with a compelling visual style. It perfectly reflects the nature of the storytelling. Though guest artists step in during the series' run, it is Crook's artistic style that truly embodies the story of the series.
Southern Gothic Aesthetic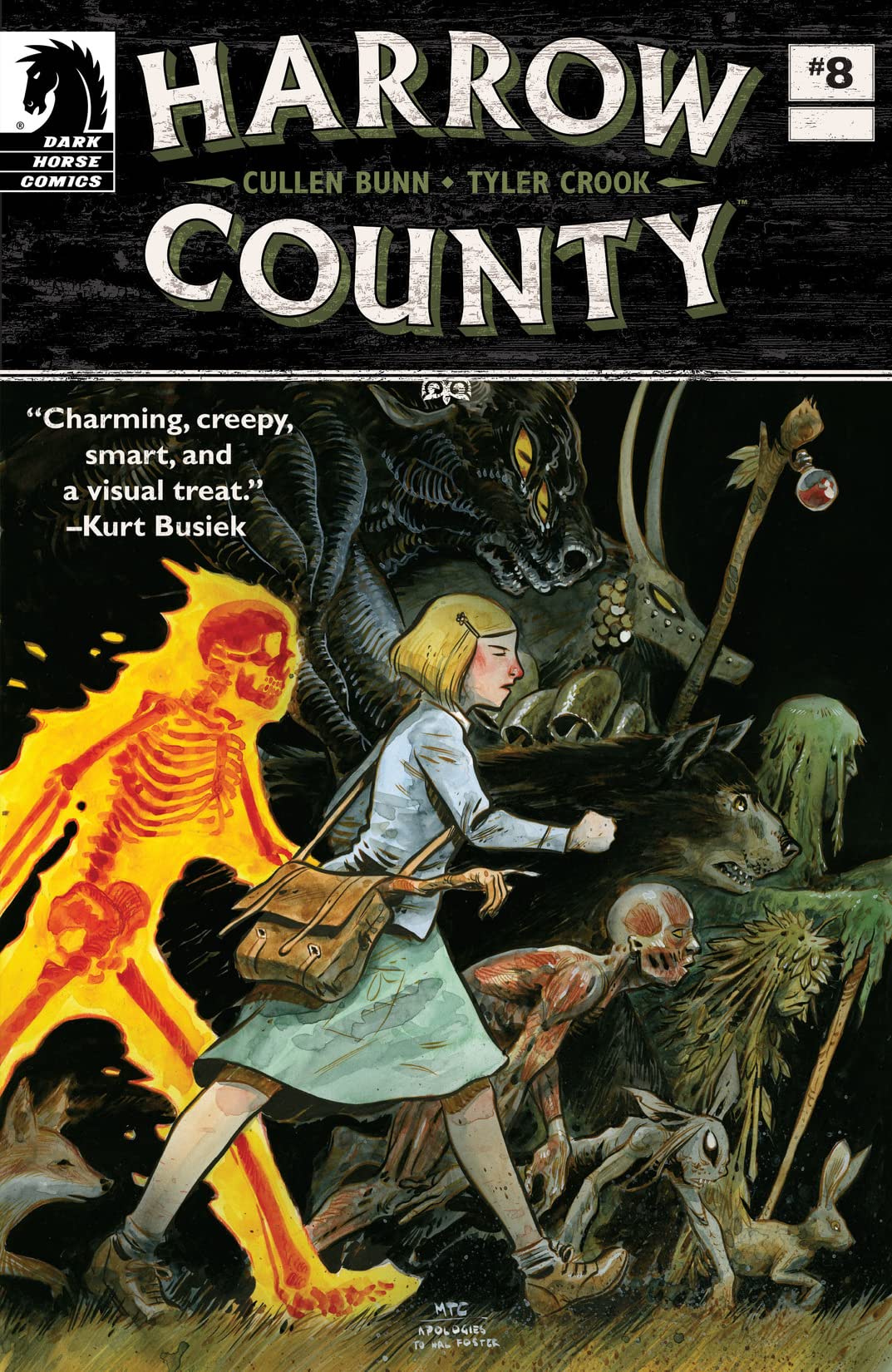 Dark Horse Comics
Taking place in a rural southern community, Harrow County wonderfully taps into the tradition of Southern Gothic horror. Having grown up in North Carolina, writer Cullen Bunn clearly brings a wealth of personal history to the project. He seems to delight in the folklore and mythology of his childhood. Paired with Crook's artwork, the writing captures the essence of the subgenre uniquely and with sincerity. If you didn't know about Southern Goth before, Harrow County is a fine place to start.
Rich Lore & World Building
Harrow County gets deeper as it goes. The series rewards its readers with an ever expanding world that becomes richer and more complex with each passing issue. Through each story arc, the scope of the series grows larger and more ambitious. They keep introducing new characters, new threats, and new revelations that offer fresh perspectives on all of them. From the haints, to the town, to Emmy herself, nothing is as it seems in Harrow County.
Complex Female Lead
Dark Horse Comics
Beyond the artwork and horror, Harrow County is, at its core, a coming of age story about a girl's journey of identity and agency over her own destiny. As the illusion of Emmy's quiet and safe life crumbles around her, she has to confront adulthood and the harshness of the real world—especially how it treats women with power. The series beautifully chronicles her evolution into an empowered woman no longer afraid of the world.
Complete Story & Library Editions
Dark Horse Comics
What makes Harrow County an ideal read even for non-comic readers is its incredible accessibility. The series tells a complete and concise story over the course of its 32 issue run. And there's no better way to experience them than the hardcover Library Editions. Collected into four volumes, the Library Editions catalogue the entire series in a simple to digest format. But each volume also contains a plethora of bonus content to enrich your experience even further. That includes behind the scene elements like concept art, scripts, and page outlines, as well as supplementary materials such as short stories and mini-comics exploring the world of Harrow County.
Featured Image: Dark Horse Comics