The video game industry in the middle of a dating sim renaissance, and we are here for it.
After the unexpected success of 2017's Dream Daddy, dating sim video games have become more mainstream than ever. A dating sim is a typically a first-person video game with character customization and a cartoonish art style that helps tell a text-heavy story of finding love. The games tend to take place in a small town, much like a romance or cozy mystery novel, that's populated with unique and quirky folks who are also looking to make a connection. As the game opens, the protagonist is often starting a new life or adventure, and they're ready to meet someone new.
PAX West 2019 featured more than a few dating sims on the show floor, each adorable yet with their own distinct setting, style, and cast of characters. You'll find these games now and coming soon on Steam, so let's get to know these irresistible new dating sims. Will it be love at first sight?
Arcade Spirits
Imagine a future where video game arcades are still as popular as they were in 1980-something, and you're ready to dive into the world of Arcade Spirits from Fiction Factory Games. We were hooked on the game's humor and heart the moment we saw the random NPC named "Rando Calrissian."
Fiction Factory Games
The protagonist isn't specifically looking for love, but rather hope, as they tend to drift aimlessly from one job to another. After being hired at the Funplex, could they find what they're looking for in the blinking lights of a video game arcade? Not only does Arcade Spirits have the neon 80s video game vibe down pat — even in its steady background music and sound effects — but its diverse cast of characters make the arcade feel like a place that we wish we could escape to in real life.
Arcade Spirits is now available on Steam and Itch.io with console releases planned early next year.
Best Friend Forever
Recently announced as part of the Nintendo Switch indie lineup, Best Friend Forever is a game that combines a dog care simulator with a dating sim. (Most of you will probably stop reading here and preorder it.)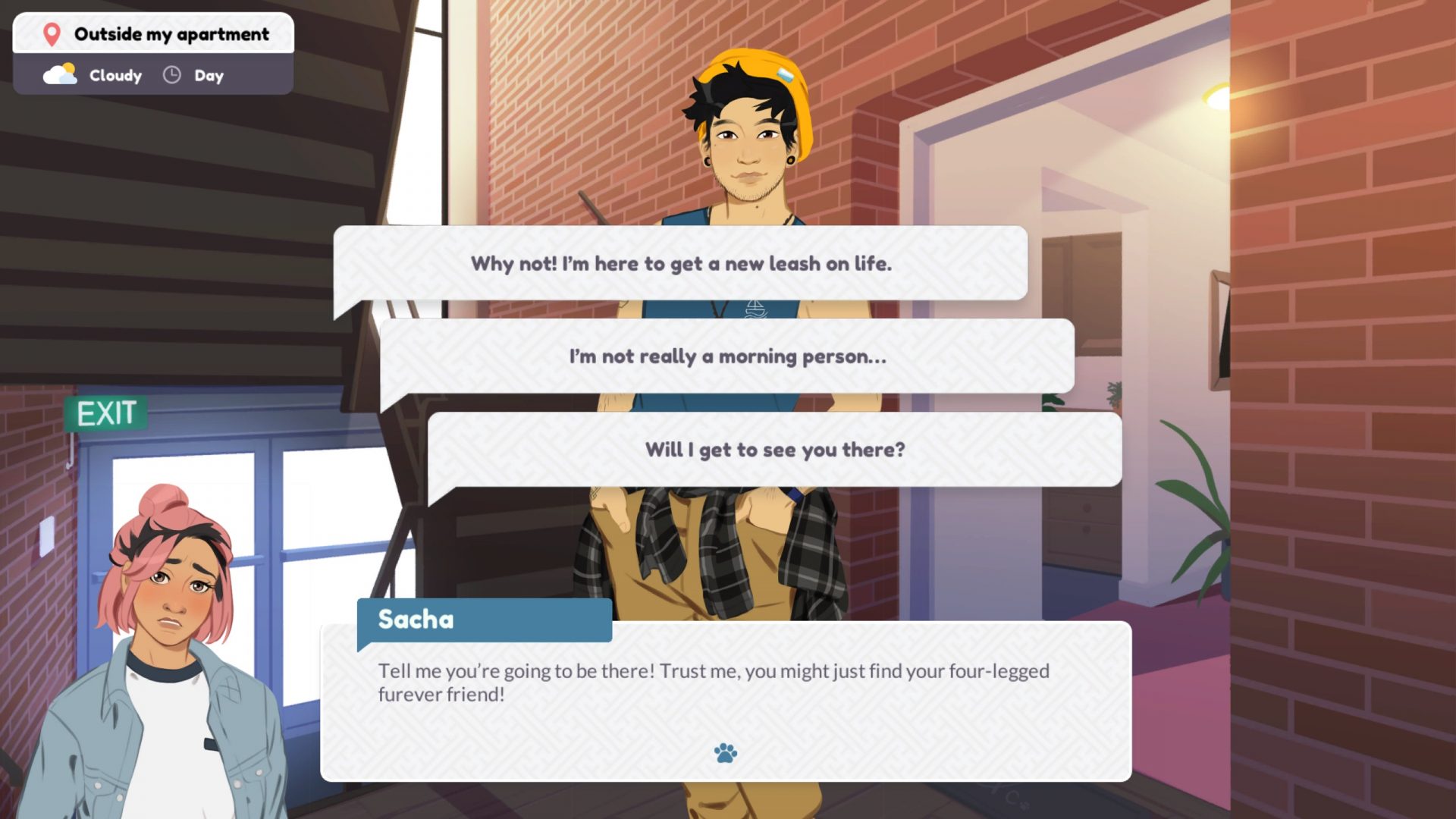 Starcolt
Set in a town called Rainbow Bay, Best Friend Forever is so bright and upbeat that you can practically feel the warm sunshine coming through the screen. In the PAX West demo, you arrive in town looking for a fresh start and find yourself cheerfully talked into a pet adoption event. The game then walks you through caring for your pupper, which plays a just as big (if not larger) role in the story of looking for romance. The pet simulator system is just as enticing as the narrative, combining to make this a one-of-a-kind game full of warm fuzzies.
Best Friend Forever releases February 14, 2020 on Steam and the Nintendo Switch.
Later Daters
We're in love with even just the idea of this upcoming dating sim from Bloom Games. Later Daters is a dating sim with a cast of characters all in the later years of life. That's right, this is a game full of cute elderly people looking for love, and it just gets more adorable from there.
Bloom Games
There is a fair amount of bittersweetness to the game; after all, there's a lot of personal history: love won and lost, and experiences wrapped around a person's lifetime. You'll learn each character's own stories along with your own as you play as the protagonist who just moved to a retirement community on your doctor's orders. But there's also a warmth and humor that comes through as Later Daters illustrates that even the golden years can be some of the best of your life. Love is not just for the young, after all. And how can you resist a game that describes itself as full of "sexy seniors"?
Later Daters is planned for release on Steam, Itch.io, and Nintendo Switch this fall.
Softly, With Teeth
If you like a little supernatural added to your romance, look no further than Softly, With Teeth from Studio Chiffon. More visual novel than dating sim, the game offers multiple paths and unique endings to a tale of urban fantasy and romance.
Studio Chiffon
The story combines coming-of-age with girl-meets-vampire for a compelling tale that you help choose the ending to. The protagonist is Diana, a student and YouTuber who's looking to make new friends and perhaps something more. She decides to go to a Halloween party one fateful night, but everything seems to go wrong from start to finish. (Falling on her face is just the beginning of the evening.) Things go from bad to worse, but Diana's troubles are just starting. Will she make it through the night in one piece?
The gorgeous art style and compelling characters make this visual novel one to watch. Keep an eye out for its release in Summer 2020.
Dating sims offer a bit of escapism from everyday stresses, with some swoons thrown in for good measure. We know you'll fall in love with the genre once you give one of these gorgeous games a chance.
Featured Image: Starcolt