From the get-go, Watchmen established itself as a show that meant business. Not only by attaching television visionary Damon Lindelof to the project, but also by assembling a truly exceptional cast of heavy hitters, including Regina King, Tim Blake Nelson, Jeremy Irons, Yahya Abdul-Mateen II, Don Johnson, Louis Gossett Jr., Jean Smart, Tom Mison, and Hong Chau. Early reviews have praised Lindelof's take on Moore and Gibbons' graphic novel and it doesn't feel like a coincidence that part of that praise is due to the stellar group of actors who bring their characters, both new and known, to life.
Nerdist spoke with most of Watchmen's key players during a press junket leading up to the series' debut at New York Comic Con and found that the cast's knowledge of the show's source material ranged quite a bit. "I'd never heard of it," Jeremy Irons admitted, before revealing that when he did finally pick Watchmen up, it was the first graphic novel he'd ever read. Meanwhile, Tim Blake Nelson was very familiar with the story thanks to his three sons, and Abdul-Mateen had gained familiarity with the story due to his work on Aquaman. But while the cast's introduction to the source material varied, there was a unified response when it came to why they signed on.
HBO
"Something about Damon's writing fit, and I was grateful for the opportunity to be in this thing," said Gossett, who plays the mysterious Will Reeves. Added Irons, "I think any story which makes you think about the contemporary situation is valuable. It stirs up your mind and I think that's one of the things that stories should do."
"The original Watchmen dealt in extremes, which is what graphic novels and comics do. They paint in primary colors; they're very linear in their depictions. Cartoons are meant to be strong," explained Nelson. "Cohering with that, with the original graphic novel, is that Alan Moore was writing about extremes. He was writing about nuclear war, nuclear annihilation, the Cold War, a bipolarity in terms of hegemony on the planet. These were enormous issues. And now Damon has transposed it into the present day looking at that as canon, and he's dealing with the extremes of right now. And I think what's going to be very exciting for people is that this is a look at a very loud and indicative culture in America right now and to some degree, in the world."
Much of Watchmen—from the characters to the storylines—has been shrouded in mystery reminiscent of Lindelof's previous shows, Lost and The Leftovers. That meant that the actors, as excited as they were to talk about their roles, were hard pressed to find things they could tease lest they give up any spoilers. Irons in particular is a character whose identity has been wrapped in secrecy. He plays an older Adrian Veidt, who is heavily implied to be Ozymandias, the comic's secret villain.
HBO
"I would go as far as saying he's not particularly happy where he is and I think that for people who are used for being at the center of things, like presidents or prime ministers, when they get removed or remove themselves, it must be quite difficult to fill your days with interest," Irons said carefully, referring to where viewers find Adrian in the premiere. For Nelson, who plays the Tulsa detective simply known as Looking Glass, it was a personal choice not to learn too much about who he was and what his motivations were.
"I decided very early on not to give into looking at information concerning him being weeded out so slowly as a problem, but more as an opportunity," Nelson said. "And that has been a very good approach at least in terms of my sanity, but building a character who's therefore got a good measure of mystery and who's inclination anyway is to withhold information about himself."
The actor continued, "One aspect I really appreciated, even in the pilot, is how much he withholds about himself. I normally play, let's call them loquacious extroverts, who are usually dimwitted or eccentric in some fashion. This character is much more about restraint and that's been a wonderful departure for me. I really enjoyed playing scenes in which I didn't say a word or syllable more than was needed."
And then there were others, like Abdul-Mateen (Cal, the husband to Regina King's Angela Abar), who took their character's surface traits and trusted that, if nothing else, the story would carry them through.
"The clues told me he was at home, he was a stay at home dad, he was a husband… there wasn't very much dialogue about him having desires and dreams to go out," Abdul-Mateen said. "So I said, he sounds like someone who sounds like he's very confident, comfortable, able… and I just want to make sure he's as rock solid as her [Angela] when she comes through that door. If I play that character, the writer is going to give me enough problems that it's going to be difficult for me to hold it down."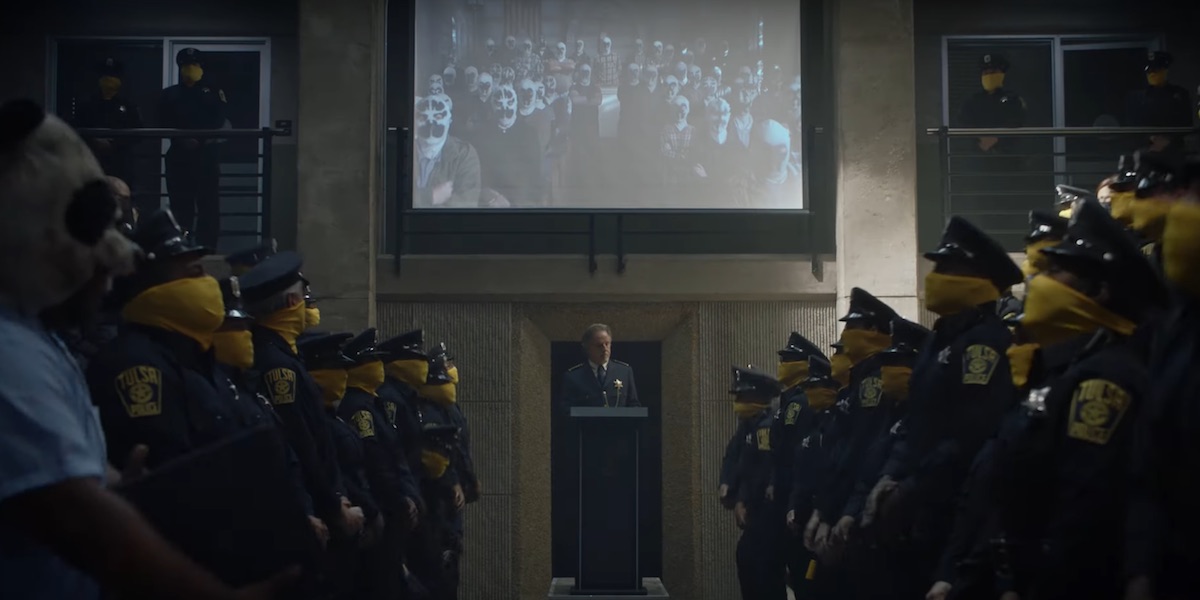 HBO
Though this version of Watchmen is very much its own entity, audiences will see the influences of the graphic novel throughout each episode. Both cops and criminals wear masks and break the laws, making it difficult to draw the distinction between "good guys" and "bad guys." And while that mentality is very much in tune with the original work, it also provides viewers with a brutal exploration of the world's current political climate.
"When trauma strikes, what do we do? My answer was, we wear the masks," said Gossett. "We blend into society, but inside, we have this mask that we finally get big enough to use. There must be some explanation for this. There's a lot of people out there like that on all levels. It submerges into our personalities and all of a sudden it comes out."
"When you put on the mask, you get to break the laws. You get to create the laws, you get to create your own reality. And how do you deal with that when you take the masks off?" asks Abdul-Mateen. "And also, who are the people in our society today who wear the masks? Hopefully those are some of the things that will cause people to look at where we are today. There's a lot of tension in our show and I think there's a lot of tension in our world, and hopefully it'll be a warning of what the consequences of the tension could be in our own world."
Watchmen premieres October 20 on HBO.
Mark Hill/HBO
Mark Hill/HBO
Colin Hutton/HBO
Mark Hill/HBO
Mark Hill/HBO
Mark Hill/HBO
Mark Hill/HBO
Mark Hill/HBO
Colin Hutton/HBO
Mark Hill/HBO
Mark Hill/HBO
Mark Hill/HBO
Featured Image: HBO