Unless there is some massive leap in science that can preserve us like Fry from Futurama, we will no longer be on Earth in the year 3000. So we can only imagine what life will be like then. How will this time in history be remembered by our descendants? What kinds of museums will exist and what will they cover? ZenDesk imagines that future folks will live in a world where annoying customer service and Internet experiences are a thing of the distant past. The Museum of Annoying Experiences is a speculative and virtual museum highlighting some of the downright irritating things we endure.
This funny project, which we learned about via DesignTaxi, is a collaboration between ZenDesk and Phantom Studios, a London creative agency. The interactive website allows visitors to click on different exhibits that examine our strange current reality. For example, there is one exhibit that talks about CAPTCHA tests. The verbiage for this exhibit calls them a "tricky line of questioning" designed by robots. The test asks humans questions about things they love. Like identifying fire hydrants.
The Museum of Annoying Experiences also honors unknown champions of customer service with posters. Some of them include those who fought for not having to wait on hold for "a million years" and extra sauce on the side. But the most important stride for change is more legroom. We don't know who these people are but they are true heroes. Someone, please save us from the lack of legroom hell on airplanes.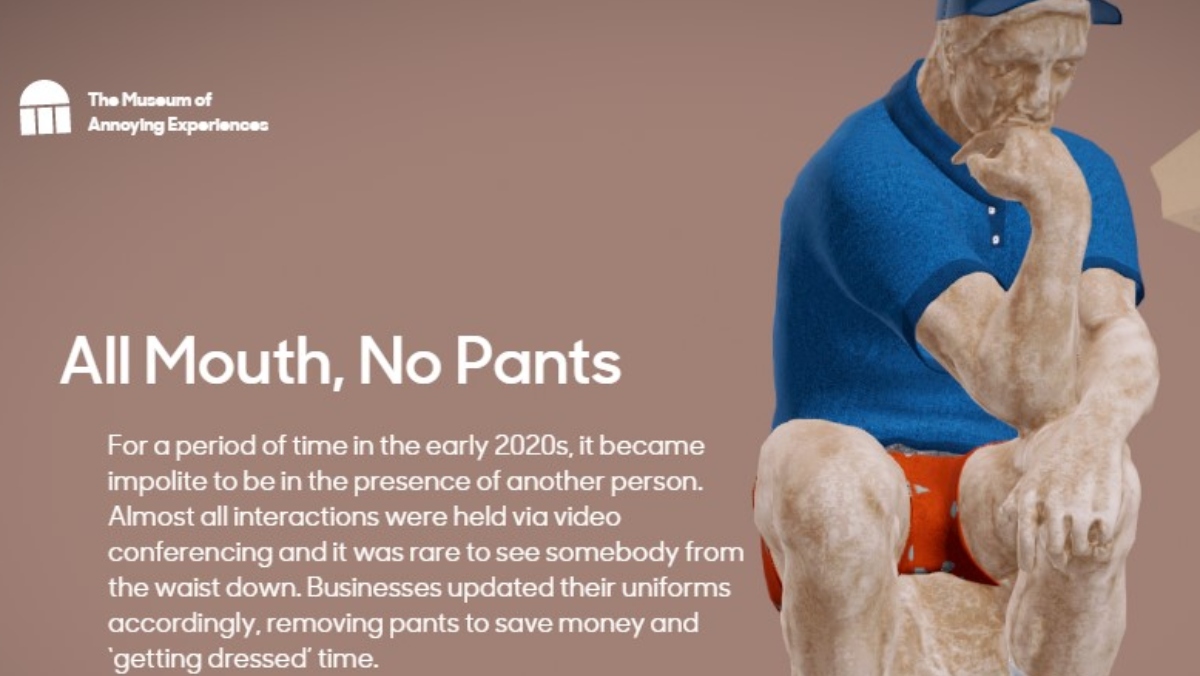 ZenDesk/Phanton Studios
And, of course, there is a reference to the early 2020s (read: present time) when it was "impolite" to be close to other humans. The phenomenon of video call interactions with people not wearing pants became all the rage. In this timeline, businesses decide to remove pants from dress codes to help save money and time.
That's right, this future is full of people walking around in their underwear. Maybe we don't want to be a part of this after all. Either way, The Museum of Annoying Experiences is a great way to poke a bit of fun at our daily lives.