Was Venom the greatest movie ever made? That's an easy question to answer. How many other movies featured both a man bathing in a restaurant's lobster tank and an alien symbiote making out with itself? Exactly. But there will soon be a new contender for the throne: Venom: Let There Be Carnage. A film whose latest trailer makes clear it has every intention of outdoing the wonderful absurdity of Tom Hardy's first foray as the popular comic book antihero.
If this film were only going to be two hours of Eddie Brock arguing with Venom I'd expect an Oscar nomination for Best Picture. But considering the movie will also star Woody Harrelson as Cletus Kasady, a charming sociopath with a taste for blood equalled by his own killer symbiote, we can probably pencil the film in for the Academy Award now.
Hyperbole (though only slight) aside, this really is a great trailer. It's funny, exciting, and totally absurd. It seems ready to take the best aspects of the original and turn them up to 11. In a movie that will feature a villain having a whole lot of fun. That is, when his alien counterpart isn't terrifying everyone. Carnage is genuinely monstrous here. Venom's fear of "red ones" is more than justified.
Sony Pictures
The only downside of this trailer is that it shows Eddie and Michelle Williams' Anne are still not together. Talk about a classic will they/won't they! One involving a human-eating alien. Like we said: "classic."
Although this promo focuses on Harrelson's Kasady, this is also our best look yet at Naomi Harris' Shriek. You can read more about her character and what she will mean for the film and the franchise here. She might be the best way to unleash true carnage on the world.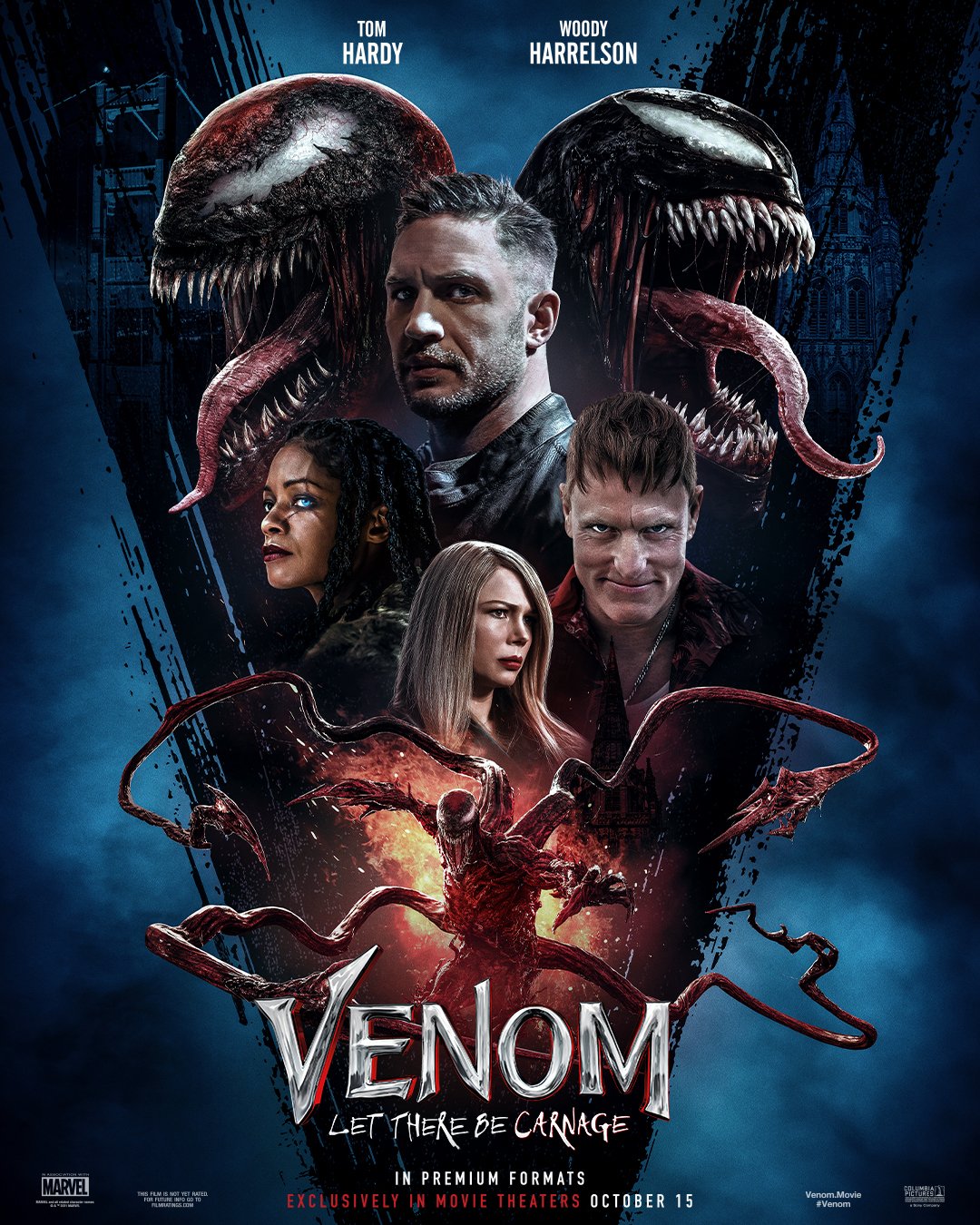 Directed by Andy Serkis, Venom: Let There Be Carnage comes to theaters this fall. It was supposed to be in late September, but Variety reports the premiere date has moved to October 15, 2021. While there were a few brief rumblings about yet another delay—this time to 2022—carnage is indeed heading our way this year. And while a beautifully chaotic new poster firmly suggested the October 15 release date, the release date has shifted—but two weeks sooner. Venom: Let There Be Carnage arrives (for real!!) on October 1. Luckily, we can all breathe a sigh of release that the film launches in 2021, as the Academy announces Oscar nominations in early 2022.
Originally published on August 2, 2021.