Uniqlo has a proven track record for collaborating with creative artists with fresh and unique visions, and their newest collections continue the tradition. New Star Wars apparel for kids and adults showcases some of the weird retro side of Star Wars, from the Droids cartoon to the Boba Fett that debuted in the now-infamous holiday special. We want them all.
Renowed Japanese streetwear artists Jun Takahashi, Tetsu Nishiyama, and NIGO turned their keen eyes for style to Star Wars past and present for inspiration.
The muted colors of the Boba Fett design are reminiscent of the earthy tones of The Mandalorian; the Droids and Ewoks inspired illustrations are gloriously retro. The artwork isn't your typical Darth Vader mask on a black T-shirt. Instead, the collection features a wide variety of Star Wars creatures and icons; from a dewback diagram, to a Greedo closeup with Huttese scrawled on the back, to a throwback of one of the first title logos created before A New Hope was even released.
NIGO, whose favorite character is the wily Rodian, said of his design, "I loved the scene in which Greedo appeared, although this was where Han Solo blasted him. The exchange between the characters and the rhythm of Greedo's speech were superb. I want people to enjoy quotes from Greedo and Yoda."
Alongside these striking shirts, you'll also find an eye-catching Marvel Comics collection from New York-based artist Jason Polan. Like the Star Wars tees, none of these designs are the ubiquitous posing heroes emblazoned on a black tee. This might be the first official Fin Fang Foom T-shirt in existence?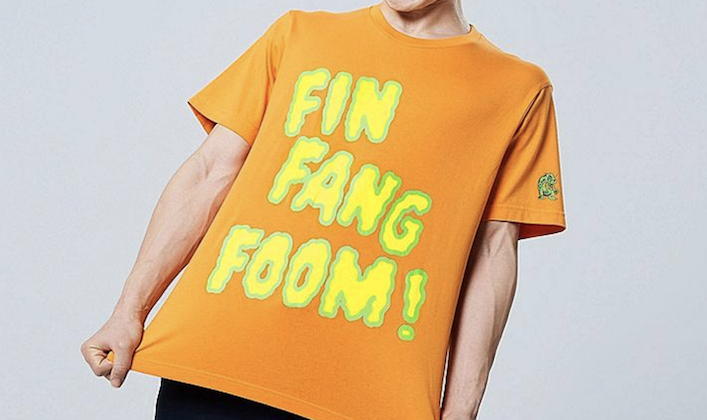 We're also head over heels with the repeating Spider-Man pattern on this stylish shirt.
All of these T-shirts go for $14.90 for adults and $9.90 for kids, so it's more than easy to fill your cart quickly either online or Uniqlo stores nationwide. All too easy.
Which shirt speaks to you? Tell us in the comments.
All Images: Uniqlo