Movies are all about connecting with the story and finding the audience in the characters on-screen–even if they are not of the same origin. It is rare to find a movie that comes across as entirely relatable and representative of the life that a person has actually lived, especially for westernized Asians who are rarely given a spotlight to tell their own stories. Fortunately for Disney-Pixar's Turning Red, it does exactly that and so much more for this Asian American critic.
Set in the early 2000s, Turning Red tells the coming-of-age story of Mei Lee (Rosalie Chiang), a confident Chinese-Canadian tween girl who has everything going for her: a close-knit group of dedicated friends, excellence in school, and a close relationship with her parents, particularly her overprotective–and a bit overbearing–mother, Ming (Sandra Oh). Ming has some high expectations of her daughter, that Mei will remain the obedient, perfect daughter. Like in many Asian households, "that's what you're supposed to do."
All that changes when Ming discovers Mei's crush on a local boy and confronts him with fanart Mei drew of the two, publicly embarrassing Mei. Filled with so many unsettling and mixed emotions, Mei transforms into a red panda overnight. She learns that this "blessing" has been passed down to the women in her family for many generations when they came of age, aka puberty. Whenever she feels intense emotions, she transforms into a red panda. The only way to banish the red panda is to perform an ancient ritual during a red moon.
Ming warns Mei that the more she transforms, the harder it will be to contain it. Of course, being a hormonal tween is tough enough–just imagine doing it while navigating middle school, puberty, friendships, and dealing with a clingy mother. All while trying to see her favorite boy band '4*Town' in concert without her parents finding out.
Chinese-Canadian director Domee Shi crafted a charming story that is close to her own childhood–minus the red panda transformation–of being torn between being a dutiful daughter and dealing with the chaos of adolescence. The red panda serves as an adorable metaphor for puberty–a wild, smelly, and furry beast with few to no inhibitions. And the more the red panda appears, the more Mei begins to like it and discover more about who she is.
But the film dives deeper than just what it means to grow up and how that affects your relationships with friends and family. It is also reflective of generational trauma between mothers and daughters having to live up to their mothers' expectations, providing some nuances that Asian families can relate to. We learn that Mei and Ming are not that different. Ming's domineering nature comes from her own toxic relationship with her mother. And now it takes both Mei and Ming figuring out what their newfound relationship is to come to terms with the fact that changes are bound to happen.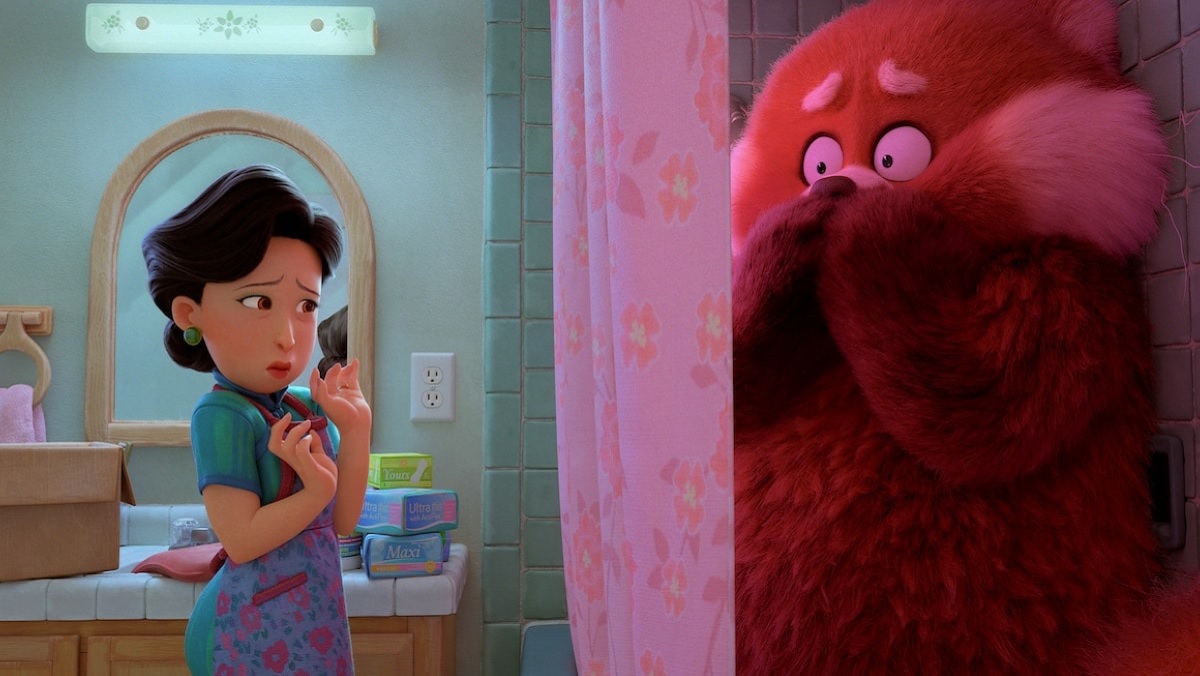 Similar to the storyline, the animation pays tribute to both worlds–East Meets West–that Shi has been influenced by in her career. It's also hard to not notice how adorably chunky the film's round characters are, and their expressive eyes that could only be inspired by anime such as Sailor Moon, Ranma ½, and even Doraemon. Mixing in both the retro aesthetic of the early '00s and anime influences, the animation created a unique 2D-meets-3D look for the movie.
The blend in animation is particularly emphasized as Mei experiences more erratic emotions, providing more depth to the scene. For example, after accidentally dropping her notebook of fanart of her crush in front of her mother, Mei is nervous Ming would notice and look through it. The scene zooms in on Mei's nervous face as sweat runs down while holding her breath, struggling to not draw attention to her notebook. As she realizes her error in looking down, Mei's pupils shrink down to small black dots to emphasize her shock.
Since Turning Red does center around Mei's obsession with a 2000s boy band, the music fits that era perfectly, including Destiny Child's 'Bootylicious' and the infectious original song, 'Nobody Like U', written by Billie Eilish and FINNEAS. Complementing this while not forgetting the blend between cultures, Academy Award and Emmy-winning Ludwig Göransson delivers a beautiful score that conveys both Mei's teenage quirkiness and love of pop mixed with Eastern instrumentation.
Turning Red is a sweet and relatable story about what it means to grow up, but not apart. It also feels like a love letter to being a teenager during the 2000s with its nostalgia–particularly the obsession with boy bands–something I still experience to this day. But it's the small details that provide a nod for many Asians in the diaspora. From the toilet paper roll in the living room used as tissue to the Asian aunties dressed in tracksuits and wedges, Turning Red doesn't forget that this story is also for us Asians who have struggled with their identity due to their strong ties to their parents. Mei serves as a reminder that yeah, we should 'honor thy parents', but we should also not forget to honor ourselves too.
5/5
Turning Red will premiere on Disney+ on March 11.
This post has affiliate links, which means we may earn advertising money if you buy something. This doesn't cost you anything extra, we just have to give you the heads up for legal reasons. Click away!