Thor Odinson and his luscious (long again) locks are back in action. Thor: Love and Thunder places the titular God of Thunder against his latest—and maybe most frightening—foe, Gorr the God Butcher. But it also brings back an important, if underused character from Thor's past, one Dr. Jane Foster. And this time she's wielding some Mighty Power. From Natalie Portman's return to the franchise to Thor teaming up with the Guardians of the Galaxy, the Thor: Love and Thunder cast is already pretty stacked. But that doesn't mean Marvel didn't have a few surprise appearances up its sleeve.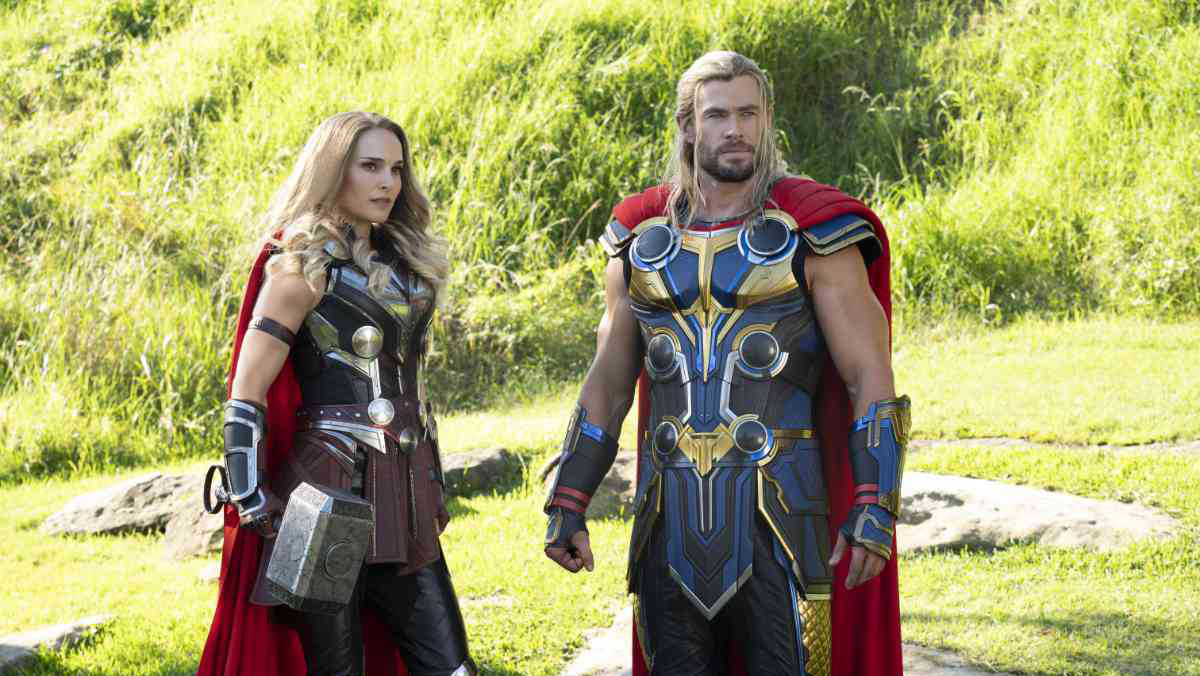 The film reunites us with some old friends and tees up some exciting new faces. Here are all the cameos from Thor: Love and Thunder.
Kat Dennings as Darcy Lewis
Kat Dennings is the first big cameo of Thor: Love and Thunder. The actress returned to the MCU after nearly a decade in WandaVision when she was called in to assist the FBI with the Westview shenanigans. But it seems as though she's still as loyal to her mentor, Jane. She accompanies Jane to chemo appointments, snacks in tow, as one of the few people in Jane's life who knows what is happening. And, she encourages the astrophysicist to give a certain ex a call.
Stellan Skarsgård as Erik Selvig
It's been a fair minute since we last saw Erik Selvig. In Thor: Love and Thunder, he appears briefly via video chat, as Jane attempts to find her own cure for her cancer. Unfortunately, he's the bearer of bad news as he sadly informs his colleague that the treatment is not working. This devastating report helps lead Jane to New Asgard and Mjölnir.
The (New) Asgardian Players
Thankfully, the Asgardian theatre troupe survived Hela's rampage and their country's destruction. Now, on New Asgard, they're doing what they do best: putting on plays that deliver a nice bit of exposition. Their latest production is a retelling of Thor: Ragnarok's first act with their usual flare for the dramatic. As such, the famous faces behind the hilarious troupe returned—with a new addition.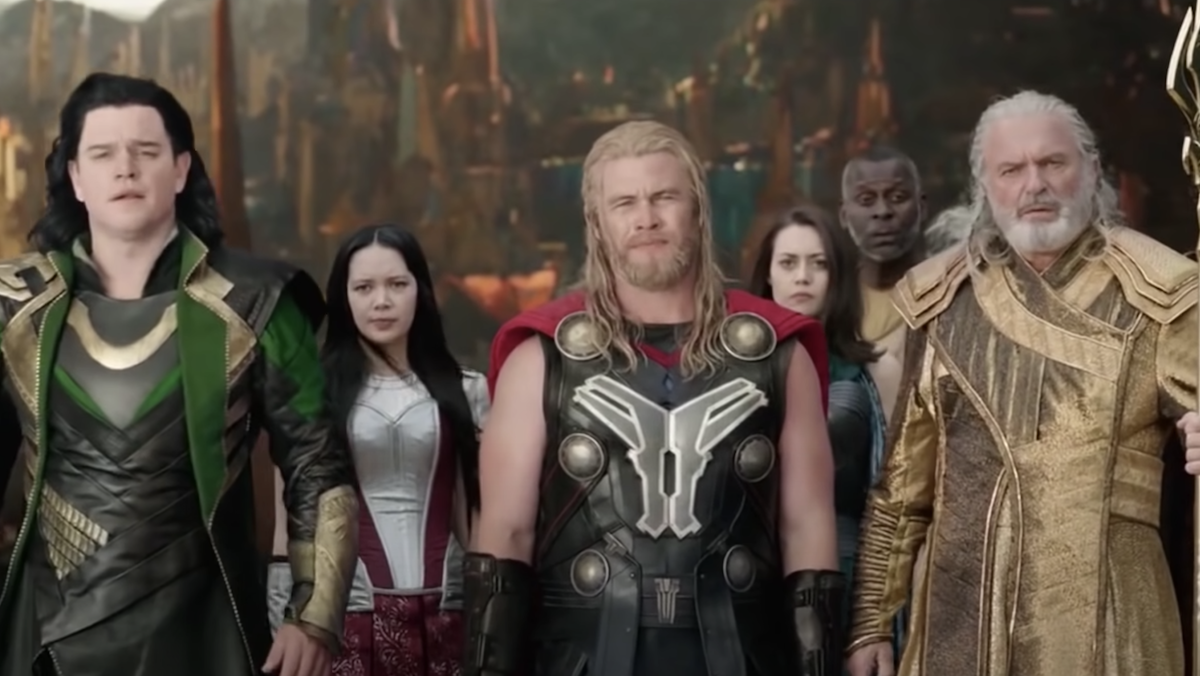 Matt Damon as Actor Loki
Is Loki in Thor: Love and Thunder? Well, no. There's nary a Tom Hiddleston sighting in the whole film. But also, in a sense, yes, Loki does make an appearance. Matt Damon reprises his role as as the God of Mischief from Ragnarok, sporting Loki's fabulously goth all-black suit. Damon appears once more, this time out of character. After Gorr's attack on New Asgard, he and Actor Thor approach the real Thor and Valkyrie with their contribution to the cause: write a new show. And fair, nobody explicitly said no. So it looks like we could see Matt Damon again in a potential Thor 5. Hopefully he's retelling a little vignette from Loki.
Luke Hemsworth as Actor Thor
What's better than one Hemsworth as Thor? Two Hemsworths as Thor. Luke, the only brother apparently not up for the role way back when, reappears as stage's God of Thunder. Like Damon, he appears out of costume to solve the land's crisis Gal Gadot's "Imagine" style—through the arts.
Sam Neill as Actor Odin
We couldn't have a retelling of an iconic daddy issues tale without the father himself. Sam Neill reprises his Ragnarok role as Actor Odin, fully committing to the theatrics as Odin fade into sparkly gold dust and finds his place in Valhalla—just as his surprise daughter makes an appearance.
Melissa McCarthy as Actor Hela
Speaking of which, Love and Thunder adds another member to the theatre troupe. Melissa McCarthy plays Hela in the stage production's cliffhanger end, which sees Odin peacefully die and Loki and Thor grieving—until their vengeful sister appears. Our only regret is we didn't get to see more of McCarthy. There's always Thor 5.
Ben Falcone as the Stage Manager
And why use half of a comedy couple when you can have the full thing.. Ben Falcone appears alongside his wife in the film, as the Asgardian theatre troupe's stage manager. It's a blink and you'll miss it moment but one we can certainly add to the ever-growing list of projects the two have worked on.
Elsa Pataky as Wolf Woman
Luke Hemsworth wasn't the only relative to make the Thor: Love and Thunder cut. Chris Hemsworth's wife, Elsa Pataky, appears briefly during the montage recounting Thor's love life. In fact, the film boasts a whole lot of relatives in general. Pataky and Chris's daughter, India, plays Gorr's daughter, while one of their sons, Tristan, plays a young Thor. But that's not all, Hemsworth's other son, Sasha, as well as Taika Waititi, Natalie Portman, and Christian Bale's kids, also appear in the film. Given Thor 4 filmed during COVID, it makes sense that the cast and crew got their families involved in small ways.
Simon Russell Beale as Dionysus
In another incredibly quick cameo, British actor Simon Russell Beale appears in Omnipotent City as the god Dionysus. In the scene, he's mostly laughing as Thor unsuccessfully appeals to Zeus for help. Just another sign that the old gods are out of touch in a big way. Given his legendary stage presence, it would've been fun to see Beale associated with the Asgardian players—as Actor Strange maybe? But while his cameo is short, maybe Love and Thunder is setting up for more Beale in the future. Zeus is out for Thor's blood. Why not arm himself with a few old god allies—like a certain god of a god time with a famous wrath?
Brett Goldstein as Hercules
Roy Kent in the MCU? Okay then. In a surprisingly well-kept secret, the Ted Lasso writer and actor appears during the film's mid-credits. During the scene, we see Russell Crowe's Zeus, alive and recovering from a pretty gnarly wound from Thor. Obviously, he is furious and wants to do something about these little superheroes stealing the spotlight from the OG gods. To do so, he tees his son, Hercules, up for a little mission. Goldstein's appearance in Thor: Love and Thunder is incredibly short. But it certainly looks like Herc—and the comedian who plays him—might be sticking around in the MCU for a little while.
Idris Elba as Heimdall
The loyal Heimdall departed the realm of the living early on in Avengers: Infinity War, a nice little devastating punch in the gut early on, giving us a tease of the brutality to come. His legacy lives on through his son, Axl, who's inherited his father's sight. But come on, what's Thor without a little Idris Elba. And his Thor: Love and Thunder cameo is quite welcome. He appears in the film's final scene, during the end credits. In the scene, he welcomes the late Jane Foster to Valhalla, potentially setting her up for her next great adventure.
Thor: Love and Thunder is now playing in theaters.