George R.R. Martin first said The Winds of Winter would be published in 2014. Seven bloody hells and many broken promises later it's still not out. All those missed deadlines have created two subsets of exhausted fans. One group thinks he'll never finish it. These are smart people who pay attention. The other group is positive he will. These are hopeful fools. Well I am both very hopeful and very, very foolish. Which is why I'm not only convinced the next book in A Song of Ice and Fire is coming out soon, I think I know the exact date Martin will announce it.
That day is August 1, 2020. Yes, 2020 as in this year 2020. And I promise it's not as crazy a prediction as it sounds.
HBO
Martin has been his own worst enemy when it comes to setting expectations for the book's release. Each year he says "next year." Then it doesn't come out. Yet somehow that doesn't even capture how wrong he's been. Martin once expected A Song of Ice and Fire to be finished before Game of Thrones caught up to the books. That's hilarious in retrospect. Well, it's funny so long as you don't actually read the books. The rest of us aren't laughing.
All that disappointment is why some fans have given up hope that it will ever be finished. (Let alone ever getting the seventh and final novel in the series.) But if, like me, you haven't given up hope yet, the most promising update came from Martin in May 2019. He wrote on his website, Not a Blog, that he was going to be at New Zealand's Worldcon in 2020. In that entry he gave a status update for his eternally delayed book:
"But I tell you this—if I don't have THE WINDS OF WINTER in hand when I arrive in New Zealand for worldcon, you have here my formal written permission to imprison me in a small cabin on White Island, overlooking that lake of sulfuric acid, until I'm done. Just so long as the acrid fumes do not screw up my old DOS word processor, I'll be fine."
Martin is the Boy Who Cried Direwolf. But that prediction felt more tangible and specific than most previous updates. And then some promising signs followed.
NBC
In November, Martin wrote about a trip to New York. While there, he checked in with all his publishers, editors, and "friends and colleagues at HBO."
He posted that on November 18. Then, in early December, an eagle-eyed fan noticed that thewindsofwinter.com was transferred to a new owner from whomever had been squatting on it.
After many years of apparently being squatted, https://t.co/x6TEHFF294 changed ownership on 11/24. The IP address now points to a small hosting company outside Vancouver.

The DNS record was updated as recently as this morning. Somebody is getting ready to do something with this. pic.twitter.com/LhaoWtf4xd

— Ser Dunk the Lunk (@ser_dunk) December 5, 2019
That transfer happened on November 24, shortly after Martin had met with his editors and publishers in New York.
If you just got a little tingle that means you're alive, dammit.
HBO
Since then, the world experienced a global pandemic that has forced everyone to stay home. There's likely never been a better opportunity for a notoriously slow writer to hunker down and get to work. And Martin said he used his quarantine time to work on Winds. So why, after a decade of anticipation and six years of broken promises, am I pointing to a specific date?
Martin was positive he'd have the completed book in hand when he went to the now-cancelled New Zealand Worldcon 2020. He met with publishers a few months later. Days after that someone bought the domain name for a potential website for the book. And the original dates for Worldcon were July 29 to August 2.
That would have also coincided with a very special anniversary in the history of A Song of Ice and Fire. The first book in the series, A Game of Thrones, came out on August 1, 1996.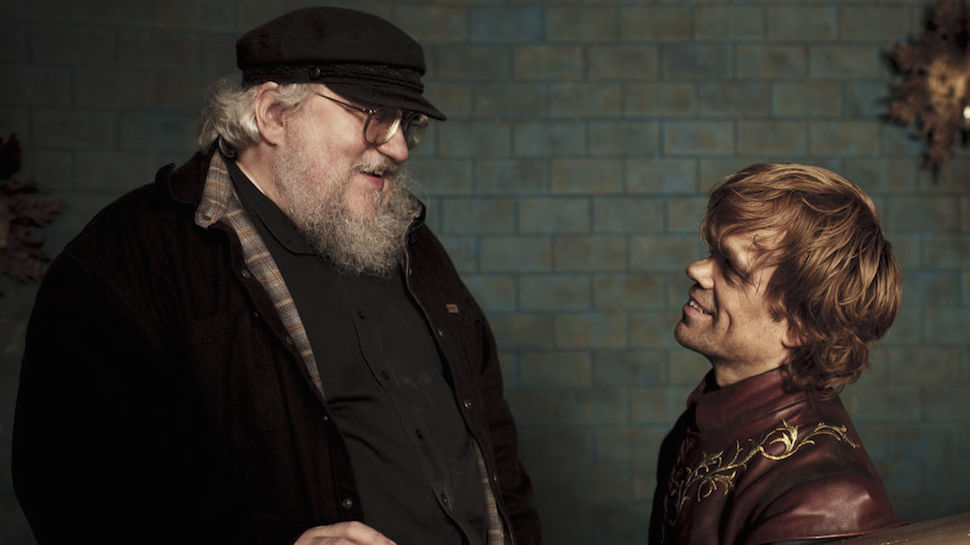 HBO
…Now that's a tingle right there.
Am I the biggest fool in the entire fandom? The odds, common sense, and even my own past theories, say so. But after six years of disappointment I'm going to enjoy six weeks of being hopeful. And if, on August 2, there's still no announced date for The Winds of Winter? I'll start looking into real estate with Martin in the middle of that lake of sulfuric acid. Metaphorically speaking, of course.
Featured Image: TBS
Mikey Walsh is a staff writer at Nerdist. You can follow him on Twitter at @burgermike, and also anywhere someone is ranking the Targaryen kings.