Greetings, comic fans! It's Wednesday, also known as "The Best Day of the Week," because it's new comic book day. There's a ton of stuff out this week, but don't worry—we have a few recommendations to help you sort through the chaos. And for you big spenders out there, we also have a complete list of this week's releases. There are some light spoilers ahead, so proceed with caution. You've been warned.
DOMINO #4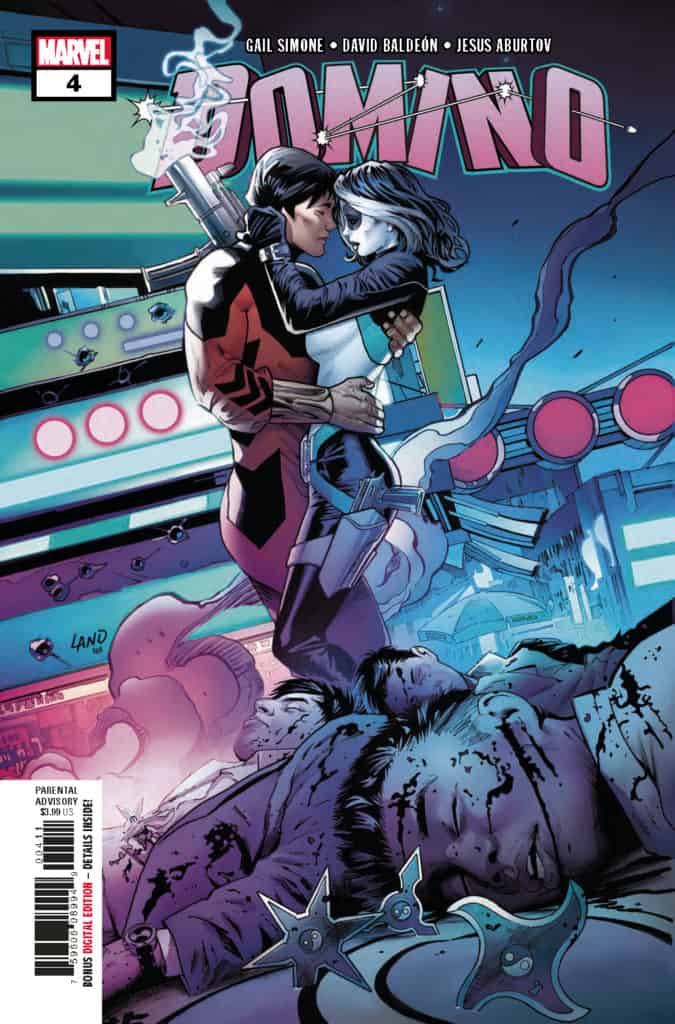 Written By: Gail Simone
Art By: David Baldeon
Colors By: Jesus Aburtov
Letters By: VC's Clayton Cowles
While there are some seriously dark moments in Domino, the series is still driven by an overwhelming sense of fun. Gail Simone and David Baldeon are having a blast with these characters and it shows on every page. Simone's knack for witty, razor-sharp dialogue pairs perfectly with Baldeon's kinetic cartooning. Domino manages to never take itself too seriously while still letting its characters have real growth and arcs. It's only four issues in, but we're hoping that Domino gets a nice, long run with Simone at the helm.
MECH CADET YU #10
Written By: Greg Pak
Art By: Takeshi Miyazawa
Colors By: Jessica Kholinne
Letters By: Simon Bowland
As Mech Cadet Yu nears its end, Greg Pak and Takeshi Miyazawa seem laser-focused on ripping our freaking hearts out. The alien invasion is escalating and the Mechs don't have the firepower to stop the massive force of villainous creatures. The only chance seems to be one hell of a self-sacrifice. As usual, this book is gorgeous and expertly structured. Pak and Miyazawa are two of the best storytellers in the biz and Mech Cadet Yu is proof of that. There's more energy on a single page of this book than some series manage in an entire volume. Heartfelt, action-packed, and unique, Mech Cadet Yu is nothing short of a masterpiece. Our hearts are breaking and we're loving every minute of it.
ALIENS: DUST TO DUST #2
Written By: Gabriel Hardman
Art By: Gabriel Hardman
Colors By: Rain Beredo
Letters By: Michael Heisler
It feels like the first issue of Aliens: Dust to Dust came out a lifetime ago. It was actually only about three months, but the wait for #2 has been agonizing. Fortunately, it was worth it, because Gabriel Hardman knocks it out of the park once again. This doesn't read like a repeat of anything the series has done before; it's new, fresh, and pretty damn thrilling. While the first issue was almost entirely a race to escape a facility overwhelmed by Xenomorphs, this issue largely takes place during a spaceship crash. Hardman's brushy, chaotic style perfectly captures the intense, claustrophobic scene. It's madness and violent, with panels rolling and crashing across the page. We adore everything about this series except the long wait between issues, but we're willing to endure it for a comic book this damn good.
FARMHAND #1
Written By: Rob Guillory
Art By: Rob Guillory
Colors By: Taylor Wells
Letters By: Kody Chamberlain
Rob Guillory is best known for his work on the utterly manic and bizarre series Chew. His storytelling and artwork on that book were a driving force in its success, no doubt, which is why everyone is so hyped for Farmhand. This time around, Guillory is flying solo, handling both writing and art duties (backed up by some great color work from Taylor Wells) and Farmhand is all the weirder for it. Seriously, this comic book is really, really weird. It starts off with a horror vibe and then gets kinda sweet and endearing right before a one-armed ninja kid shows up and tries to steal a human thumb. If you liked the unpredictable oddities of Chew, you'll feel right at home with Farmhand. We can't say we fully understand what exactly is happening in this first issue, but that's sorta what we love about it. Guillory has never lead us astray.
CODA #3
Written By: Simon Spurrier
Art By: Matias Bergara
Colors By: Michael Doig
Letters By: Jim Campbell
Things really kick into high gear with Coda #3. The action scenes that Matias Bergara produces are bonkers in the best way. You can practically feel the spray of blood and smell the stench of death as you read this comic. When the big battle happens, the speed and movement Bergara captures is truly dizzying. It's brilliant stuff. Simon Spurrier's world building and characters are equally engaging, resulting in a comic book we just want to live in. Seriously, if we could just be completely consumed by Coda we'd die happy in its warm embrace. It's so beautiful, so twisted, so violent, and so mean, how could you possibly not want to wallow in every panel?
SUPERMAN #1
Written By: Brian Michael Bendis
Art By: Ivan Reis with Joe Prado
Colors By: Alex Sinclair
Letters By: Josh Reed
We generally enjoyed Brian Michael Bendis' first big story in the DC Universe. Man of Steel was solid, even if the ending felt slightly forced. Something about Jon and Lois leaving Earth just felt off, like a cheap move to get them out of the way so Bendis could ignore the fact that Superman has a family now. Well, good news: that is not the case. In fact, in Superman #1, Bendis and Ivan Reis spend the majority of the time dealing with pain Superman feels with his family gone. It's heartbreaking stuff and it really lets the reader connect with Superman in a way that isn't always possible. His pain feels genuine, and Bendis and Reis let the reader experience every moment of it. This is a damn fine superhero comic and we feel bad for doubting Bendis. It won't happen again.
That's it for us this week! Let us know what comics you are picking up in the comments below!
Featured Image: Marvel Comics
Images: Boom! Studios, Dark Horse Comics, Image Comics, DC Comics
PREMIER PUBLISHERS

BOOM! STUDIOS

MAY181196	CODA #3 (OF 12) MAIN & MIX	$3.99
JAN181349	COMPLETE CRIMSON OMNIBUS HC	$125.00
JAN181350	COMPLETE CRIMSON OMNIBUS S&N ED HC	$PI
MAY181238	GARFIELD HOMECOMING #2	$3.99
MAR181247	GO GO POWER RANGERS TP VOL 01	$16.99
MAY181195	MECH CADET YU #10	$3.99
MAY181201	ROBOCOP CITIZENS ARREST #4	$3.99
MAY181202	ROBOCOP CITIZENS ARREST #4 SUBSCRIPTION RUBIN VAR	$3.99
MAY181180	RUINWORLD #1 (OF 5) CVR A LAUFMAN	$3.99
MAY181181	RUINWORLD #1 (OF 5) CVR B GALLOWAY VAR	$3.99
MAR181296	RUN WILD HC	$24.99
MAY181187	THRILLING ADV HOUR TP VOL 01 SPIRITED ROMANCE DISCOVER NOW (	$14.99

DARK HORSE COMICS

MAR180092	ABE SAPIEN DROWNING & OTHER STORIES HC	$34.99
MAR180047	ALIENS DUST TO DUST #2 (OF 4) MAIN CVR (MR)	$3.99
MAR180048	ALIENS DUST TO DUST #2 (OF 4) VAR D ANDA CVR (MR)	$3.99
MAR180105	BERSERK TP VOL 39 (MR)	$14.99
MAY180372	BPRD DEVIL YOU KNOW #8	$3.99
MAY180325	DISNEY PIXAR INCREDIBLES 2 #1 CRISIS MIDLIFE & STORIES CVR A	$3.99
MAY180326	DISNEY PIXAR INCREDIBLES 2 #1 CRISIS MIDLIFE & STORIES CVR B	$3.99
NOV170067	GAME OF THRONES FIGURE TYRION HAND OF QUEEN	$29.99
NOV170049	PILLARS OF ETERNITY II GUIDEBOOK HC DEADFIRE ARCHIPELAGO	$24.99
MAY180349	RESIDENT ALIEN #4 (OF 4) ALIEN IN NEW YORK	$3.99
MAY180322	SHE COULD FLY #1 (MR)	$4.99
MAY180365	TOMB RAIDER INFERNO #2 (OF 4)	$3.99
MAR180069	USAGI YOJIMBO LTD ED HC VOL 32	$59.99
MAY180366	WORLD OF TANKS CITADEL #3 (OF 5) (MR)	$3.99

DC COMICS

APR180262	BATMAN DEATH AND THE MAIDENS TP NEW ED	$19.99
APR180266	BLUE BEETLE TP VOL 03 ROAD TO NOWHERE REBIRTH	$16.99
DEC170425	DC COMICS BOMBSHELLS WONDER WOMAN DELUXE STATUE	$200.00
DEC170418	DC GALLERY TWO FACE COIN PROP	$30.00
MAY180492	DETECTIVE COMICS #984	$2.99
MAY180493	DETECTIVE COMICS #984 VAR ED	$2.99
MAY180496	ETERNITY GIRL #5 (OF 6) (MR)	$3.99
DEC170409	EX MACHINA THE COMPLETE SERIES OMNIBUS HC (MR)	$150.00
MAY180497	FLASH #50	$3.99
MAY180498	FLASH #50 VAR ED	$3.99
MAY180509	HAL JORDAN AND THE GREEN LANTERN CORPS #48	$2.99
MAY180510	HAL JORDAN AND THE GREEN LANTERN CORPS #48 VAR ED	$2.99
MAY180517	HAWKMAN #2	$3.99
MAY180518	HAWKMAN #2 VAR ED	$3.99
MAY180521	IMMORTAL MEN #4	$2.99
APR180273	JUSTICE LEAGUE OF AMERICA THE SILVER AGE TP VOL 04	$24.99
APR180275	ORION BY WALTER SIMONSON TP BOOK 01	$29.99
MAY180536	PLASTIC MAN #2 (OF 6)	$3.99
APR180274	RAGMAN TP	$16.99
MAY180537	RED HOOD AND THE OUTLAWS #24	$3.99
MAY180538	RED HOOD AND THE OUTLAWS #24 VAR ED	$3.99
MAY180539	SCOOBY APOCALYPSE #27	$3.99
MAY180540	SCOOBY APOCALYPSE #27 VAR ED	$3.99
MAY180543	SIDEWAYS #6	$2.99
MAY180545	SUICIDE SQUAD #44	$3.99
MAY180546	SUICIDE SQUAD #44 VAR ED	$3.99
FEB180309	SUPERBOY AND THE LEGION OF SUPERHEROES HC VOL 02	$49.99
MAY180460	SUPERMAN #1	$3.99
MAY188191	SUPERMAN #1 BLACK AND WHITE VAR ED	$3.99
MAY180463	SUPERMAN #1 BLANK VAR ED	$3.99
MAY180461	SUPERMAN #1 HUGHES VAR ED	$3.99
MAY180462	SUPERMAN #1 MACK VAR ED	$3.99
APR180281	SUPERMAN BLUE TP VOL 01	$24.99
MAY180550	TITANS #23	$3.99
MAY188189	TITANS #23 BLACK AND WHITE VAR ED	$3.99
MAY180551	TITANS #23 VAR ED	$3.99
MAY180555	WILDSTORM MICHAEL CRAY #9	$3.99
MAY180556	WONDER WOMAN #50	$3.99
MAY180557	WONDER WOMAN #50 VAR ED	$3.99
APR180287	WONDER WOMAN REBIRTH DLX COLL HC BOOK 02	$34.99

D. E.

MAY181067	DEJAH THORIS #6 CVR A MCKONE	$3.99
MAY181068	DEJAH THORIS #6 CVR B GALINDO	$3.99
MAY181069	DEJAH THORIS #6 CVR C QUALANO	$3.99
MAY188239	ELVIRA MISTRESS OF DARK #1 ROBERTO CASTRO CVR	$3.99
MAY188238	ELVIRA MISTRESS OF DARK #1 STARS STRIPES PHOTO CVR	$3.99
APR180967	KISS AOD #5 (OF 5) CVR A STRAHM	$3.99
APR180968	KISS AOD #5 (OF 5) CVR B MONTES	$3.99
APR180969	KISS AOD #5 (OF 5) CVR C HAESER STARCHILD VAR	$3.99
MAY181088	NANCY DREW #2 CVR A LOTAY	$3.99
MAY181089	NANCY DREW #2 CVR B TARR	$3.99
MAY181090	NANCY DREW #2 CVR C SUBSCRIPTION ST ONGE	$3.99
APR180984	RED SONJA #18 CVR A LOTAY	$3.99
APR180985	RED SONJA #18 CVR B TUCCI	$3.99
APR180986	RED SONJA #18 CVR C GOMEZ	$3.99
APR180987	RED SONJA #18 CVR D COSPLAY	$3.99
APR180988	RED SONJA #18 CVR E ROYLE EXC SUBSCRIPTION VAR	$3.99
APR181002	SHEENA #10 CVR A SANAPO	$3.99
APR181003	SHEENA #10 CVR B ROYLE	$3.99
APR181004	SHEENA #10 CVR C GALINDO	$3.99
APR181005	SHEENA #10 CVR D COSPLAY	$3.99
MAY181054	SWITCH ELECTRICIA HC	$19.99
MAY181119	XENA #6 (OF 5) CVR A DAVILA	$3.99
MAY181120	XENA #6 (OF 5) CVR B CIFUENTES	$3.99

IDW PUBLISHING

MAR180563	COME AGAIN HC	$24.99
APR180416	CROW MEMENTO MORI #4 CVR A DELL EDERA	$3.99
APR180417	CROW MEMENTO MORI #4 CVR B FURNO	$3.99
MAR180499	DUCK AVENGER NEW ADVENTURES TP BOOK 03	$19.99
APR180398	DUCKTALES #10 CVR A GHIGLIONE	$3.99
APR180399	DUCKTALES #10 CVR B GHIGLIONE	$3.99
MAR180564	FOR BETTER OR FOR WORSE COMP LIBRARY HC VOL 02	$39.99
APR180369	GI JOE A REAL AMERICAN HERO #253 CVR A SHEARER	$3.99
APR180370	GI JOE A REAL AMERICAN HERO #253 CVR B ROYLE	$3.99
APR180441	HAUNTED HORROR #34	$4.99
APR180427	J SCOTT CAMPBELL DANGER GIRL GALLERY ED PRESTIGE FORMAT	$9.99
FEB180471	JEROME K JEROME BLOCHE HC VOL 02 PAPER PEOPLE	$14.99
MAR180567	JOE JUSKO MARVEL MASTERPIECES HC	$59.99
APR180310	LOEG TEMPEST #1 CVR A ONEILL (MR)	$4.99
APR180351	OPTIMUS PRIME #20 CVR A ZAMA	$3.99
APR180352	OPTIMUS PRIME #20 CVR B COLLER	$3.99
MAY180746	RICK VEITCH THE ONE #6 (OF 6)	$4.99
MAY180692	TMNT UNIVERSE TP VOL 04 HOME	$19.99
MAY180686	TMNT URBAN LEGENDS #3 CVR A FOSCO	$3.99
MAY180687	TMNT URBAN LEGENDS #3 CVR B FOSCO	$3.99
APR180360	TRANSFORMERS LOST LIGHT #20 CVR A LAWRENCE	$3.99
APR180361	TRANSFORMERS LOST LIGHT #20 CVR B LAWRENCE	$3.99
MAY180616	TRANSFORMERS UNICRON #1 (OF 6) CVR A MILNE	$4.99
MAY180617	TRANSFORMERS UNICRON #1 (OF 6) CVR B RAIZ	$4.99
JAN180507	UNCLE SCROOGE #36 CVR A GRAY	$3.99
JAN180508	UNCLE SCROOGE #36 CVR B NADORP	$3.99
JAN180504	WALT DISNEY SHOWCASE #3 BEAGLE BOYS CVR A	$3.99
JAN180505	WALT DISNEY SHOWCASE #3 BEAGLE BOYS CVR B	$3.99

IMAGE COMICS

MAY180103	BLACK SCIENCE #37 CVR A SCALERA & DINISIO (MR)	$3.99
MAY180104	BLACK SCIENCE #37 CVR B SHALVEY (MR)	$3.99
MAY180119	DEAD HAND #4 (MR)	$3.99
APR180584	ELSEWHERE #8	$3.99
MAY180011	FARMHAND #1 (MR)	$3.99
APR180538	GEAR OGN (NEW EDITION)	$14.99
MAY180188	ISOLA #4 CVR A KERSCHL	$3.99
MAY180189	ISOLA #4 CVR B KERSCHL & MSASSYK	$3.99
MAY180071	MEMOIRS OF A VERY STABLE GENIUS TP (MR)	$19.99
APR180606	MONSTRESS #18 (MR)	$3.99
MAY180209	OBLIVION SONG BY KIRKMAN & DE FELICI #5 (MR)	$3.99
MAY180043	OUTPOST ZERO #1	$4.99
MAY180226	PORT OF EARTH #7	$3.99
MAR180727	RAT QUEENS #10 CVR A GIENI (MR)	$3.99
MAR180728	RAT QUEENS #10 CVR B LINSNER (MR)	$3.99
APR180632	SAVAGE DRAGON #235 (MR)	$3.99

MARVEL COMICS

APR180871	ALL NEW WOLVERINE TP VOL 06 OLD WOMAN LAURA	$15.99
MAY180784	AMAZING SPIDER-MAN #1	$5.99
MAY180785	AMAZING SPIDER-MAN #1 CHEUNG VAR	$5.99
APR188408	AMAZING SPIDER-MAN BEHIND SCENES EDITION (BUNDLE OF 25) (NET	$PI
MAY180862	AMAZING SPIDER-MAN RENEW YOUR VOWS #21	$3.99
APR189020	ASTONISHING X-MEN #12 2ND PTG SANDOVAL VAR	$3.99
APR189021	AVENGERS #1 3RD PTG MCGUINNESS VAR	$4.99
APR180876	CAPTAIN AMERICA EPIC COLLECTION TP HERO OR HOAX	$39.99
MAY180846	CHAMPIONS #22	$3.99
MAY180878	DAREDEVIL #605	$3.99
APR189022	DEADPOOL #1 2ND PTG KLEIN VAR	$4.99
MAY180922	DEADPOOL ASSASSIN #3 (OF 6)	$3.99
MAY180923	DEADPOOL ASSASSIN #3 (OF 6) COELLO VAR	$3.99
APR180865	DESPICABLE DEADPOOL TP VOL 03 MARVEL UNIVERSE KILLS DEADPOOL	$17.99
APR189023	DOCTOR STRANGE #1 2ND PTG SAIZ VAR	$3.99
MAY180926	DOMINO #4	$3.99
MAY180904	EXILES #5	$3.99
MAY180835	HUNT FOR WOLVERINE ADAMANTIUM AGENDA #3 (OF 4)	$3.99
MAY180836	HUNT FOR WOLVERINE ADAMANTIUM AGENDA #3 (OF 4) SILVA VAR	$3.99
APR188956	IMMORTAL HULK #1 2ND PTG BENNET VAR	$4.99
APR189024	INFINITY COUNTDOWN CAPTAIN MARVEL #1 2ND PTG OLOTEGUI VAR	$3.99
MAY180831	INFINITY COUNTDOWN DARKHAWK #4 (OF 4)	$3.99
JAN181035	MMW CAPTAIN AMERICA HC VOL 10	$75.00
JAN181036	MMW CAPTAIN AMERICA HC VOL 10 DM VAR 262	$75.00
MAY180892	MS MARVEL #32	$3.99
MAY180913	NEW MUTANTS DEAD SOULS #5 (OF 6)	$3.99
APR180875	NOVA BY ABNETT & LANNING COMPLETE COLLECTION TP VOL 01	$39.99
MAY180917	OLD MAN LOGAN #43	$3.99
MAY180887	PUNISHER #227	$3.99
MAY180856	QUICKSILVER NO SURRENDER #3 (OF 5)	$3.99
MAY180941	STAR WARS DARTH VADER #18	$3.99
APR180857	STAR WARS DOCTOR APHRA TP VOL 03 REMASTERED	$17.99
APR180855	STAR WARS ROGUE ONE ADAPTATION HC	$24.99
MAY180946	STAR WARS THRAWN #6 (OF 6)	$3.99
APR180878	THOR BY WALTER SIMONSON TP VOL 04 NEW PTG	$29.99
MAY180870	TRUE BELIEVERS FANTASTIC FOUR GALACTUS HUNGERS #1	$1.00
MAY180869	TRUE BELIEVERS FANTASTIC FOUR HULK VS THING #1	$1.00
MAY188004	TRUE BELIEVERS FANTASTIC FOUR TWO-IN-ONE #1	$1.00
MAY180866	TRUE BELIEVERS FANTASTIC FOUR VS DOCTOR DOOM #1	$1.00
MAY180890	UNBEATABLE SQUIRREL GIRL #34	$3.99
APR180870	WOLVERINE OLD MAN LOGAN TP VOL 07 SCARLET SAMURAI	$15.99
MAY180808	X-23 #1	$4.99
MAY180914	X-MEN BLUE #31	$3.99

COMICS & GRAPHIC NOVELS

MAY182102	A&A ADV OF ARCHER & ARMSTRONG HC DLX ED	$49.99
MAY181715	AGENCY GN	$25.00
MAY181802	APAMA THE UNDISCOVERED ANIMAL #2	$3.99
MAY181803	APAMA THE UNDISCOVERED ANIMAL #2 LAWN MOWER JESSE VARIANT A	$3.99
MAY181388	ARCHIE #32 CVR A MOK	$3.99
MAY181389	ARCHIE #32 CVR B HACK	$3.99
MAY181390	ARCHIE #32 CVR C KRAUSE	$3.99
MAR181938	ATLAS AND AXIS TP	$19.99
MAY181321	BETROTHED #5	$3.99
MAY181397	BETTY AND VERONICA FRIENDS FOREVER TRAVEL TALES #2	$2.99
MAR181146	BLACK HOPS USA GI #1 BUNS OF THE PATRIOTS PART 1	$3.99
MAY182096	BLOODSHOT SALVATION #11 CVR A ROCAFORT	$3.99
MAY182097	BLOODSHOT SALVATION #11 CVR B GUEDES	$3.99
APR182081	BRIDE & EXORCIST KNIGHT GN VOL 01	$12.99
MAY181326	BRILLIANT TRASH TP VOL 01 GOD CRASH	$17.99
MAY181558	CALIBER PRESENTS GN VOL 03 FLASH FROM NOWHERE	$12.99
MAY182184	CASE CLOSED GN VOL 67	$9.99
DEC171069	CASPER AND HOT STUFF #1 GALVAN MAIN CVR	$3.99
DEC171072	CASPER AND HOT STUFF #1 RETRO ANIMATION INCV CVR (Net)	$10.00
DEC171071	CASPER AND HOT STUFF #1 SCHERER MISCHIEF CVR	$3.99
DEC171070	CASPER AND HOT STUFF #1 WOLFER BUBBLES CVR	$3.99
MAY181849	CATALYST PRIME ACCELL #12	$3.99
MAY181850	CATALYST PRIME ASTONISHER #9	$3.99
MAY181589	CBLDF SUMMER UPDATE 2018 (BUNDLE OF 50)	$PI
MAY181432	CHARISMAGIC VOL 03 #6 (OF 6) CVR A VAZQUEZ	$3.99
MAY181433	CHARISMAGIC VOL 03 #6 (OF 6) CVR B RANDOLPH	$3.99
MAY181716	CONSTANT COMPANION GN	$25.00
MAY181623	DF ACTION COMICS #1000 SGN SKETCH HAESER	$80.00
MAY181647	DF AMAZING SPIDER-MAN #798 VENOM SGN ROMITA SR	$299.99
MAR181591	DF AMAZING SPIDER-MAN #800 GOLD SGN ROMITA SR	$299.99
MAY181662	DF FREEDOM STARTER SET	$44.44
APR181915	DISNEY MANGA PIRATES CARIBBEAN AT WORLDS END GN	$12.99
MAY181998	DOCTOR WHO ROAD TO 13TH DR 10TH DR SPECIAL #1 CVR A HACK	$3.99
MAY181999	DOCTOR WHO ROAD TO 13TH DR 10TH DR SPECIAL #1 CVR B PHOTO	$3.99
MAY182000	DOCTOR WHO ROAD TO 13TH DR 10TH DR SPECIAL #1 CVR C JONES	$3.99
MAY182133	GFT PRESENTS 2018 COSPLAY SPECIAL #1 (OF 1) CVR A SANTACRUZ	$5.99
MAY182134	GFT PRESENTS 2018 COSPLAY SPECIAL #1 (OF 1) CVR B REI	$5.99
MAY182135	GFT PRESENTS 2018 COSPLAY SPECIAL #1 (OF 1) CVR C MCCOY	$5.99
MAY182136	GFT PRESENTS 2018 COSPLAY SPECIAL #1 (OF 1) CVR D REYES	$5.99
MAY182141	GFT TALES OF TERROR VOL 4 #5 CVR A BIFULCO	$3.99
MAY182142	GFT TALES OF TERROR VOL 4 #5 CVR B LEISTER	$3.99
MAY182143	GFT TALES OF TERROR VOL 4 #5 CVR C TOLIBAO	$3.99
JAN181203	GOLD DIGGER #254	$3.99
MAY182241	GRAND BLUE DREAMING GN VOL 01	$12.99
MAY181815	H G WELLS INVISIBLE MAN GN	$24.99
APR181919	HANGER MANGA GN VOL 01 (MR)	$12.99
MAY181836	HERAKLES HC BOOK 01	$19.99
APR182089	HIMOUTO UMARI CHAN GN VOL 02	$12.99
MAY182178	HOMESTUCK HC VOL 02 ACT 3 & INTERMISSION	$24.99
APR181624	HUNTERS OF SALAMANSTRA #11 (MR)	$4.99
APR181244	IT CAME OUT ON A WEDNESDAY #1	$1.99
MAY181430	JIRNI VOLUME 3 #5 CVR A SANTAMARIA	$3.99
MAY181431	JIRNI VOLUME 3 #5 CVR B MARION	$3.99
MAY182242	KISS HIM NOT ME GN VOL 14	$10.99
MAR181727	KNIGHTS OF THE DINNER TABLE #255	$5.99
MAR181964	KONOHANA KITAN MANGA GN VOL 01	$12.99
MAY182009	KONUNGAR WAR OF CROWNS #2 CVR A JUZHEN	$5.99
APR181486	LADY DEATH UNHOLY RUIN #2 NAUGHTY ED (MR)	$40.00
MAY181596	LITTLE GIRL #1 (OF 4) (MR)	$3.99
MAY181843	LITTLE TAILS UNDER THE SEA HC VOL 06 (OF 6)	$14.99
MAR181793	MADE MEN TP VOL 01 GETTING GANG BACK TOGETHER	$19.99
APR181245	METAPHASE #1 (OF 2)	$1.50
MAY181864	MIDNIGHT TASK FORCE #1	$3.99
MAY181980	MORTE ONE-SHOT (MR)	$3.99
APR181887	MUSKETEERS #5 (OF 5) CVR A VITORINO	$3.99
APR181888	MUSKETEERS #5 (OF 5) CVR B CASAS	$3.99
APR181889	MUSKETEERS #5 (OF 5) CVR C MEGURO	$3.99
APR181890	MUSKETEERS #5 (OF 5) CVR D	$3.99
MAY181366	NINJAS VS ROBOTS TP	$14.99
MAY181419	NU WAY #1 CVR A KONAT	$3.99
MAY181420	NU WAY #1 CVR B ODAGAWA	$3.99
MAY182182	POKEMON ADV BLACK & WHITE 2 GN VOL 02	$9.99
MAY182181	POKEMON HORIZON SUN & MOON GN VOL 01	$9.99
MAY181559	RAVEN CHRONICLES TP VOL 03 FLESH & GHOSTS	$14.99
MAY181910	REGAL ACADEMY GN VOL 03 ONE DAY ON EARTH	$9.99
MAY181911	REGAL ACADEMY HC VOL 03 ONE DAY ON EARTH	$14.99
MAY181312	RELAY #1 CVR A ANDY CLARKE	$3.99
MAY181313	RELAY #1 CVR B CHRISTIAN WARD	$3.99
MAY182186	RIN-NE GN VOL 27	$9.99
MAY181837	ROCKET SALVAGE GN VOL 01	$14.99
MAY181560	SAINT GERMAINE KILROY MANDATE	$14.99
APR181246	SCRIMSHAW #6	$1.50
APR181502	SHIT IS REAL GN (MR)	$24.95
MAR181869	SMOKETOWN #8	$3.99
MAY181563	SNOW WHITE GN	$14.99
APR181247	SONITUS #3 (OF 3) (MR)	$1.50
APR182097	SORRY FOR MY FAMILIAR GN VOL 02	$12.99
MAY181405	SOULFIRE SHADOW MAGIC TP VOL 01 (RES)	$14.99
MAY181464	SPONGEBOB COMICS #82	$3.99
APR181737	STABBITY BUNNY #6 CVR A	$3.99
APR181738	STABBITY BUNNY #6 CVR B	$3.99
MAY181585	STAR WARS REBEL FILES HC	$21.95
MAY181804	TAP DANCE KILLER #2	$3.99
MAY181805	TAP DANCE KILLER #2 PUNCHLINE VARIANT A	$3.99
APR181920	TAROT CAFE MANGA COLLECTION GN VOL 01	$17.99
APR181248	THE XII #3 (OF 5) (MR)	$1.50
MAY181839	VOLTRON LEGENDARY DEFENDER VOL 3 #1 CVR A YAMASHIN (RES)	$3.99
MAY181840	VOLTRON LEGENDARY DEFENDER VOL 3 #1 CVR B PENA	$3.99
MAY182248	WAITING FOR SPRING GN VOL 07	$10.99
APR181877	WASTED SPACE #3 CVR A SAUVAGE (MR)	$3.99
APR181878	WASTED SPACE #3 CVR B SHERMAN VAR (MR)	$3.99
MAR181798	WASTELAND COMPENDIUM TP VOL 02 (OF 2)	$39.99
APR181250	WICKED RIGHTEOUS #6 (OF 6) (MR)	$1.50
MAY181400	WORLD OF ARCHIE JUMBO COMICS DIGEST #80	$6.99
MAY182147	WORLDS GREATEST FIRST LOVE GN VOL 10 (MR)	$12.99
MAY181971	ZINNOBER #2	$3.99