We can all agree that spending Saturday morning in detention is the worst. So let's do something on the opposite end of the spectrum instead. Join us here at Nerdist for the latest and greatest installment of #NerdistFromHome this Saturday, May 30, because we're going to be watching The Breakfast Club with none other than Brat Pack legend Anthony Michael Hall, a.k.a. Brian Johnson in the movie. It has been a minute since we've visited this too cool for school crew, and we're hyped.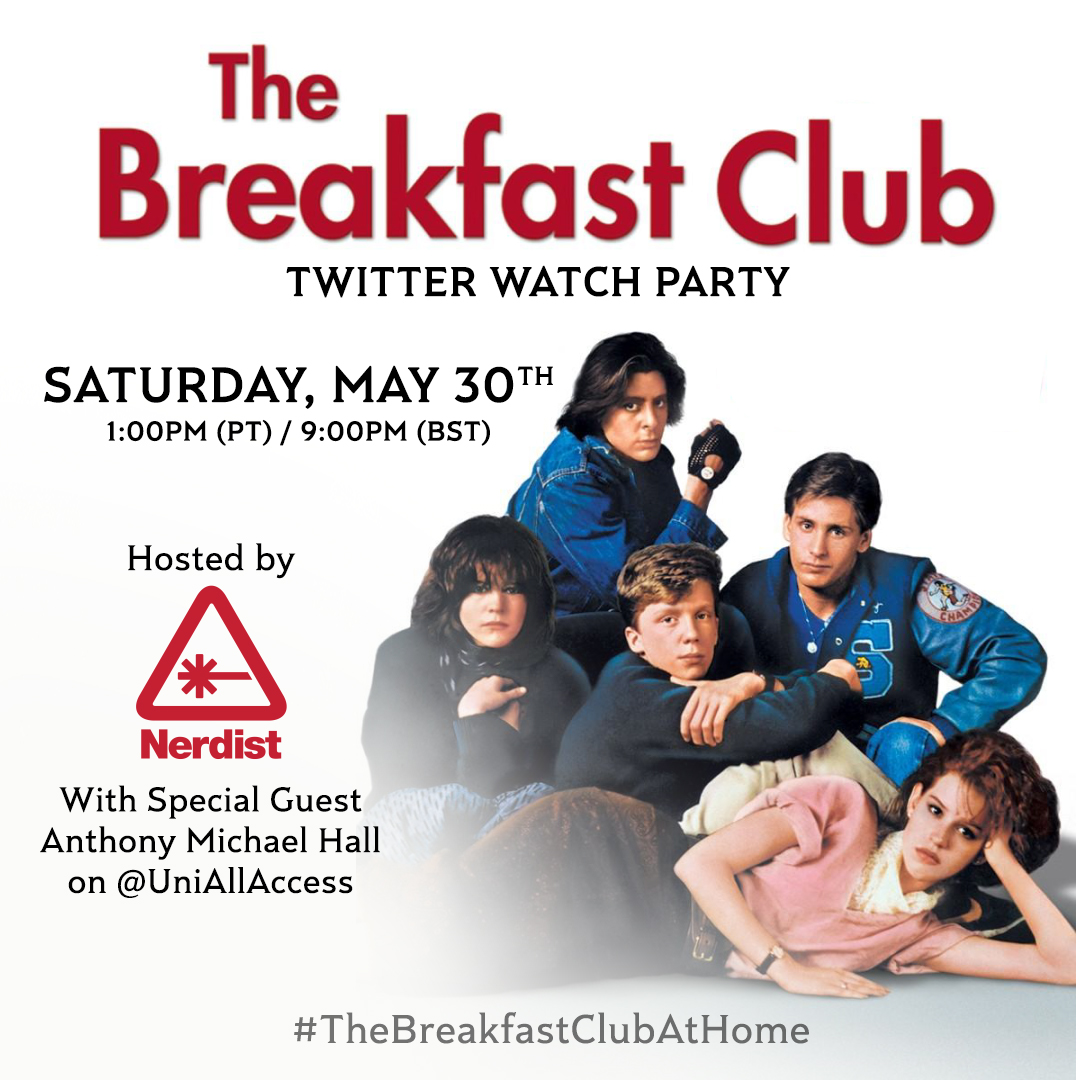 The 1985 film directed by John Hughes is a classic. Starring Emilio Estevez, Anthony Michael Hall, Judd Nelson, Molly Ringwald, and Ally Sheedy, the movie focuses on a group of teens stuck in Saturday detention. Like, all-day dentention. It sounds tedious. And on top of the whole thing being a drag, a very bossy assistant principal rules the roost. But this group—all from varying cliques at Shermer High School—finds ways to work around him and have a memorable day.
Eminently quotable, The Breakfast Club shows what happen when teens step outside their usual circles and take the time to get to know others. Sure, there are misunderstandings. Even a little snobbery. However, hours and hours of being stuck together softens the lines and everyone comes together for some truth-spilling and plenty of comedy.
You can get The Breakfast Club on digital now. Buy it here. The film is also currently streaming on Hulu, so you have a couple of ways to watch along with us.
Universal Pictures
Join us on Twitter, @Nerdist and @UniAllAccess (Anthony Michael Hall will be taking over that handle!), and watch and tweet with us on Saturday, 5/30 at 1:00pm PT. Be sure to use the hashtags #NerdistFromHome and #TheBreakfastClubAtHome to join the conversation. We look forward to conning Assistant Principal Vernon with you.
Featured Image: Universal Pictures
Amy Ratcliffe is the Managing Editor for Nerdist and the author of Star Wars: Women of the Galaxy. Follow her on Twitter and Instagram.