It would be an understatement to say people like Ted Lasso. The Apple TV+ series debuted relatively quietly last August. However, through a persistent word-of-mouth campaign from passionate fans, the series took off. It subsequently closed out 2020 as one of the most beloved shows on television. That Ted Lasso struck a chord with viewers was no fluke. With an ensemble of nuanced characters, anchored by c0-creator Jason Sudeikis' titular character, the series is unabashedly optimistic and thoughtful.
One of the ways Ted Lasso's thoughtfulness shines is through its use of music. At first glance, you wouldn't necessarily think of Ted Lasso as a music show. But it plays a surprisingly pivotal role, often directly in the episodic narrative. As such the series deftly employs everything from Six Pistols, to Lizzo, to Édith Piaf, to Disney's Frozen. And, of course, very catchy original music from Marcus Mumford and Tom Howe. Tony Von Pervieux served as music supervisor alongside Christa Miller. Von Pervieux is a longtime collaborator of series co-creator Bill Lawrence's, dating back to his days as an executive at ABC Studios. (Miller, an actress who is also married to Lawrence, is a music supervisor on several of his TV series.) Von Pervieux spoke to Nerdist about Ted Lasso's musical inspirations, Premier League nods, and the major musical moment that almost didn't happen.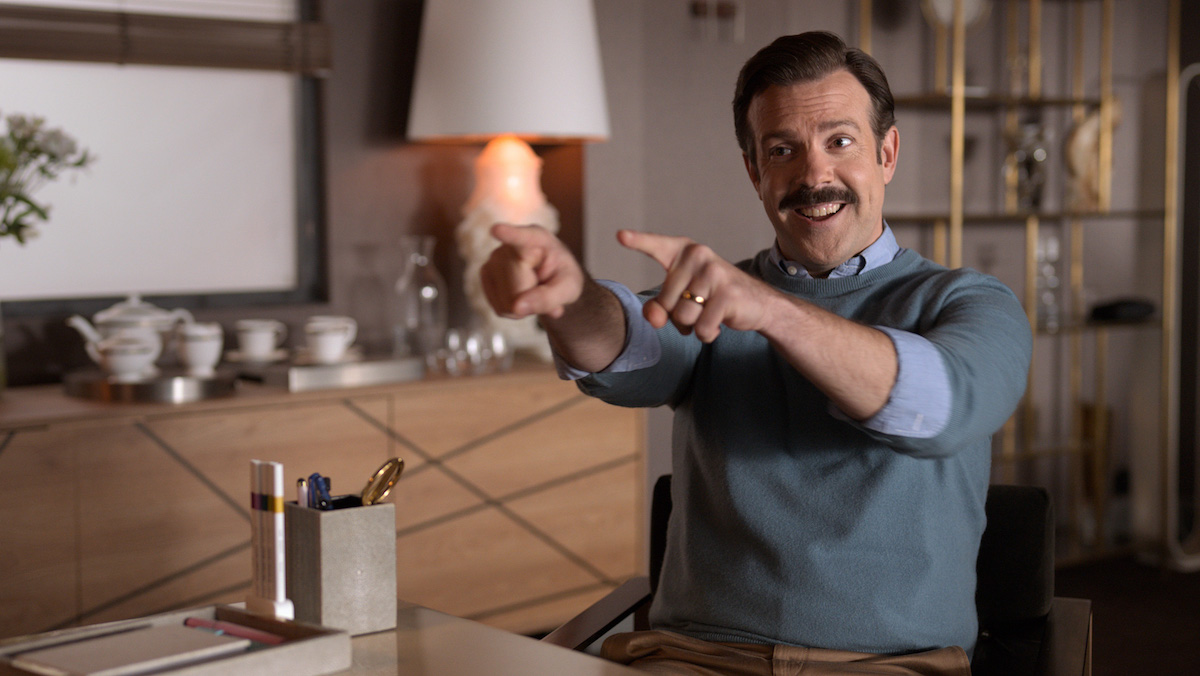 Apple TV+
It's not a coincidence that so many of Ted Lasso's songs feel specifically curated for a particular moment. In several cases, the writers wrote songs directly into the script. Sudeikis, specifically, Von Pervieux said, was heavily involved in song selection. He told Nerdist, "The most complicated part about this show and the music element, for me at least, is that they keep me on my toes because they do script some songs. Every once in a while, when they have a song that they know they really want to make work, or if it's a visual vocal—obviously we did a bunch of those in the first season—I have to go out and get clearance for those songs."
However, that's not always as easy as it sounds. Especially once the series gets into post-production. Then, as Von Pervieux explained, it becomes a bit more of a creative collaboration, especially if the song doesn't quite work. Luckily for the series, one of the major music hiccups occurred while they were still filming.
Apple TV+
One of the biggest musical moments occurs in Ted Lasso's breakout seventh episode, " Make Rebecca Great Again," during which the entire club travels to Liverpool for a match. They subsequently wind up at a karaoke bar. Obviously, that means there's going to be some singing. (And with a West End performer like Hannah Waddingham in the cast, why not make use of that talent!) After reuniting earlier in the episode with her estranged best friend, Waddingham's Rebecca Welton dedicates a performance of "Let It Go" from Frozen to her goddaughter. It's a moving scene, one that brings an earlier moment from the episode full circle. It also speaks to Rebecca's season one storyline, picking up the pieces after a public, humiliating divorce. However, it nearly didn't happen as Disney initially denied the show's request to license the song.
Von Pervieux said, "I did initially get a denial on that song because the catalog is very particular about uses, and initially when you're sending in a scene description—because you've not shot it yet—they don't know exactly what it is. So it's kind of a fine line."
However, Von Pervieux, whose relationship with Disney goes back more than a decade (Disney owns ABC Studios), wasn't ready to give up. "They have a committee, basically, that approves those big Disney songs. But I have a good relationship over there with those licensers," he explained. "When we first got the denial, I was like, 'No!' And then letting everyone know, 'Hey, we should find a backup just in case for that spot, but I'm going to go back and try and fight for it.'"
Apple TV+
Ted Lasso ended up shooting two versions of the epic musical performance, one with "Let It Go." The other with their back-up song, Gloria Gaynor's iconic anthem "I Will Survive." As Von Pervieux described it, "The hope was—because they would want to see the scene—the hope was that we would send them the scene and be like, 'Look, we told you, she's an amazing singer. This is actually a really good scene. We're not denigrating the song in any way. There's no derogatory use. This is a legit use for the song.' And they ended up reversing the denial, so we got the approval on it and it was a perfect fit."
But one of the reasons the series was adamant about using "Let It Go" was that beyond fitting in well with Rebecca's season-long narrative, it also creates a fascinating juxtaposition for Ted. He's processing his own divorce during the episode. "I think the other reason why [the writers] chose 'Let It Go' was, it's such a big moment. And then the juxtaposition of him having a breakdown, panic attack," Von Pervieux added. "Just in that moment, you have this beautiful, soaring song from this Disney film that it just seems like everything should be light and not heavy. And then [Ted] ends up having a panic attack and leaving the club."
It seems like a lot of work to get a Disney song, but it pays off exponentially. Licensing the other two songs, "Wonderwall," enthusiastically performed by Sam Obisanya (Toheeb Jimoh), and "Bad Romance," sung by a very loose Coach Beard (Brendan Hunt), weren't nearly as dramatic. And now that season one is out—and very well received—clearing musical selections has become easier for season two of Ted Lasso. Von Pervieux said, "The good thing about this show is that now that we're in season two, most people realize that we use music well, the show is legit and it's a lot easier to get things cleared and in a timely fashion."
Apple TV+
In addition to its many overt references to the Premier League, Ted Lasso is also riddled with musical nods. They span from songs associated with particular clubs to chants based on ones the crowds actually use during matches. And, of course, that led to some very interesting musical clearances. "Some of the chants that we do, we have to clear specific tunes because of the melody and they'll change up the lyrics for some of the chants. There's the 'Richmond till I die.' Obviously, the Jamie Tartt [chant], we had to license 'Baby Shark' and get approval for lyric change."
Von Pervieux didn't tease any specific musical selections from season two. But it's safe to assume we'll be in for more musical Premier League nods and more absolute bangers. Ted Lasso returns for season two on Apple TV+ on July 23.