The Sundance Film Festival has been the first big fest of the calendar year since 1978. It exhibits some of the freshest and most exciting movies you're likely to see. Many will end up with awards consideration come the end of the year. Sundance was one of the only film festivals to take place in the traditional form in 2020. But as we're still in the thick of it, the premier American gathering of cinema has had to go virtual for 2021. The good news is it's still happening. Better news: the lineup this year has plenty for the genre film enthusiast to enjoy.
Here's what we're most excited to check out in our home theaters from Sundance 2021!
Censor
Sundance
A film censor who takes great pride in her work of saving the mass viewing audiences from gory depravity finds herself with unsettling visions from her past when she watches a movie from deep in the archives. Sundance calls it a "faithful, creative ode to 1980s aesthetics and a twisted, bloody love letter to the video nasties of the era." It's the directorial debut from Prano Bailey-Bond and it stars Niamh Algar.
Premiere screening: January 28 at 10 PM MST
Cryptozoo
Sundance
Animation for grown-ups, especially on the feature scale, has always been a favorite of mine; Cryptozoo looks like it'll strike the perfect balance of whimsy and weirdness. Using mythical creatures, the movie looks to explore the ethics of keeping animals in captivity when the human world continues to encroach upon their habitat. Plus it's got unicorns.
Premiere screening: January 29 at 1 PM MST
In the Earth
Sundance
The newest film from Ben Wheatley (Kill List, A Field in England), In the Earth takes place during a deadly virus outbreak. Wild, right? Getting back to his folk horror roots and utilizing synth, "this stripped-down approach unfolds into a psychedelic kaleidoscope of changing colors, shapes, and sounds that turns the world inside out." Sounds perfect to us.
Premiere screening: January 29 at 7 PM MST
Knocking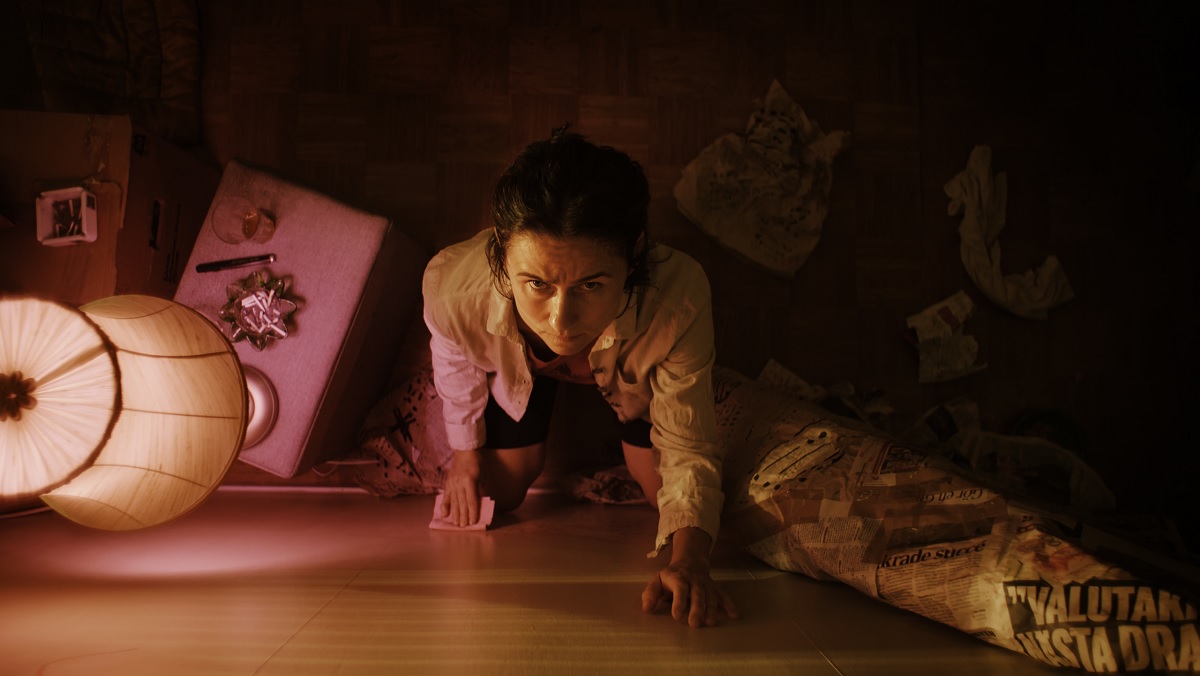 Sundance
This psychological horror film sounds very relatable. A woman named Molly moves into a new apartment and keeps hearing a knocking she can't explain. Nobody else in the building seems to know what she's talking about. She's just had a traumatic event in her life, and it's a horrible heatwave, so it could just be all in her head. But what if it isn't? From Sundance:
Knocking is a sharp indictment of the gaslight culture and social stigma that work against those experiencing mental illness. Director Frida Kempff's stunning visuals induce a dissonant sensation of physical disembodiment and feverish claustrophobia that mimics Molly's deteriorating mental state.
Premiere screening: January 29 at 10 PM MST
Street Gang: How We Got to Sesame Street
Sundance
This is a documentary based on the book of the same name about the making of Sesame Street. I don't think we need to explain any further why we're excited to watch this one.
Premiere screening: January 30 at 10 AM at MST
Passing
Sundance
The directorial debut of actor Rebecca Hall, Passing takes place in the 1920s. Tessa Thompson and Ruth Negga play two Black women who can "pass" for white choosing to live on opposite sides of the color line. Sundance calls it an "elegant psychological thriller about obsession, repression, and the lies people tell themselves and others to protect their carefully constructed realities."
Premiere screening: January 30 at 4 PM MST
Eight for Silver
Sundance
A brutal land baron in the late 19th century slaughters a Roma clan and unwittingly unleashes a curse upon his family. A creepy, misty take on the werewolf lore, Eight for Silver punctuates its slow burns with bursts of violence and body horror. I mean…can that get any better? We'll see!
Premiere screening: January 30 at 7 PM MST
A Glitch in the Matrix
Sundance
The latest from documentarian Rodney Ascher (Room 237, The Nightmare), A Glitch in the Matrix takes a look at people who believe they really are living in a computer simulation, and the possibility that that could actually be true. I'm expecting galaxy brain ideas aplenty presented as though entirely credible; the Rodney Ascher staple.
Premiere screening: January 30 at 10 PM MST
All Light, Everywhere
Sundance
I'm just gonna let the Sundance folks explain this one, because it sounds like something to elicit a Keanu-esque "Whoa."
The "observer effect" is a term used in physics to describe the process in which the act of observation disturbs the system that's being observed. Humans are such observers—and we have our inherent limitations, biases, and blind spots that skew how we perceive and interpret. In his remarkable, kaleidoscopic essay film, Theo Anthony investigates the correlation between how we see things and the tools and practices involved in the act of seeing.
Premiere screening: January 31 at 1 PM MST
The Blazing World
Sundance
A woman who has spent her life reliving the memory of her sister drowning when they were kids spends much of her time inside her scary and fantastical imagination. Pushed to the brink of self-harm, the woman has to confront her inner demons in a frightening and strange journey into her own mind. This sounds like a Sundance horror movie to a tee.
Premiere screening: January 31 at 4 PM MST
Prisoners of the Ghostland
Sundance
And finally, we have a movie that sounds absolutely chaotic. Nicolas Cage (off to a great start) stars as a bank robber who gets sprung from jail by the powerful Governor (Bill Moseley). He must go on a mission to rescue the Governor's missing granddaughter (Sofia Boutella); it gets weird and violent from there. A mix of samurai, Western, and post-apocalyptic films, this effort from Sion Sono (Suicide Club, Tokyo Vampire Hotel) will be a delirious and frenetic journey into madness. Our favorite kind.
Premiere screening: January 31 at 7 PM MST
And these are but some of the dozens more films screening during the virtual Sundance Film Festival. I didn't even mention shorts and discussions panels. For more information, check out their site, and be on the lookout for reviews all weekend long.
Kyle Anderson is the Senior Editor for Nerdist. You can find his film and TV reviews here. Follow him on Twitter!