What's the greatest LEGO set in history? Don't answer so fast—this newest, scary good Stranger Things collection doesn't just let you recreate the world from one of your favorite TV shows, it lets you build its terrifying alternate dimension the Upside Down.
Oh my god, oh my god, oh my god! Introducing LEGO Stranger Things, available today for LEGO VIP members! https://t.co/EUTjqXYEAn @NXOnNetflix pic.twitter.com/QBC0ByrE1u

— LEGO (@LEGO_Group) May 14, 2019
LEGO's new 2287-piece "The Upside Down" set ($199.99), which stands over 12 inches tall, 17 inches wide, and 8 inches deep, is unlike any we've seen before. It creates a mirror image of two different realities. One half features the Byers' family house as it looks in our dimension, but you can flip it over and travel into the world of the Demogorgon, as the home turns into a dilapidated dark mess of vines and monsters. And both halves of the set are full of authentic touches.
The Byers' house features a front porch with furniture and a living room with season one's alphabet wall that actually lights up, along with a couch, coffee table, telephone, axe, "Have you seen me?" flyer, stickers, and a bear trap to catch the Demogorgon. It also includes Will's bedroom with boombox, bed, desk, desk lamp, drawings, and movie posters, just like his room looks on the show.
There's also a dining room with an armchair, boxes for Christmas lights, fantasy game rule book, stickers, and a potted plant. The attic space even has a Mind Flayer drawing and a wizard hat for "Will the Wise," because D&D is important even when fighting terrible monsters.
Flip the set upside down though (which is maybe the single best feature) and you find a very different version of the home, one that replicates the look and feel of the dark dimension that causes so many problems.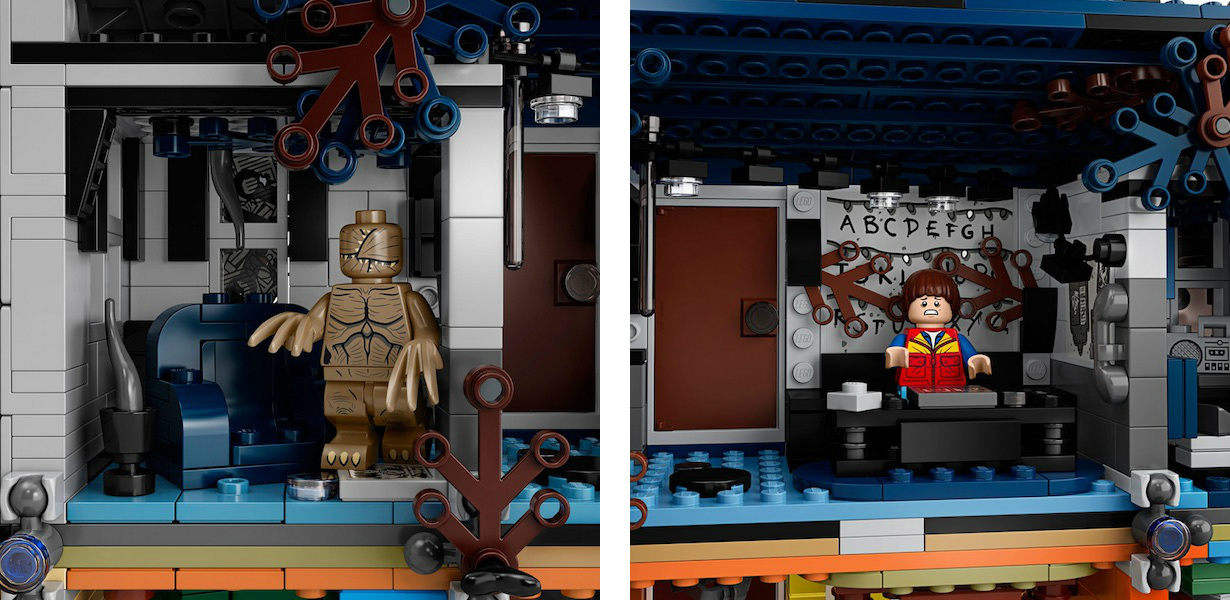 The set also comes with eight minifigures—Eleven, Mike, Lucas, Dustin, Will, Joyce Byers, Chief Hopper, and the Demogorgon—as well as a number of accessories, including Lucas' slingshot and flashlight, Dustin's walkie-talkie and compass, Mike's flashlight and walkie-talkie, Hopper's coffee mug, Joyce's flashlight and drawing of "Will the Wise," and Eleven's waffle. They can all take a ride in Chief Hopper's police truck, which has a removable roof and a pumpkin from season two.
The set will be available next month on June 1, so there's plenty of time to build it before season three premieres on July 4. And if the new season is even half as good as this new LEGO set, it could be the show's best yet.
Images: LEGO