Stranger Things 4 has a whole lot of questions left to answer when the season's second half premieres on Netflix on July 1. Good thing Stranger Things 4 Volume 2's two installments will have plenty of time to answer them. Episode eight will clock in at an hour and 25 minutes. That seems short compared to the finale, though. It will run for a whopping two hours and 20 minutes. That's nearly four hours of story to look forward to. But for now, we can also look at the first official images from Stranger Things 4's epic ending. They indicate that no matter where in the world Hawkins' bravest find themselves, they'll need to do what they do best to save the world again – work together.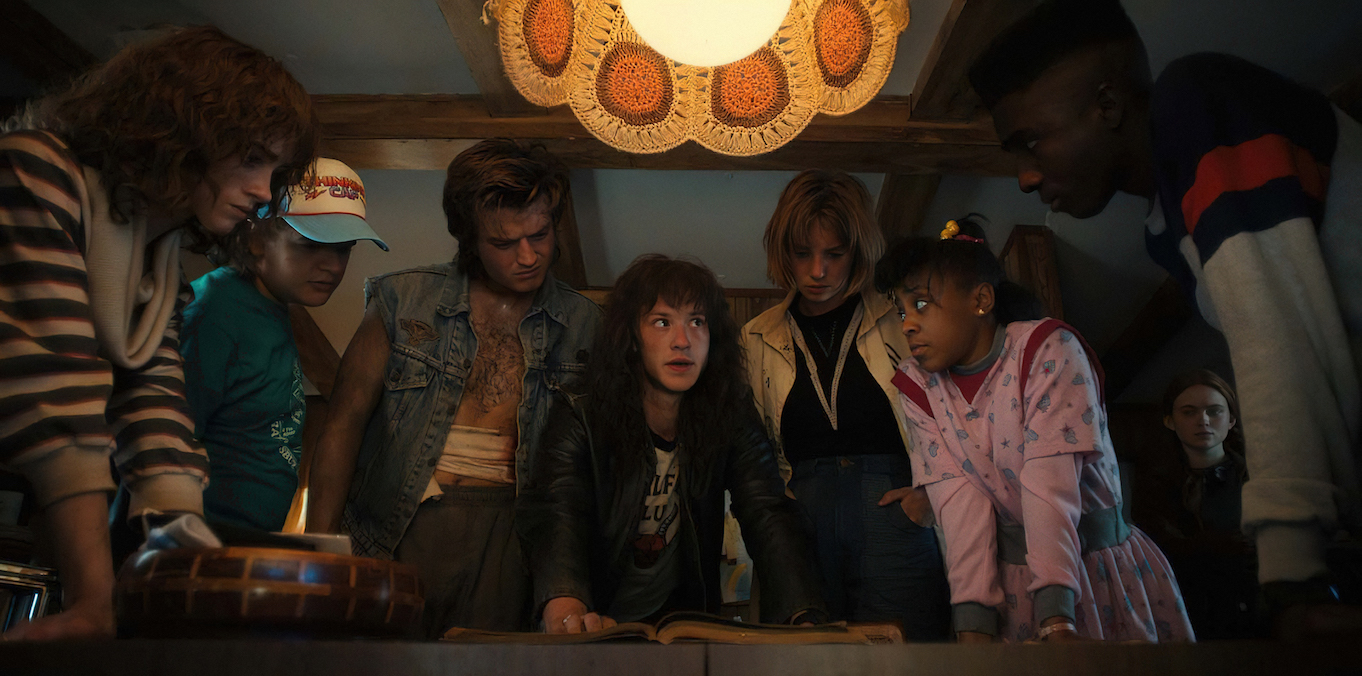 The best news from these pictures is that Nancy will escape Vecna's clutches and make her way back to the real world with her friends. The kids still in Hawkins are seen making a plan, and Eddie is a big part of them. At some point, they'll even need him to drive them somewhere. Hopefully, when he actually gets going, he'll remember to keep his eyes on the road.
Max's struggles are far from over, though. She's still rocking her Kate Bush-playing headphones, as she and Lucas sit in a dark room that certainly looks and feels like the Creel family house. That sinister place isn't done with the kids yet. Nor they with it.
At least they're in Hawkins. Hopper, Joyce, Murray, and their new friend "Enzo" Antonov still need to get away from the prison and the Demogorgon it holds. We have no idea what they're looking at here, but based on their shocked expressions, we're betting getting home will require another absurd event.
Another group far from Indiana isn't trying to get back there just yet. The California crew is cruising in Argyle's pizza truck on the hunt for Eleven. The excited pointing in this picture suggests they're very close to finding her.
As for Eleven, she's still with Brenner in the underground Nina Project bunker. Now that she's been forced to remember the truth about One, his massacre, and the Upside Down, she could be more powerful than ever. At least, we hope she is. Good thing this photo suggests she's about to leave "Papa" once again.
While these Stranger Things 4 Volume 2 first look photos give us a peek at what's to come, there's also a lot they don't show. There's no sign of Vecna and the Upside Down. We also don't see the dangerous mob running around Hawkins, the Hellfire Club's parents, or the US military that is searching for Eleven.
As we said, there's a whole lot of story left for Stranger Things 4 to finish. Good thing it'll have plenty of time to do that.