We explored the history of Dungeons & Dragons Vecna prior to Stranger Things 4's premiere on Netflix. But we were not prepared for the show's version of the character to have such a sordid and personal history with Hawkins, Indiana. The horror series' newest villain was a monster before the Upside Down turned him into its five-star general. But how did a young boy destroy his family, become Dr. Martin Brenner's most dangerous test subject, and end up a living a cursed existence in that dark dimension? Here's the entire sinister story of Stranger Things 4's Vecna.
A Troubled Henry Creel Moves to Hawkins
Vecna was not always a hideous beast of the Upside Down. He was once a troubled child in the real world named Henry Creel. Henry's "problems" caused his family to move to Hawkins in 1959. However, the exact issues that led to the relocation are unclear. Victor Creel told Robin and Nancy his son was "sensitive." Meanwhile, when speaking to Eleven, Henry said "something was wrong" with him. "All the teachers and the doctors said I was broken." Unable to find help for their child, his parents thought "a change of scenery, a fresh start in Hawkins, might just cure" whatever it was that ailed their son. Instead the town became the site of their doom.
Not long after moving into their new house Henry found a nest of black widow spiders. With that discovery came a new "sense of purpose" that showed how dark the young boy's soul was before he killed his family. Those spiders helped Henry understand what it was he hated about life and people. Here's what he told Eleven of his epiphany:
Most people fear spiders. They detest them. And yet I found them endlessly fascinating. More than that I found a great comfort in them – a kinship. Like me they are solitary creatures and deeply misunderstood. They are gods of our world, the most important of all predators. They immobilize and feed on the weak, bringing balance and order to an unstable ecosystem. But the human world was disrupting this harmony. You see, humans are a unique type of pest, multiplying and poisoning our world all while enforcing a structure of their own. A deeply unnatural structure. Where others saw order I saw a straight jacket, a cruel oppressive world dictated by made up rules. Seconds, minutes, hours, days, weeks, months, years, decades – each life a faded lesser copy of the one before. Wake up, eat, work, sleep, reproduce, and die.
Henry, though only just a child, thought humans, beholden to the endless march of time, didn't truly live. He believed people simply waited to die "all while performing in a silly terrible play, day after day." He could not live like that and refused to. And one day, when his anger and rage unlocked his terrible powers, he realized he didn't have to. Henry was able to make his own "rules" and "restore balance" to a world he saw as broken. That's when he decided he would be a predator, "but for good."
A Demon Destroys the Creel Family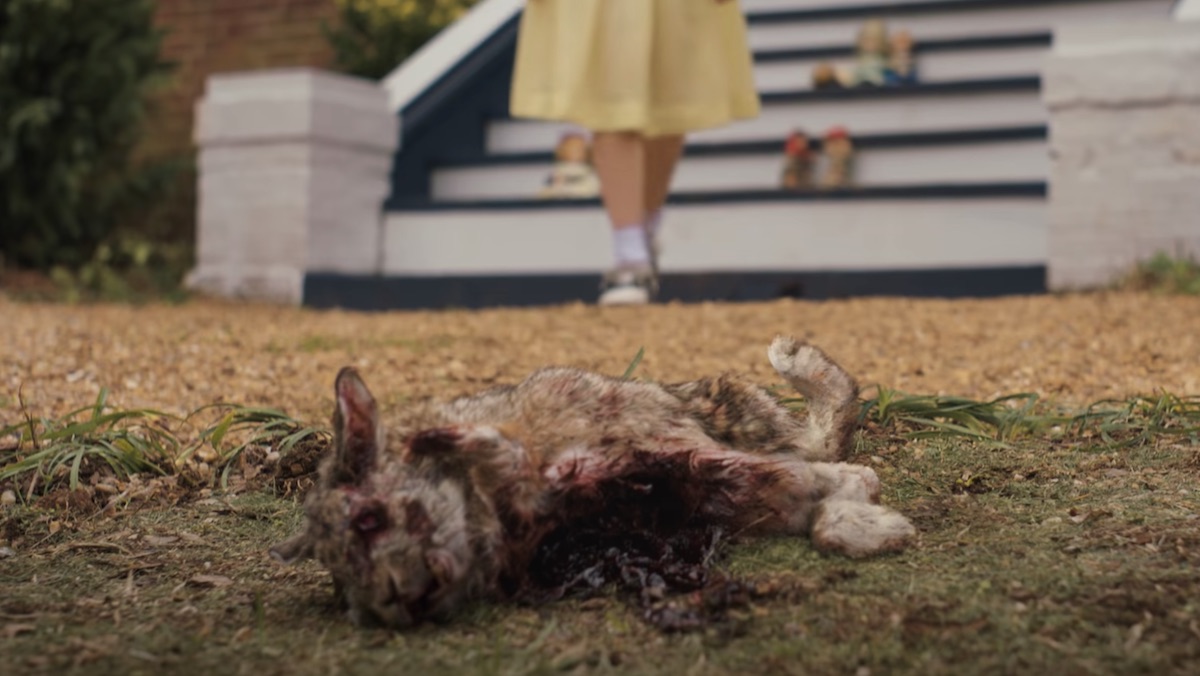 The more Henry used his powers, the more of them he unlocked. His telekinetic ability let him kill living things from the inside out. And the desire to kill more than just small animals came when he realized he "could reach into" the minds of people and see their darkest secrets. The more he explored others the more he realized that people, like "everything else in this world," were "all a lie, a terrible lie."
While Henry haunted his family with nightmare visions and dead rabbits, Victor Creel thought a demon, an "evil neither animal nor human," a "spawn of Satan," had cursed him and his family for something terrible Victor had accidentally done during World War II. He also said the demon "took pleasure" in torturing them, even Victor's innocent young daughter Alice. But Henry said his mother Virginia somehow knew the truth, that it was him terrorizing the family. She wanted the help of an expxert doctor, who Henry said would lock him up and "fix" him.
Henry had no intentions of ending up that doctor's patient. Instead he decided to "break free" by killing his mother and sister and framing his father for the murders. His horrible plan nearly worked, too. But while he grew stronger and more powerful with each kill, he was "still a child" and didn't know the limits of his powers. Henry's attack on his family nearly killed him.
Victor Creel believed his son died a week after that fateful night. But when Henry woke up from his coma he was already in the care of that very doctor he had hoped to avoid, Martin Brenner.
Henry Creel Becomes Martin Brenner's #1 Patient
For 20 years Henry Creel remained the ward/employee/prisoner of Dr. Martin Brenner at Hawkins Lab. From what we've seen of Eleven's own time under Papa's "care," we have some idea of how Brenner treated Henry. But their experiences are not wholly similar. Here's what Henry, who became test subject 001 under Brenner, told Eleven about the creation of Brenner's super power children group:
The truth is he did not just want to study me, he wanted more. He wanted to control. When Papa finally realized he could not control me he tried to recreate me. He began a program and soon others were born.
Henry's powers directly led to the program that caused Jane/Eleven to be taken from her real mother. Dr. Martin Brenner saw the potential power of Henry Creel. But, since the nihilistic and sadistic Henry was too lost in his own evil to ever fully bring under his thumb, Brenner hoped to mold and shape his own human weapons from the beginning of their lives. As far as the other kids knew, though, One was long gone before any of them showed up at the Lab.
Meanwhile, Brenner did manage to keep Henry locked up even if he couldn't control Henry's powers. He placed a tracker in Henry's neck, which even Henry, now known as Peter Ballard, could not remove on his own. That device not only kept Henry in the lab it weakened him, making him unable to use his talents. Far too old for the program, but far too dangerous to let go, One became an orderly at the Lab where his "siblings" never knew he was their older "brother." His general obedience does reveal something important about him, though. Despite his hatred for human existence, Henry wanted to live. He simply bided his time, even when it meant torture for giving Eleven advice. And he saw the possibility for escape when he realized the extent of Eleven's untapped potential.
One manipulated Eleven into plotting her own escape, which also involved getting her to remove the device in his neck. (Whether he told Eleven the truth about Brenner wanting her dead are unclear. One cannot be trusted, but at minimum his actions towards Eleven got her to do what he wanted.) Once freed of his chains, One went on a killing spree, murdering nearly everyone in the lab, including the kids. He did not want to murder Eleven, however. The Henry who once found power in solidarity had plans for them to work together. Henry made an offer to Eleven to join him in his ominous quest to free mankind of its status quo.
To your Papa you are nothing more than a monster, a lab rat to be tamed. But the truth, Eleven, the truth is just the opposite. You are better than they are – superior. That is why you frighten them. If you come with me for the first time in your life you will be free. Imagine what we can do together. We could reshape the world, remake it however we see fit. Join me.
Eleven not only refused to join him, she attacked Henry. And she would have suffered the same fate as all his other victims if not for the advice One had previously given her.
Eleven Sends One to the Upside Down to Become Vecna
Victor Creel told Robin and Nancy "all evil must have a home." What he didn't know, though, was that the Upside Down had become the home of his evil son. While Henry had Eleven in the air, ready to twist her body apart as he had his other victims, she remembered what he had told her before about unleashing her power. Henry "had found his strength in a memory from his past, something that made him sad, but also angry." For Eleven that was the memory of her mother being dragged away from her.
And as she pulled from deep within her soul all her rage and her pain, Eleven not only overpowered One, she sent him to another dimension. She opened a portal to the Upside Down, which sucked Henry Creel in. There the dark mirror world ripped apart his skin and transformed him into the Dark Wizard known as Vecna, another part of that plane's hive mind. So yes, that means Vecna, Henry Creel, and One are the same person. Very wild indeed.
Eleven's actions are at least partly why the Upside Down is determined to destroy her. She sent Henry Creel into that world to serve as a soldier of the demonic dimension. (There's always the chance that Vecna is doing his own thing and not working with the Mind Flayer. This isn't clear yet.) He might exist in a world without time or order as he wished, but he's no freer there than he was under Dr. Brenner. And the sense of purpose he found in life remains unfulfilled. At least for now.
Vecna's Many Connections to the Real World
Just as Henry could see into the minds of others, Vecna can still see into people from the Upside Down. The vines of the dark dimension, which can find their way to the real world, connect directly into his body. They let him see into people for who they really are and the things they carry with them.
And by attacking those who have experienced terrible trauma, especially individuals who feel responsible for the death of another, he can put them in a trance where they are all but defenseless. (Max only escaped when her friends played her favorite song. It pulled her out of Vecna's hypnotic state and let her run free of the Upside Down back into her own dimension.)
When Vecna kills someone they remain a part of him, same as when he was still human. But his murder spree now also opens a gate between worlds at the spot of each person's death. The more people he kills, the more pathways he creates for Upside Down monsters to enter the real world. And if he opens enough doors, the twisted remains of Henry Creel might finally give the world he believes broken the "balance" it needs.
That is if he can defeat his old enemy who bested him before. Eleven has seemingly rediscovered her lost powers. Just in time, too. She might be the only one who can stop Henry Creel a.k.a. Vecna from terrorizing Hawkins, Indiana once and for all.
Mikey Walsh is a staff writer at Nerdist. You can follow him on Twitter at @burgermike. And also anywhere someone is ranking the Targaryen kings.