Love, sex, identity, death, forgiveness, and social media impact are just a few of the themes and topics in Waves that give a heartbreakingly vulnerable and introspective look into young love, high school peer pressure, parental strongholds, and how social media plays a part in this generation's need for acceptance and struggles with identity.
Waves follows a well-to-do black family in Florida. The oldest child, Tyler (Kelvin Harrison Jr., Luce), is an upperclassman and star wrestler, who consistently struggles with meeting the high expectations of his father, Ronald (Sterling K. Brown, This is Us). Rooted in our culture's very real generational rearing that insists we have to work twice as hard as our white counterparts to gain an ounce of acceptance and respect. Ronald pushes Tyler beyond his limits at times, in a way that he feels is still rooted in his affection for him and the belief that his method of parenting is beneficial and survival-based parenting.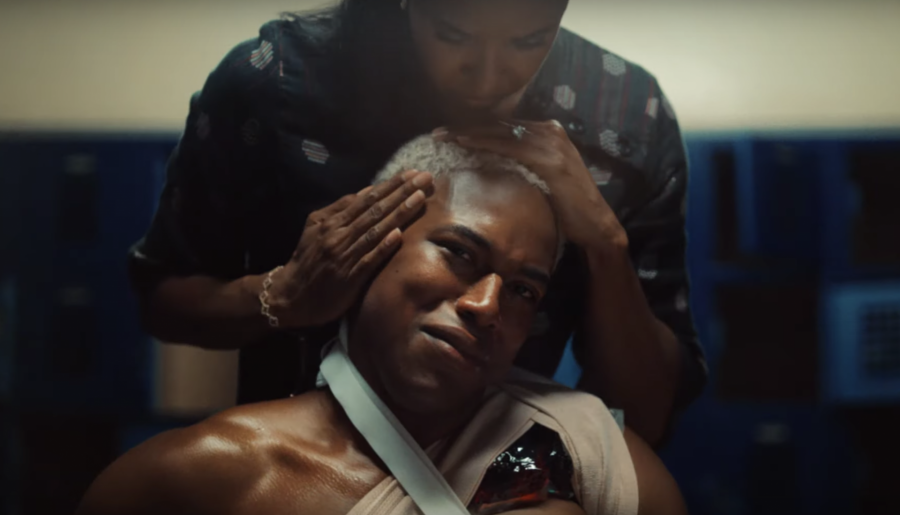 A24
While mom Catharine (Renée Elise Goldsberry, Altered Carbon) takes a softer more inclusive approach to parenting, the pressure still becomes too much for Tyler, he loses his identity and self-worth and spirals into a depressive state wrapped in addiction. To intensify matters, he goes through ups and downs with his girlfriend, Alexis (Alexa Demie, Euphoria), that ends in a horrifying unexpected turn of events, altering the course of he and his family's lives forever.
Emily (Taylor Russell, Lost in Space), their youngest child, often gets lost in the blinding shadow of her brother and his reckless choices. When his inability to control himself presses the family against a wall, it forces the parents to adjust to the life they've known, confront their issues, and rebuild. During this painful process, Emily finds herself falling in love with Luke (Lucas Hedges, Lady Bird) and growing up even faster than she or anyone else anticipated. Visually stunning with dynamic cast performances all around, but particularly from Harrison and Russell, Waves will remind you of the feature version of Euphoria and not just because they share an actress. They are similar in the transparent way that they tackle the realities of being a high schooler in this day and age through the access to drugs and alcohol, the exploration of sexuality, and the lack of parental oversight in the direst of situations.
A24
Waves is deeply complex and dives into the gross humanistic nature that we succumb to when adjusting to circumstances beyond our control. Through the lens of African-American kids, Waves takes you on an emotional ride touching on the bitter societal and social impacts of trauma, forgiveness, and healing that will leave you with more questions than answers. In this film, that is ok. What you realize is that the complexities of life often come with less direct solutions and answers to the curveballs that are being navigated.
While black trauma and pain in art is always a tricky and thin line for me to consume as a black woman, especially when in the hands of non-black creators, Waves takes a risk and delicately straddles a balance of portraying an all too real situation and allowing the audience to go through the stages of grief, right alongside the family. While the transitions aren't always the smoothest from a writing standpoint, ultimately you will get a clear sense of what it means to love and live again out of the ashes of pain and tragedy.
4.5 out of 5
Header Image: A24