Star Wars Day is upon us once again, and if you happen to be in the state of California, then it's even an officially recognized day now! Although people all around the galaxy will find their own individual ways of celebrating the legacy of the Force, we can think of no better way to show off your Jedi Pride than with this gorgeous poster triptych from artist John Guydo and the folks at Bottleneck Gallery. Each poster in the series celebrates one of the films in the original Star Wars trilogy – A New Hope, The Empire Strikes Back, and Return of the Jedi.
Each screen prints measure 18 x 36 inches, and are a hand-numbered and timed edition. Edition size for these posters will depend on the number of prints sold through Sunday, May 5th at 11:59PM ET. Each of these posters will set you back $45 for the individual posters, or $125 for the set of all three. Shipping estimate at this point is about 8 – 10 weeks. All three posters are officially licensed by Lucasfilm and the Acme Archives.
Movie posters are maybe the best way to show off your love of all things Star Wars, because it was the poster for A New Hope that was the first officially licensed product from George Lucas that anyone ever saw. Almost a full year before the film came to theaters, comic book artist Howard Chaykin illustrated a special poster for the 1976 San Diego Comic-Con. This first poster featured an image that went on to feature in one of the film's eventual wide release prints. And it only cost $1.75 for con goers. Needless to say, it goes for a whole lot more now. But it was the the public's first glimpse of what the future held for them.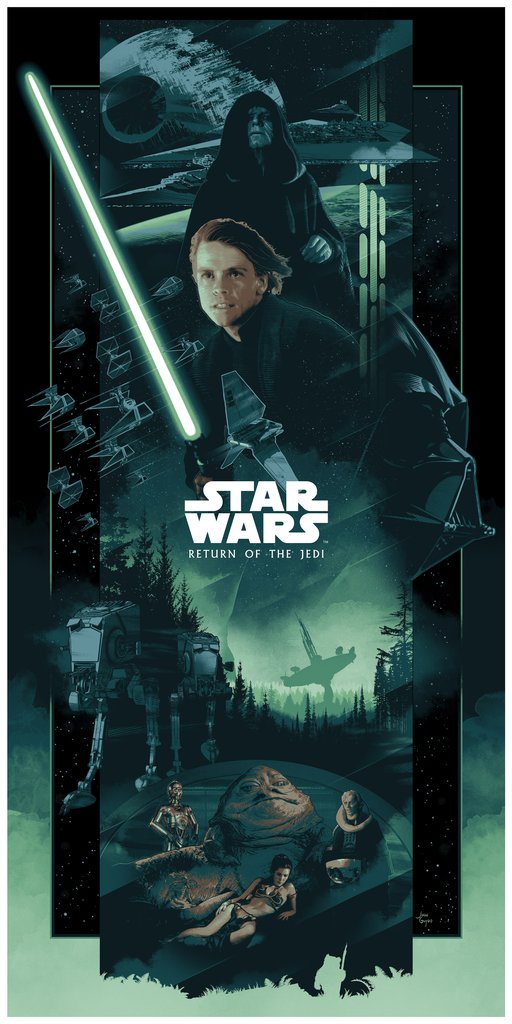 All three Star Wars Trilogy posters are on sale now at BottleneckGallery.com
Images: Lucasfilm / John Guydo